Vikings take center stage in Carrie Ryan's 'Divide and Conquer'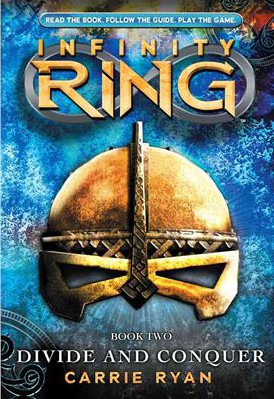 "INFINITY RING BOOK 2: DIVIDE AND CONQUER," by Carrie Ryan, Scholastic, Nov. 6, 2012, Hardcover, $12.99 (Ages 8 and up)
History is broken. People are suffering terrible losses. There's only one hope for humanity — three kids.
Dak, Sera and Riq were able to set Columbus' tale right, but now they face a whole new set of terrifying circumstances. The three time travelers have jumped straight into a Viking invasion.
The year is 885. The place — medieval Paris. Thousands of Viking warriors are laying siege on the city, hoping to take command. The Parisians, for their part, are doing pretty well holding their own, but they can't last forever against these human war machines.
To make matters worse, Dak let his curiosity win out over common sense and got caught in the process. Now he's been forced to work alongside the Vikings while Sera and Riq work to defend Paris. Unless Dak can find an ally, all will be lost.
"Divide and Conquer" is the second book in the seven-book, six-author Infinity Ring series. The first, "Mutiny in Time," was penned by James Dashner. In the second, YA author Carrie Ryan takes a crack at fixing time, and she does it well.
There are a few things to note straight off the bat.
"Divide and Conquer" does not feel like it was written by a different author than it's predecessor. Carrie has done a fine job carrying on where James left off, further developing the characters and not straying from their cores. Carrie does such a good job of this that you wouldn't know two authors were involved without being told. Kudos to the Scholastic editors who coordinated things and smoothed the edges.
Carrie also excels in setting the scene. Her descriptions of Viking warriors and the battles come vividly to life. There is a lot of action, but there's also a fair amount of humor, too, that really ties everything together and keeps the tone light.
This is a fast read. At 188 pages, there's not a lot to hold readers back. The added bonus is the inclusion of yet another adventure via the secret compartment in the book's front cover. The "Hystorian's Guide" is a collectable map that includes a special code to unlock exclusive content on the Infinity Ring online game.
Bottom line: This series is shaping up to be one that kids will love from beginning to end. Not only is it fun and interactive, but kids will get a kick out of alternate versions of history and recognizing where and when things need to get back on track.
© 2012 – 2013, Cracking the Cover. All rights reserved.