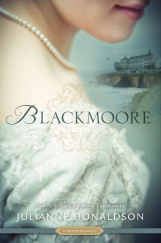 "BLACKMOORE: A PROPER ROMANCE," by Julianne Donaldson, Shadow Mountain, Sept. 9, 2013, softcover, $15.99 (young adult)
A year ago, Julianne Donaldson introduced the world to a young woman who ends up in the middle of an unexpected adventure. "Edenbrooke" quickly became a must-read romance as fans of the Regency period rejoiced for something clean and new. Now, Julianne is back with another period piece, "Blackmoore," that also celebrates a strong female lead and an unexpected romance.
Kate Worthington is 18, single, somewhat accomplished and in no mood to get married. All Kate wants to do is join her spinster aunt on her travels to exotic India — not exactly what Kate's mother has in mind.
Kate isn't about to give up on her dreams, though, and when given the opportunity to get out of marriage, Kate jumps at the chance. All she has to do is join her wealthy friends, Sylvia and Henry Delafield, at their Blackmoore estate for the summer and secure — and reject — three marriage proposals.