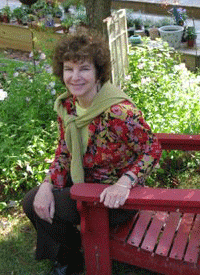 Deborah Hopkinson is the author of some 30 books. Her latest is "Annie and Helen," the story of Annie Sullivan and Helen Keller. Below is a complete transcript of Deborah's interview with Cracking the Cover.
Have you always wanted to be an author? Is that your full-time job?
I've have wanted to be an author since I was about ten years old.  But it's not my full time job.  I have had a long career in philanthropy.  Currently I am vice president for advancement at Pacific Northwest College of Art in Portland.  While having two careers is challenging, it's also given me amazing opportunities to serve my community .
Why do you write for young readers?
When my own daughter was little I began reading picture books to her.  It rekindled my own desire to be a writer – and picture books seemed like something that a working mother could take on.  As my kids got older, I was able to expand to writing longer historical fiction and nonfiction. I love children's literature and, while I love adult nonfiction and fiction, I don't think I could write for adults.
There have been many books written about Annie Sullivan and Helen Keller. Why did you decide to write one?
My own children were fascinated by Helen Keller, as I think all of us are.  I grew up in the town next to Tewksbury, Massachusetts, where Annie Sullivan lived.   I was inspired by a new photo of Helen Keller with her doll that was recently re-discovered and I wanted to look at their story with new eyes.
What makes it different? 
As the title indicates, this book is about the relationship between Annie Sullivan and Helen Keller. Annie herself had a tremendously difficult and traumatic childhood, losing her mother, brother, and, for a time, her sight.  She had just graduated from the Perkins School for the Blind when she traveled to Alabama to take a job teaching Helen.
Annie's process of discovering how to teach Helen is amazing, and that became the focus for this book,  which includes excerpts of Annie's letters during her first few months  with Helen in the spring of 1887.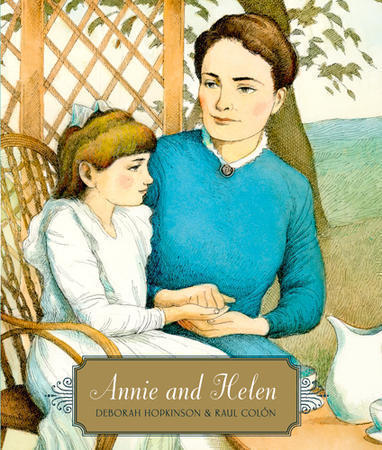 How much research was involved?
There are some excellent adult biographies of Helen Keller and Annie Sullivan, especial Joseph Lash's Helen and Teacher, which served as my primary research sources.  The centennial edition of Keller's The Story of My Life includes Annie Sullivan's letters to Mrs. Sophie Hopkins, her close friend and former house mother at Perkins School for the Blind, which was incorporated in 1829 and was the first school for the blind in the nation.  I am grateful to the staff at Perkins for making available many of the photos on the endpapers.
You write about historical figures and happenings. Why?
Well, the simple answer is: I love history!  While adults sometimes recall history classes as boring, I think many young people are actually fascinated by history.  Students gravitate to high interest topics such as the Titanic, Anne Frank and Helen Keller, but those subjects can be a springboard to a fascination with the past and a connection to those who came before us.  I think that the younger that children are introduced to history and how much fun it can be to explore the past, the more prepared they will be for academic studies.
What are the challenges that come with writing? The highlights?
Part of the challenge for me is simply finding time to write. I also want to find stories that young readers will enjoy.  One of the highlights of being a writer is traveling – visiting schools and libraries and attending conferences all over the country to meet people of all ages who care about learning and books.  Of course, I love staying home too and starting a new project.  There's nothing better than beginning to research something I've never known about before.
You are fairly prolific as a writer. Looking back, how has your writing evolved?
Over the years, I've become increasingly interested in how we think about history.  I didn't take a lot of American history classes in college by any means, and through researching my own books, I think I have become better informed.
I'm also always looking for ways to continue to grow as a writer and to write books that play with traditional formats.  For instance, while my 2012 picture book, A Boy Called Dickens, is actually historical fiction, Annie and Helen is nonfiction.  As more schools move toward adopting the Common Core Standards, which call for half of fourth graders' reading to be informational, nonfiction will be increasingly important. And it's something I love to write.
Why do you think your books appeal to children?
Well, I hope kids like my books!  I think children are curious by nature, and if you don't tell them that history is supposed to be "boring," they'll naturally be interested.  Historical fiction is one of my favorite genres.  I think all of us sometimes wonder what it would be like to live in another time and place.  Or we can admire the courage of someone like Helen Keller and imagine what we would do when faced with the same incredible challenges.
Do you have a book that resonated with you as a child?
I think the book that resonated most strongly with me as a child was The Secret Garden.  I read it long before I saw a movie version and there's something wonderful about reading a book when you're a child.  Sometimes, in your memory, it's almost as if you were there yourself.
What are you working on now?
I am just finishing the final touches of a book entitled The Great Trouble: A Novel of London, The Blue Death, and a Boy Called Eel, which will come out in Fall 2013 in honor of the bicentennial of Dr. John Snow, who discovered that water was the cause of cholera.  It's set in the cholera epidemic of 1854 and, while it talks about the origins of public health, it also has a rather fun Dickensian subplot, with mudlarks and evil stepfathers.
I'm also surrounded by books – looking for that next good idea for a picture book!