Lauren Castillo is the author/illustrator of numerous books for young readers. She most recently illustrated "The Reader." The following is a complete transcript of her interview with Cracking the Cover.
Have you always wanted to be an artist?
Definitely. According to my parents, I've been drawing since I was teeny tiny. (My first ever piece of art was a drawing that I supposedly made while sitting in my high chair— a scribble in the shape of a stick figure on a small block of wood). But my first memories of creating art are from elementary school when my brother and I would pause Disney movies and draw the characters from the television screen in our living room. This was how we spent the large part of our weekends. Back then I dreamed of being an animator. Then in high school I was extremely fortunate to have the most wonderful art teacher, Kurt Bittle. Kurt was a successful working illustrator (and the first illustrator I'd ever met!). I learned so much about the field from him, and realized that an illustrator was what I wanted to be when I grew up.
Why do you make books? 
I think of picture books as visual poetry. A beautiful art form. And there's no other format I'd rather use to tell my own stories. Knowing that the books I'm putting out in to the world have the potential to touch little (and big) readers far and wide is an amazing thing. I couldn't ask for a better way to spend my days.
Where do your ideas come from?
My stories come from the world around me. My first authored book, MELVIN AND THE BOY, evolved from a childhood memory. A few years ago I was at a pond in Central Park watching turtles sunbathing on the rocks, and was reminded of the time my brother and I took a turtle from a pond near our home and tried to make him our new pet (a failed attempt!). The entire story was right there for me to put to paper.
Take me through the process of illustrating a book. 
Once I receive a manuscript, I read it over a few times and then jump right in to developing the main character/s in my sketchbook. After I nail those down, I'll begin tiny thumbnail sketches, and lay the whole book out in this storyboard-like fashion. Working so small and loose helps me to rely on my intuition, rather than worrying about how pretty the drawing looks at that early stage. (And many times the layouts in these little "roughs" turn out to be the exact composition of the final art.) I blow the sketches up to actual book size and work them over, incorporating the type to make sure image and text play off each other well—both the storytelling and composition. When I've got the final okay from my editor I jump in to final art, which takes me normally 3-4 months. Then I wait, and wait, anywhere from 12-18 months to hold the actual bound book!
For those interested in my entire step-by-step process of creating THE READER art you can check out this (heavily visual) interview I recently did with Pen & Oink: http://penandoink.com/2012/11/05/a-pen-oink-interview-with-lauren-castillo-in-which-she-talks-process-and-coffee/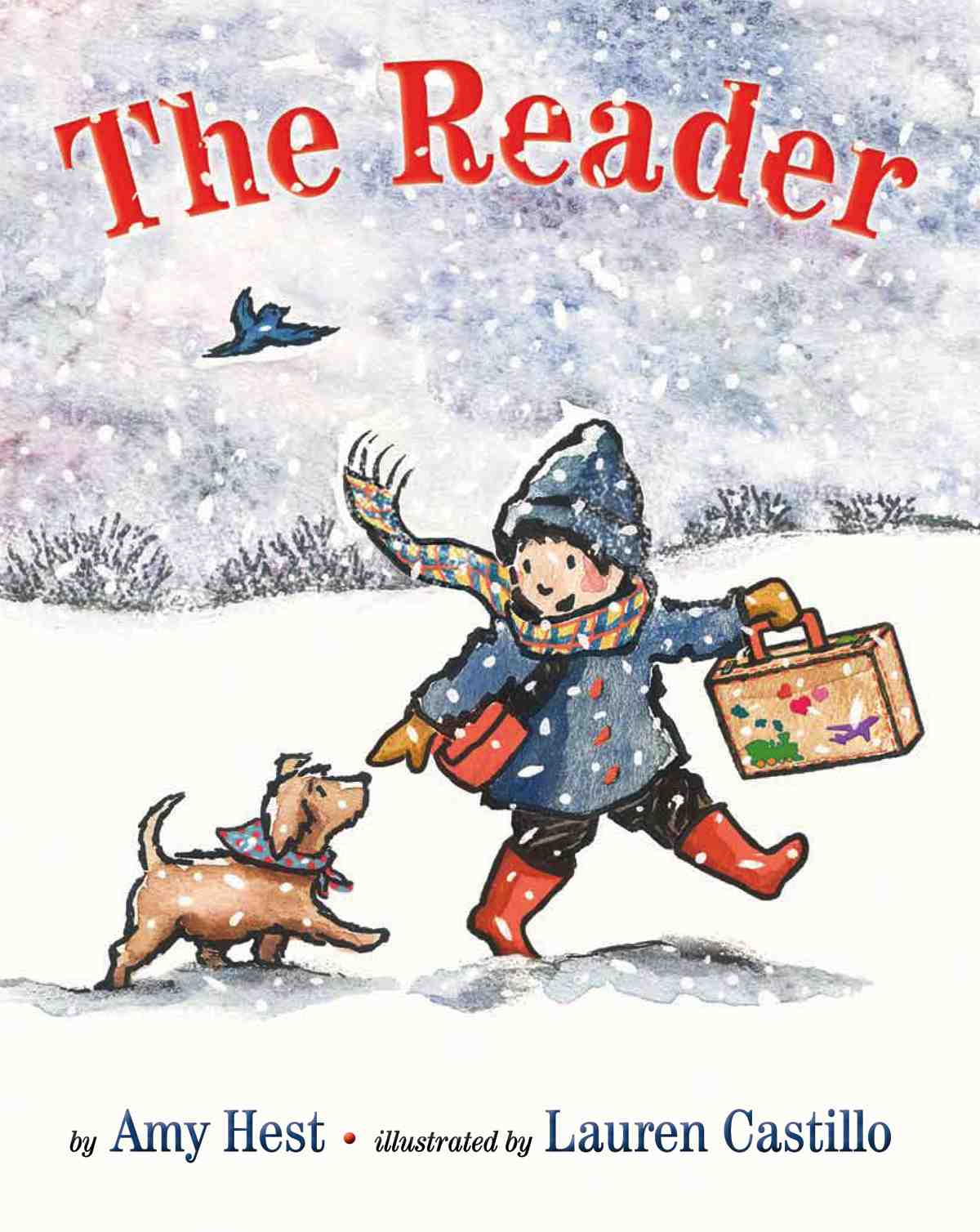 What are the challenges of illustrating a picture book?
Developing the characters is probably my biggest (and most important) challenge. Before starting the sketch dummy for a book, I want to make sure I know my character—their mood and personality, and how to make it shine through my drawing. I'll fill several sketchbook pages to get a character just so.
What are the highlights?
Receiving the final printed and bound copy of the book! It always feels like Christmas when it arrives in the mail 🙂
How long did you work on "The Reader"?
The entire bookmaking process was about 5 months. I spent the first month making character studies and thumbnail sketches. Then after sharing the work with my editor, I took another month or so to tweak and revise the sketch dummy. And once all the sketches were approved, I started final art and spent roughly 3 months completing the paintings. The art wa­s delivered to my publisher last October, and I waited just about a year to see the printed book.
Did the book turn out the way you thought it would?
This doesn't always happen, but I had a pretty specific vision of how the art would look on first read through of THE READER manuscript. And I'm happy to say that the final art is pretty close to that initial vision. Amy wrote such a beautiful and magical text, and it really was a dream project to illustrate.
Looking back, how has your work evolved?
I love to experiment with new materials, so technique-wise my work is constantly evolving with each project. I've gone from working with acetone transfers and collage/mixed media, to more of a traditional ink and watercolor, to completing a book almost 100% digitally (never ever thought I would do that!). And for the next book I'll go back to working in watercolor. Every story has a different mood, therefore requires something a little bit different. But I do think that all of my books, regardless of subject matter and art materials, end up looking like 'me'.
What are you working on now?
I'm finishing up final art for a book that I wrote titled THE TROUBLEMAKER. If you'd like, you can read more about how that story came together here: http://laurencastillo.blogspot.com/2012/08/the-troublemaker.html Make sure to watch the embedded video—it's pretty entertaining!
And soon I'll be starting the final art for another book I've written titled NANA IN THE CITY, about a boy who travels to the city to visit his nana and needs a little convincing about why the city is a good place (for a nana) to live.
And I am also starting sketches for a picture book written by Eve Bunting titled YARD SALE—a poignant and timely story about a family's move from house to small apartment (very excited to illustrate this powerful text).
Is there a book from your childhood that still resonates with you today?
The first book I can remember picking out and buying on my own (at a school book fair) was David Small's IMOGENE'S ANTLERS. I found it while going through a box at my parents' house a few years ago, and realized for the first time that one of my current favorite illustrators was the creator of the book I wore out as a child. I was so excited to make that connection!