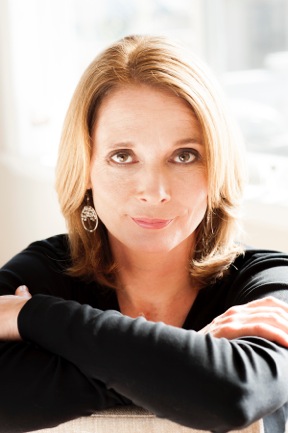 Susin Nielsen is the author of Word Nerd and Dear George Clooney: Please Marry My Mom. Her latest novel is Optimists Die First. The following is a complete transcript of her interview with Cracking the Cover.
Why do you write? Why specifically for young people?
I've written stories ever since I was a kid. I've always loved to write. Maybe it's because it was the one thing I could get an "A" at in school – I was a terrible student in so many other areas! I got my start writing for "Degrassi Junior High" in my early twenties, and wrote for a lot of other tween and teen shows, so perhaps that's why I like writing novels for that age group … it's also a very exciting and fraught time of life, and I have acute emotional memories from my own teen years.
Where do your ideas come from? For Optimists Die First?
My ideas come from all over the place. Sometimes it's a fragment of something from my own life, sometimes it's a line in a book I'm reading. With Optimists, it was an image of a girl sitting in a chair with nubby fabric in the principal's office.
Optimists Die First deals with hard issues. How much research was involved?
 Not an onerous amount. My characters' journeys come from my own imagination. I do a lot of on-line research, and I'm careful to vet specific things through experts.
Despite tackling hard issues, Optimists Die First doesn't read like a "heavy" book. How did you find the balance between serious and humor?
I can't write a book without having both drama and humor. I think I write the types of books I like to read. I suspect one reason I can inject even a sad story with humor is because I write in the first person, meaning the reader can find some of Petula's thoughts, and reactions, and way of looking at things, humorous, even if Petula would never see it that way. I think we all have funnier interior monologues than we might realize. I don't consciously think of the balance as I write. And I try to never, ever be glib. I hope my love and compassion for my characters always shines through.
Petula is an avid crafter. Where did that come from? Are you a crafter?
Ha, no, I am the world's worst crafter! I'm not sure where that came from … perhaps it started with the wolf suit? I must say I had fun researching that world, and Wendy Russell, mentioned in the book, really did have her own crafting show here in Canada; we used to work together years ago.
I've never heard of a YART program. Where did that come from?
I made it up. But I suspect similar things exist.
While Petula's story is the main event, Optimists Die First wouldn't work without her friends from YART. How did they develop?
I always have a lot of fun with my secondary characters. I had Koula, Ivan and Alonzo in my head from the outset (and Jacob, obviously), and they all got more defined and fleshed out as I got deeper into the story and the rewrites. They were integral to the story. I'm particularly fond of Koula.
Why cats?
Why not cats? Cats are the best! J (In fact your question makes me think you must be a dog person J ). I knew that cats would be a part of the story very early on. In some ways Virginia's feline obsession is the embodiment of my own fears of the person I could become. (I have two cats but would likely have more if my husband didn't put his foot down).
How does your career in television influence your writing?
I think my TV b/g has been quite useful, with a few translatable skills. I know how to write snappy dialogue and I like to think the TV writing has really helped me with pacing, writing good chapter endings, and recognizing flab and being able to cut it out. TV writing taught me not to be too precious about my writing, too. You develop a thick skin when you write for TV, and I think that helps me absorb notes from my editors etc. I can "kill my darlings" as I believe William Faulkner said.
What are you working on now?
A new middle-grade/YA novel, working title "No Fixed Address."
Is there a book from your own youth that still resonates with you today? Why?
Absolutely hands-down it's "Harriet the Spy" (which I pay homage to in "Optimists"). And it's for all the reasons Petula states – I normally allow the author to speak through one of her characters, but I am guilty of it in that one chunk of dialogue in the book!