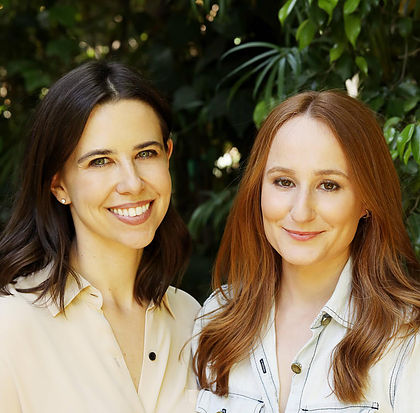 Amy Andelson and Emily Meyer penned Step Up 2 The Streets and Step Up 3D for Disney. They have written numerous projects, including Naomi & Ely's No Kiss List. The following is a complete transcript of their interview with Cracking the Cover for their debut novel Layover.
Have you always wanted to write? Why?
We became friends when we were in Middle School, trading our favorite books and CDs. We love losing ourselves in fiction, and we've always been passionate about the coming of age moment when you're walking the bridge between who you are and who you are going to become. We secretly wanted to become writers when we were younger, but were too afraid to try. Pairing up to do it together, gave us the courage to take the leap.
How did the two of you come to work together?
After college, we were both assistants in Hollywood. People kept tossing us all of these "teen" scripts to read, but so much of the material didn't ring true. We figured we could give it a shot – what was the worst that could happen?  Our first script was a contemporary adaptation of The Great Gatsby set in high school, which sold to Sony. It was one of those crazy Hollywood stories where we went from pushing mail-carts at a Hollywood agency on a Friday to being represented by the same agency on the following Monday. Since then, we've worked on movies and TV shows, had projects made and projects die slow miserable deaths. Thank god we have each other otherwise we'd never be able to  stomach the rollercoaster.  Layover coming out is a true pinch me moment.
You've worked in TV and film together. What made you take the leap into YA fiction?
We've been screenwriting for over ten years, and seen a lot of changes in the industry during that time. The coming-of-age films that inspired us to write weren't get made any more, so we found ourselves with all of these movie ideas and nowhere to put them. We've always loved books and the process of adapting, and obviously read so much YA so it felt natural take Layover, which is an idea we had had for some time, and turn it into a book.
Where did the idea for Layover come from?
We think best in motion, and came up with the idea for Layover on a drive up the California coast. We've always had, but especially in high school, a lot of escape fantasies and think there's a lot of wish fulfillment in the idea of disappearing for a little while. Plus, we grew up in LA, so in a lot of ways, we see Layover as a love story to the city of angels.
How does writing for print differ from film/TV?
Film/TV are super collaborative which we enjoy, but very structured which we sometimes find a little limiting. We really love the creative freedom we experienced writing Layover. It was such a fun process to work on the book, and we were surprised how quickly it flowed.
Take me through your writing process. Do you take a chapter at a time or write everything together?
Our process for writing books is pretty much the same as our screenwriting process. We outline everything together, split up sections to write separately. We then trade and polish each other's pages, and move forward. We do edits and notes together. This process also involves a lot of snacking and internet procrastination.
How did Flynn, Amos and Poppy develop?
We started writing the book on a whim, and would alternate turns adding to the story — almost like a fun writing exercise. When we'd receive each other's pages, we'd happily surprised at how much it felt that these were characters we had always known.
The siblings come from a life of privilege, and their layover is a direct result of their upbringing. Why do you think their experiences will resonate with readers?
Despite their wealthy upbringing, the book focuses on the ways in which Amos, Flynn and Poppy haven't had the most privileged lives — particularly in relation to their absent. In their own ways, they're all are really isolated, and we think that's something everything can relate to. There's also a lot of wish fulfilment in the idea that there's people out there you can really connect to, and they can become your chosen family no matter what.
What makes Layover stand out from its contemporaries?
There's a lot of romance in YA, and a lot of forbidden love which is always fun and juicy. We think the step-sibling relationship in Layover adds a fresh twist, hopefully without being too creepy 🙂
We also debated a lot about including Poppy's POV, since she's outside of the normal YA age range. But we heard her voice so clearly and felt like she was so uniquely endearing — we're really happy we decided to go with it and include her.
What are you working on now?
We're working on our next book, and have some fun TV and film projects in the works.
Is there a book from your own childhood that still resonates with you today?
The list is too long…and we're going to sound super clichéd here but Little Women was very formative, The Catcher in the Rye, and The Waves.