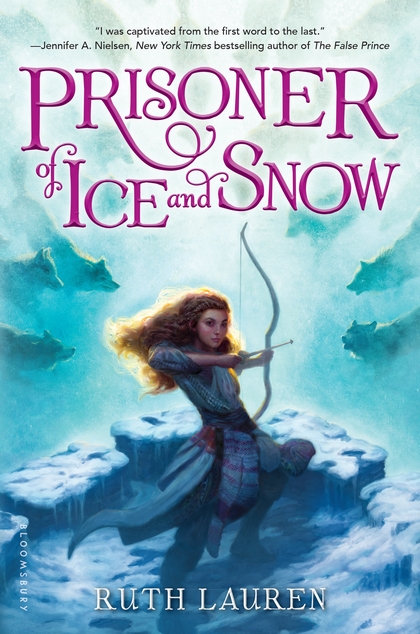 Ruth Lauren is the author of Prisoner of Ice and Snow. The following is a complete transcript of her interview with Cracking the Cover.
Why do you write? Why specifically for young people?
I'm terrible at everything else! Actually, I've written for several different reasons (for example dealing with grief), but I wrote PRISONER OF ICE AND SNOW because I wanted to have fun and write an adventure for girls all about girls. Books were my world when I was a child and I still love my old favourites in a different way to how I love books as an adult. That's why I write for kids.
Where did the idea for Prisoner of Ice and Snow come from?
The book was pitched as FROZEN meets PRISON BREAK . I wasn't consciously thinking of Frozen when I wrote it, but I'd seen Prison Break and I wondered what that sort of story would be like if it was about two young sisters instead. The Russian inspired fantasy land part of the idea came soon after as I thought about where I could place the sisters to make their escape even more challenging.
Valor and Sasha are twins but very different. How did their characters develop?
Valor came first, with her apprenticeship to her huntswoman mother as the reason she's so adept with her bow and with so many other physical challenges. Her character built from her skills and her interest in being outdoors, reacting quickly to situations and therefore maybe not always thinking first—especially when it comes to saying the right thing. She's fiercely loyal and determined but that sometimes prevents her from understanding other people's points of view when she's launching headlong into action.
Sasha shares a lot of Valor's traits, but she takes a step back a lot more and tends to see the overview of a situation where Valor will only see what's in front of her. Again, Sasha's personality really came through me thinking about her interest in her father's job as adviser to the queen and in history and politics. She's a thinker and a strategist and a great foil for Valor's more impulsive approach.
Prisoner of Ice and Snow takes place in a matriarchal society. Was this something you planned from the outset? Why?
This book is about girls and for girls (boys and everyone else welcome too) and I wanted the sisters to inhabit a world where it would never occur to them that positions of power weren't open or available to them. They don't have to struggle or overcome to gain those positions and they see women in every role I put in the book—from ruler to doctor to prison guard to hunter. Why did I plan that? Because it's something every child should see reflected in books and in the real world.
The setting in Prisoner of Ice and Snow is every bit as much a character as the characters themselves. Why did you choose freezing temperatures, snow and ice as opposed to something else (sand, wind, heat, rain, etc.)?
I wanted a very cold, snowy, frozen world where the elements themselves could cause problems for the characters and bleed through into every part of the planning Valor has to do to try to break her sister out of prison. I drew on elements of the Russian landscape and traditional clothing but I also wanted to create a matriarchal world where only women can rule and where they often have positions of power.
Prisoner of Ice and Snow has a very "Russian" feel to it. Where did the inspiration for that come from?
It stemmed from imagining a very cold and unforgiving climate and terrain and looking at images on Pinterest. I make boards for every idea that I have and I find it really helps me to visualize the world and individual scenes if can link it to a picture.
The end of Prisoner of Ice and Snow leaves room for more story? How many books do you have planned?
Yes it does! The sequel will be called SEEKER OF THE CROWN, out from Bloomsbury in 2018. After that, who knows . . .
What are you working on now?
I'm currently outlining an exciting middle grade sci-fi standalone set on another planet.
Do you have a favorite book from your own youth that still resonates with you today?
So many! Although I have to acknowledge that some of them have problematic aspects that I didn't understand when I was a child. I loved Watership Down, The Secret Garden and The Lion, the Witch and the Wardrobe.