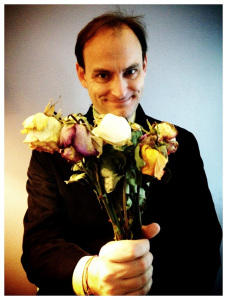 David Neilsen is a classically trained actor and storyteller, a journalist and a theater/improvisation teacher for children and adults. He is the author of "Dr. Fell and the Playground of Doom." The following is a complete transcript of his interview with Cracking the Cover.
Why do you write?
I love to explore different ideas and worlds. I'll get an idea and want to see where it goes and the best way for me to do that is just to write it down. Sometimes I'll be writing something and feel like I'm reading it at the same time. I'll get excited as the story evolves, become invested with the characters, and eventually want to be able to turn the page to see what happens next. Only in this case the next page hasn't been written until I write it.
Why specifically for children?
I write for all audiences, but I love writing for Middle Grade because there is such a realm of possibility in the genre. I like to create a sense of wonder, and that emotion, in my mind, has always worked well at this age. Middle Grade readers are old enough to handle a full story, handle some twists and turns, handle a little darkness. But they're still young enough to be ready to suspend disbelief. In YA, a lot of the magic disappears for a time–teenagers are too cool for magic. But Middle Grade readers? They eat it up.
Where did the idea for "Dr. Fell and the Playground of Doom" come from?
The idea for the book came from an illustration by the late children's illustrator Trina Schart Hyman. It had been hanging on the wall of my in-laws' for years. It shows a man in a suit and top hat leering down at a little girl, who looks back at him suspiciously. The man has a large basket strapped to his back out of which are sticking various arms, legs, and heads of little children. It's labelled "Dr. Fell" and Hyman drew it when asked to create an image from her favorite fable or fairy tale. Curious, I looked up Dr. Fell online and discovered the four-line poem written in 1680 which I've included at the beginning of my book.
Right away all sorts of questions jumped into my head. Who is this guy? What is he doing? What happens when he comes to town? The story began to take form when I went about answering these questions.
Is it the first book you wrote?
It's actually the second full-length book I've written, but my first published. My first novel impressed my agent enough for him to take me on as a client, and Dr. Fell came afterwards.
How long did it take you to write?
I wrote the first draft of "Dr. Fell and the Playground of Doom" over about three months. After that there was another month or so while I waited to hear from my initial readers, then another couple of weeks working their comments and notes into a second draft. I sent that draft to my agent and not much has changed since then.
"Dr. Fell and the Playground of Doom" essentially has three main characters, four if you count Dr. Fell. How did you maintain a balance?
I never really thought about needing to balance the characters. The three children are the main characters, and I worked to ensure that each of them had their moment, and that Dr. Fell could not have been dealt with by any one or even two of them. It had to be all three. Since they each had a part to play, I needed to be sure to set up each of them individually. Also, I made sure to give each pairing some time together, to show how they work together without the third member of their little group.
Would you play on Dr. Fell's playground?
In a heartbeat! There are some massively wonderful things about the playground, and as a kid I would not have been able to resist. In fact, I still love playgrounds–several years ago I spearheaded a committee in my village to build a new awesome playground for one of the elementary schools.
What do you hope young people come away from your book with?
First and foremost, I hope they enjoy the story. Beyond that, I'd like them to come away with the lesson that sometimes, things that are too good to be true simply aren't true.
What are you working on now?
I'm working on a lot of different projects at the moment, each at different stages of the process. Next August, Crown Books for Young Readers will publish my next book, a spooky, mysterious story tentatively titled Beyond the Doors. It is not connected with Dr. Fell in any way, but is a completely new world which I'm very excited to share with readers. That book is written, edited, turned in, done. I have also written a third book, not connected to either of the first two, that I'm in the midst of editing. I've also got a sequel to Dr. Fell all set up in my head, so I'm getting ready to write that. And then there's my initial book that has yet to sell that I still absolutely love. I'm planning on tackling it with a revision that will hopefully make it more likely to be picked up.
Is there a book from your own childhood that still resonates with you today?
There are a number of books I read as a kid that I still love. Over the years I've been able to share them with my children. One of the bigger ones for me was a series by David Eddings called The Belgariad. It's a five-book fantasy series that I absolutely devoured in about the sixth or seventh grade. I read them to my daughter over a period of about eight months or so at night and it was great. It is an example of world-building on a grand scale that truly captured my imagination.