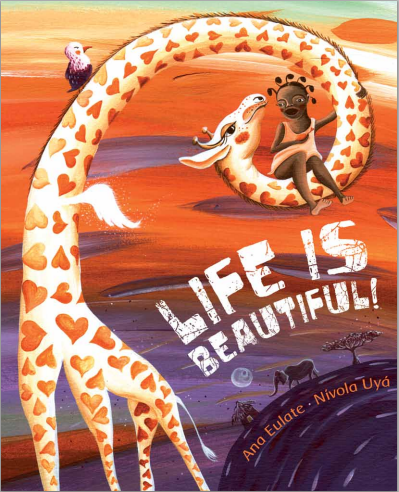 "LIFE IS BEAUTIFUL!" by Ana Eulate and Nivola Uya, Cuento de Luz SL, April 1, 2013, Hardcover, $16.95 (ages 5-7)
Did you know that for every person, there's a giraffe with wings, ready to explore your country, your continent, your universe … but above all your heart?
Did you know? Did you ever imagine it?
No?
Well, listen carefully to what happened one day to a little girl with big, big eyes in a far-off part of Africa.
Violet lives in the country of Kenya. One night, when Violet's tummy is full of hunger, a winged giraffe takes the young girl on a journey across her homeland. She sees elephants and flamingos, waterfalls and grassy plains. She sees the beauty of the African continent, but she is still worried for herself and her people. It's a rightful concern but the giraffe assures her that through compassion, anything is possible.
"Life is Beautiful" is a beautifully rendered book. The illustrations are imaginatively rendered in brilliant hues of oranges, blues and purples. And the idea of a winged giraffe showing Violet the world around her is creative and intriguing. The writing is perhaps a little too much on the optimistic side, but the theme of people helping each other is well presented.
The concepts here are a little more advanced, so even though children under the age of 5 will probably enjoy the illustrations, older children will most likely get more out of the story.