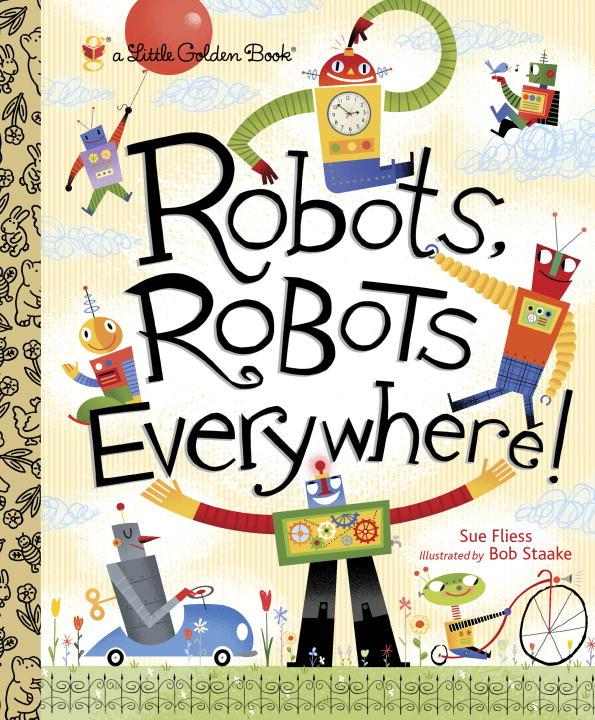 "ROBOTS, ROBOTS EVERYWHERE!" by Sue Fliess and Bob Staake, Little Golden Book, Aug. 6, 2013, $3.99 (ages 2-5)
I love Golden Books. I've loved them since I was a child. We had a massive collection at our house that spanned five children with 15 years between the oldest and the youngest.
That said, it should come as no surprise that I thoroughly enjoyed, "Robots, Robots Everywhere!" The story is simple enough for a young child to understand while the illustrations add a little something special for the parents. Kids, too will love the basic shapes and primary colors that help compose these quirky robots.
It's hard to complain about a book that is fun and only costs $3.99. (Although I do own some older Golden Books with the list price of 39 cents!) This is a great addition to your little one's growing library.
"On the ground and in the air,/Robots, robots everywhere!
"Up in space, beneath the seas,/Robots make discoveries . . ."
So begins this rollicking Little Golden Book featuring robots of all kinds, from ones up in space to the ones we use at home.*
*Synopsis provided by Little Golden Book

Editor's note: The above post differs from Cracking the Cover's regular review format. Learn more.
© 2014 – 2017, Cracking the Cover. All rights reserved.