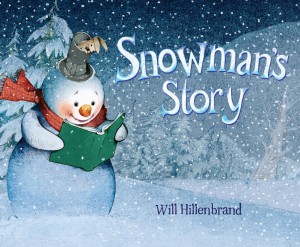 Artist Will Hillenbrand has a very vivid imagination. He thinks in pictures, with images coming first. His books come from that. "I simply need to draw them so that readers may see what I see," he says. "I love a good story. Nothing beats a good story well told."
Will's latest book, "Snowman's Story," is the story of a snowman who reads a story to his animal friends. When snowman falls asleep, a rabbit hops away with his book. The snowman and his friends follow the rabbit only to discover the bunny has a family and wants to share the story with its children.
"Snowman's Story" features no text. It's an unusual approach that evolved. "I had a written story in the first several book dummies but with each revision more words were tossed out because the pictures were telling the story," Will told Cracking the Cover. "Suddenly, I realized all the words were —gone! I thought, 'Oh, okay, this is the kind of book you want to be.' Making a wordless book was different and challenging because of the obvious reasons. This kind of story telling needs to be told in the most pure language, the international language of pictures."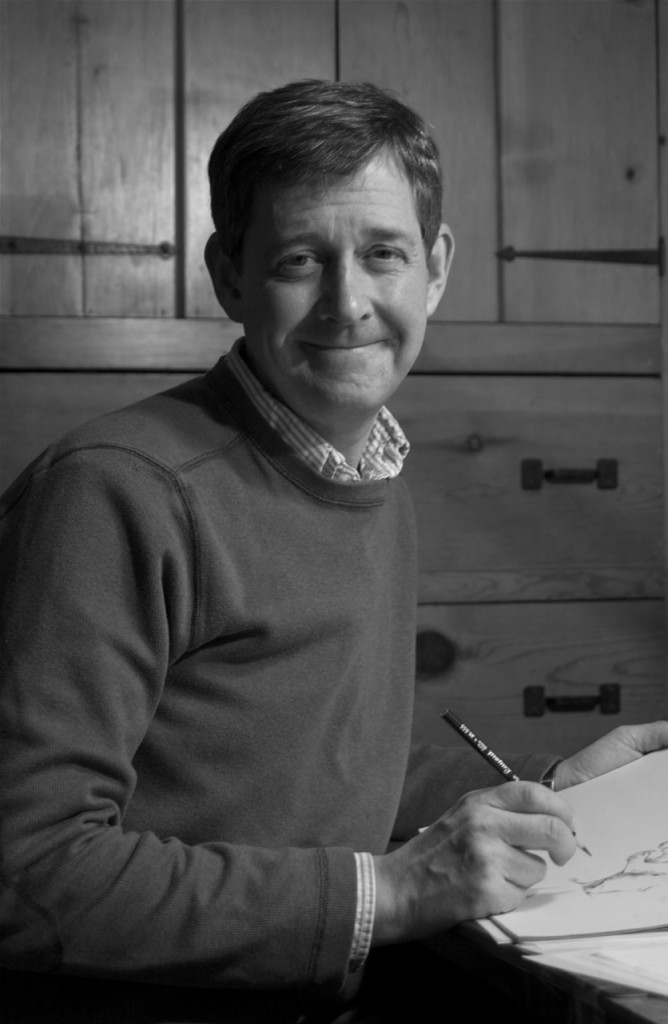 As with all books, "Snowman's Story" begins with an idea. For Will, that idea was tied to snow. Will loves snow.
"You should also know that every holiday season I create an image that is used for my holiday cards which are sent to my friends and family," he said. "Before I begin, I try to imagine what it would be like to see the faces of my loved ones opening their cards. That always puts a smile on my face because I hope to do the same for them."
Three or four years ago, Will was wondering what image he should create. He always tries to incorporate someone reading a book in all of his illustrated cards. Illustration means to "lighten up" or to enlighten, he explains.
"I decided to draw a snowman reading a book. Since it looked like a good story, someone HAD to be listening … in this case, a rabbit in the snowman's hat! I added color to the art, which made the book glow, and that in turn illuminated the snowman's face. Sometime after the holiday season Margery Cuyler, my editor and recipient of one of the cards, suggested that I create a book inspired by the image on the holiday card."
Creation of the card, however, stemmed from Will's personal experience. "As a child I had once heard a story that I thought was so amazing that I borrowed the book from my public library with full intention of never ever returning it," he said. "Being the silly boy that I was, I hid the book in my house … again and again and again. When the late return notices came I panicked and looked in each and every one of my hiding places, but I had forgotten where I had hidden the book! The book, 'The Red Balloon,' was never found. We paid the fine for the book and I decided never to run off with a book again. That is, until I made this book when Rabbit becomes a book thief. I know why he did it; he wanted to share a great story. By the way, Rabbit does return the book to Snowman because it tells that story so very well, the best."
Children, and adults, often find themselves drawn to Will's whimsical work. Will thinks that may be because of his characters. He tries convey to them what is both real and magical, as wells as kind and a little mischievous.
Will says his work as an illustrator and author continues to evolve. "I always create images with all of the integrity that I have; as a creative person I allow myself to be open … open and vulnerable and sensitive and strong. But I put my face to the wind and discover the visual world that seems to be just right to me. Every creative person already knows this. I have often seen this best represented in the non-intentional art of children."
"Snowman's Story" publishes Tuesday, Nov. 18. You can pre-order it now on Amazon.
Check out this movie showing Will's writing/illustrating process. Will is also offering this free downloadable game in conjunction with "Snowman's Story.
*Will took a lot of time and care answering all of Cracking the Cover's questions. Learn more about Will, including what it's like to work with other authors in this complete transcript of his interview.
Will Hillenbrand has illustrated many beloved picture books, including "Kiss the Cow," by Phyllis Root; and "Sleep, Big Bear, Sleep!" and "Sneeze, Big Bear, Sneeze!" by Maureen Wright. He has also written and illustrated a number of picture books, including "Down by the Barn," the "Bear and Mole" series, and "Mother Goose Picture Puzzles."
Follow all the stops on the SNOWMAN'S STORY blog tour!
Monday, Nov. 3 — As They Grow Up
Tuesday, Nov. 4 —  Cracking the Cover
Wednesday, Nov. 5 — Geo Librarian
Thursday, Nov. 6 — 5 Minutes for Books
Friday, Nov. 7 — Momma Drama
Saturday, Nov. 8 — Booking Mama
Monday, Nov. 10 — Just a Little Creativity
Tuesday, Nov. 11 — Kid Lit Frenzy
Wednesday, Nov. 12 — Children's Book Review
Thursday, Nov. 13 — Displaced Yinzer
Friday, Nov. 14 — Once Upon a Story