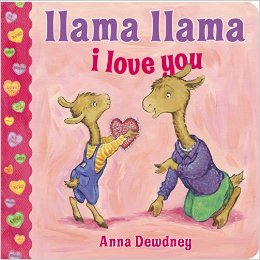 "LLAMA LLAMA I LOVE YOU," by Anna Dewdney, Viking Juvenile, Dec. 26, 2014, Board book, $5.99 (ages 0-3)
I'm a fan of Anna Dewdney's Llama Llama books, so I was excited to have the opportunity to review her latest for little readers, "Llama Llama I Love You."
As with Anna's other board books, there's not a lot of text, although it does have a nice rhyming lilt to it. Anna's illustrations are bright and fun, and Llama Llama is as sweet as ever.
In "Llama Llama I Love You," little llama makes heart-shaped cards for his friends and Mama. In return he receives a chocolate heart. It's a good explanation of how things happen at school, but as one reviewer said, "This book is in a good series, but 'Llama Llama I Love You' is nothing but fuel for the card/candy/flower industry."
I agree there's a missed opportunity here. It would have been nice to see a focus on love itself rather than celebrating the holiday. However, tiny readers will most likely spend their time thumbing through the pages and studying the images rather than paying too much attention to the words. It also serves as a starting point for parents to further the discussion about love and Valentine's Day as a whole.
© 2015 – 2017, Cracking the Cover. All rights reserved. Unless otherwise noted, all books — digital and physical — have been provided for free by publishers in exchange for honest and unbiased reviews. All thoughts and opinions are those of the reviewer.