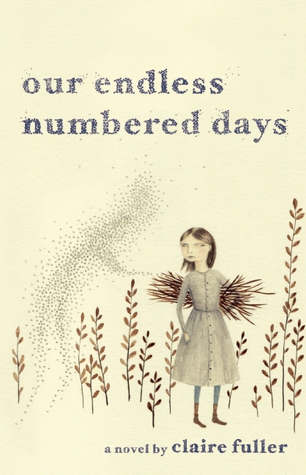 In 2011, a teenager appeared in Berlin saying that he had been living wild in the forest for several years with his father. The story turned out to be false, but before anyone became aware of that, author Claire Fuller found herself wondering, "What if?"
It is from there that "Our Endless Numbered Days" was born. If his story had been true, then why did he and his father go into the woods? And why did the teen leave.
"Our Endless Numbered Days" follows Peggy and her survivalist father, James, as they leave their home in London and move to a remote hut in the woods. James tells Peggy the rest of the world has been destroyed, and they must make a life for themselves living off the land. For years, they live in the wilderness, hunting in the woods, bathing in the river, making due.
When Peggy finds a pair of boots in the forest and begins a search for their owner, she unwittingly unravels the series of events that brought her to the woods and, in doing so, discovers the strength she needs to go back to the home and mother she thought she'd lost.
After Peggy's return to civilization, her mother begins to learn the truth of her escape, of what happened to James on the last night out in the woods, and of the secret that Peggy has carried with her ever since.
Claire, who didn't start writing until she was 40, started writing the novel with a scene of Peggy and James in the forest. "I wanted to make things difficult for them," Claire told Cracking the Cover. "But I wanted them to survive, in which case James needed to have some skills — how to hunt animals, knowing which wild foods were edible and which ones poisonous. And he needed to have a reason to take Peggy into the forest. James' character grew from these necessities. I also tried to put myself in his position — a man who hasn't ever had to work, a man who knows how to fend for himself, a man who loves his wife but is rejected, and a man who believes the world is going to end very soon. All those things created a complex character."
James is not the only complex character in "Our Endless Numbered Days." Peggy is equally nuanced. "I tried to show her growing up, I suppose. She's 8 in 1976, and 17 at the end of the novel. She is a naïve and trusting eight year old — it takes her quite a while to work out that things are going wrong in her life. But she is a survivor; she just finds her own and sometimes unusual coping strategies for the things that happen to her in the forest."
Music is the element that ties "Our Endless Numbered Days" together. One piece in particular is sewn throughout — Liszt's "La Campanella." Claire needed a piece of music that was going to be difficult to learn, since Peggy and James could only take one piece with them. "It also needed to be relatively short — so that the reader could understand the whole piece in one scene, and it had to be beautiful," Claire said.
"I can't play the piano, so I did lots of online research about what piece of music would be suitable. At the same time, I was researching which make of concert piano Peggy's mother should have, and finally settled on the Bösendorfer. And then by a weird coincidence I found that the piano manufacturer had created a video about making their pianos, and had set it to La Campanella. You can see it here.
*Read a complete transcript of Claire Fuller's interview with Cracking the Cover.