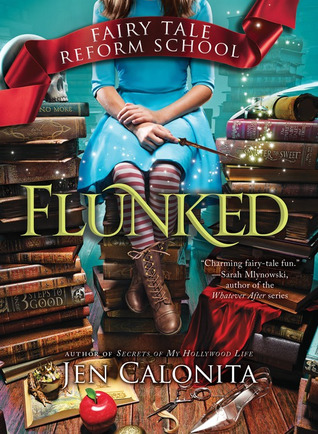 "FLUNKED: Fairy Tale Reform School," By Jen Calonita, Sourcebooks Jabberwocky, March 3, 2015, Hardcover, $15.99 (ages 10 and up)
Fairy tales often end with "and they lived happily ever after." But what does that really mean? And what does that mean for the other people involved? Jen Calonita imagines life after Cinderella, Snow White and Sleeping Beauty gets their princes in "Flunked: Fairy Tale Reform School."
Life after "ever after" means reform — reform of anyone (or anything) considered wicked. Gilly wouldn't consider herself wicked. Sure, she borrows things here and there, but when you live in a boot and your brothers and sisters are starving, you have to get a little creative.
None of this would be a problem if not for Cinderella who handed over the glass-slipper business to the fairy godmothers. Before then, a cobbler could make a decent living. Come to think of it, the royals have put a lot of rules into place that never would have stuck before. But now, now there's Fairy Tale Reform School, where all of the teachers are former villains — the Big Bad Wolf, the Evil Queen, etc. — and Cinderella's Wicked Stepmother runs the whole thing.
Gilly's had run-ins with the law before, but they've never been able to prove anything. That is until this time, and that means serving time. Three months. Three long months at Fairy Tale Reform School. It all seems a bit too much until Gilly meets Jax and Kayla. Reform school doesn't seem so bad after all, until a deadly villain rears its ugly head once again.
Initially, I wasn't sure what to think of "Flunked." Would it be a knock off of "The School for Good and Evil"? Some sort of rejiggered "Harry Potter"? Happily, neither is the case. "Flunked" is unique and it stands on its own merits.
Probably the best thing "Flunked" has going for it is author Jen Calonita's voice. Her quick, snappy nature follows through, especially in Gilly. It's in stark contrast to the smooth tone of the Wicked Stepmother, who even as a supporting character, is more nuanced than one would expect.
"Flunked: Fairy Tale Reform School" is fun and engrossing. I didn't want to put it down, and it was a fast, easy read. Here's hoping a sequel or series is in the works.
© 2015 – 2017, Cracking the Cover. All rights reserved.