I often come across books that I really want to like but for some reason am unable to get into them. Recently, two have crossed my path — "Seriously Wicked," by Tina Connolly and "The World Within: A Novel of Emily Bronte," by Jane England. In both cases, I loved the concept and the cover art immediately caught my attention. I got about 1/4th of the way in with both book before I decided to move on to something else. But that doesn't mean these books aren't worth reading. Below are publisher synopsizes and thoughts from me and other reviewers.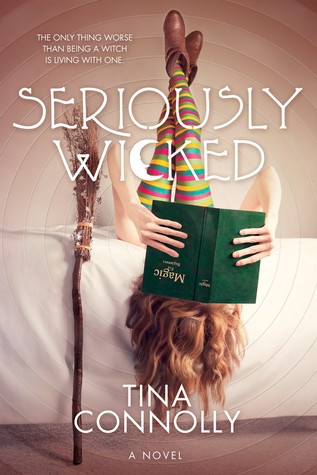 "Seriously Wicked," by Tina Connolly, Tor Teen, May 5, 2015, Hardcover, $17.99 (young adult)
Camellia's adopted mother wants Cam to grow up to be just like her. Problem is, Mom's a seriously wicked witch.
Cam's used to stopping the witch's crazy schemes for world domination. But when the witch summons a demon, he gets loose–and into Devon, the cute new boy at school.
Suddenly Cam's got bigger problems than passing Algebra. Her friends are getting zombiefied. Their dragon is tired of hiding in the RV garage. For being a shy boy-band boy, Devon is sure kissing a bunch of girls. And a phoenix hidden in the school is going to explode on the night of the Halloween Dance.
To stop the demon before he destroys Devon's soul, Cam might have to try a spell of her own. But if she's willing to work spells like the witch…will that mean she's wicked too?
I enjoyed Tina Connolly's take on Jane Eyre with "Ironskin" and was looking forward to a more light-hearted tale. The light-hearted part was there, but I never really jelled with her main character — perhaps I didn't give her enough time to develop? The book also seemed to drag. Other reviewers did mention the action picks up further in:
"I was drawn in by the cover and the title. Those two aspects made me want to read the book. While the first 50 pages were slow and kind of dragging, it picked up speed right after that and I was drawn by the story itself. Camellia is a funny character, even sarcastic at times. … I love books that have romance. Usually, if there is a book that doesn't have romance, I don't read it (I'm picky). But with Seriously Wicked, you know it's there but it is not the focal point, which actually made the story much more interesting." —Latte Nights Reviews
"Seriously Wicked was a light, and quirky young adult book. It wasn't quite five star material but I also can't say anything bad about it because I really enjoyed it a lot. Although initially the main character Camellia "Cam" is not a witch (or so she thinks), this book reminded me about how much I love reading about witches. And the fact that is was written in such a fun way made it all the more appealing to me." —Steph from Bookfever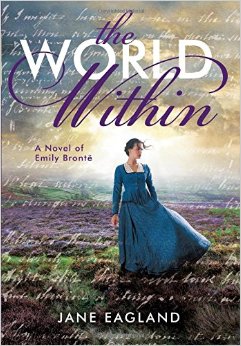 The World Within: A Novel of Emily Brontë, by Jane Eagland, Arthur A. Levine Books, March 31, 2015, Hardcover, $18.99 (young adult)
Emily Bronte loves her sisters, responsible Charlotte and quiet Anne, and her brother, tempestuous Branwell. She loves the moors that stretch all around the little village of Haworth, and wandering over them in the worst of weather. And she loves most of all the writing that brings all these things together, as she and her siblings create vast kingdoms and vivid adventures that take them deep into their imaginations.
But change is coming to Haworth, as their father falls ill and the girls must learn how to support themselves. How can Emily preserve both what she loves, and herself, and find her way into the future?
Jane Eagland carefully took on the subject of mental illness and how it was approached in the 19th century in "Wildthorn." I was expecting the same care and attention to detail with "The World Within," and it's obvious that both are present. What wasn't present for me was anything to really move the story forward. Emily Bronte wrote the highly emotional "Wuthering Heights." I guess I was expecting more along these tones. Instead, it leans more to educational side rather than the entertaining.
"Despite liberties, this is more educational than entertaining and is best suited to fans of the Brontës or biographic celebrations of tortured 19th-century authors." —Kirkus
"I Found The World Within interesting and enjoyed how the author brought out the differences to opportunities available to men and women on the times. The telling of the lives and making them so clear (fictionalized) was in keeping with showing the challenges they must have faced. I enjoyed the book." —Jo, Goodreads Review
© 2015, Cracking the Cover. All rights reserved. Unless otherwise noted, all books — digital and physical — have been provided for free by publishers in exchange for honest and unbiased reviews. All thoughts and opinions are those of the reviewer.