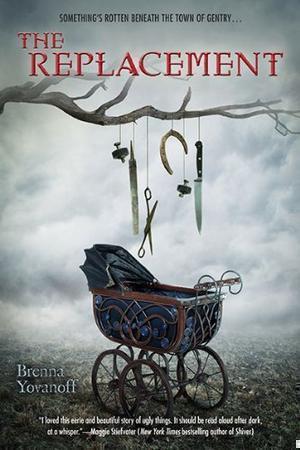 "THE REPLACEMENT," by Brenna Yovanoff, Razorbill, $17.99 (young adult)
When you come across a book with a cover like that of "The Replacement," by Brenna Yovanoff, you can't help but pick it up. The image of scissors, a horseshoe and a knife hanging over a baby carriage practically begs you to find out more.
I read "The Replacement" some time ago, but never had the chance to review it until now. It's dark and creepy with one foot in the "real world" and another in a place beyond your imagination.
Mackie Doyle is different. Though he tries to blend in, there's something a bit off about him.
But then there's something a bit off about the small town of Gentry, too. Infants there mysteriously die. It's something the town turns a blind eye to, when a replacement takes a baby's place.
Mackie wants to be part of the human world, but allergies to iron, blood and consecrated ground make that nearly impossible.
When the sister of a girl Mackie likes goes missing, Mackie does the unthinkable, entering the world of Mayhem. This world of tunnels and black murky water underneath Slag Heaps is where he comes from, but is it where he belongs?
One of the things I love about interviewing/meeting an author is that you get to see how their personality and mannerisms come into play.
Such was the case when meeting Brenna during the Breathless Reads tour stop in Salt Lake City.
As the moderator, I got to meet with the five authors — Brenna, Ally Condie ("Matched"), Andrea Cremer ("Nightshade"), Kirsten Miller and ("The Eternal Ones"), Beth Revis ("Across the Universe") — prior to the event. Between that and the panel discussion, I began to understand Brenna's choices.
Like Mackie, Brenna is quiet and comes off as unassuming. But her style is anything but — she had the stockings on that laced up the back that were awesome. She also has a dark, sort of ironic sense of humor that was both surprising and refreshing.
The whole experience made me look at "The Replacement" in a new way. And when I looked back at certain passages following the event, I was startled by the number of nuances I had missed before.
In "The Replacement," Brenna explores beauty in ugliness and vice versa. It's kind of a moody book and requires its readers be engaged.
Brenna brings a unique voice to the paranormal genre, and while some might find it a little too dark, fans of the otherworldly will enjoy the quality of tone that really brings "The Replacement" to life.