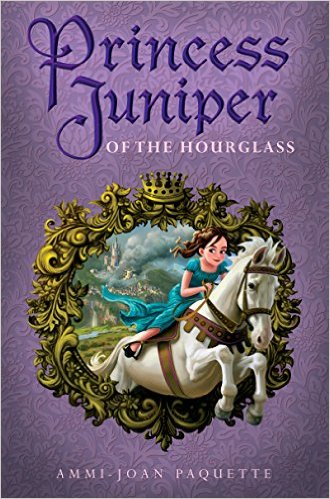 "PRINCESS JUNIPER OF THE HOURGLASS," by Ammi-Joan Paquette, Philomel Books, July 21, 2015, Hardcover, $16.99 (ages 8-12)
Princess Juniper is, as her name implies, a princess. In fact, she's the crown princess. One day she will be queen, but until then, she must learn the ins and outs of being a ruler. So when her 13th nameday arrives, Juniper knows just what to ask for — a country of her own.
Juniper realizes she's asking for a lot, but she sees running her very own small kingdom as a valuable learning experience. And when rumblings of unrest begin in Torr, Juniper suddenly finds herself being shuffled out the door and on her way to a secluded valley surrounded by the Hourglass Mountains.
There's more to running a country — even just a small one — than Juniper initially thought, especially when her cousin Cyril challenges her rule. But that's not even the hardest part. The initial plan was for Juniper and her band of young subjects to remain in the Mountains for two weeks, and then return for more supplies and recruits. But after arriving, Juniper discovers her father has other plans. His kingdom is at war, and he expects them to wait it out. Juniper and her subjects may be safely ensconced in their private valley, but is it really worth standing back when their loved ones are in danger?
"Princess Juniper of the Hourglass" is a princess book. But it is also a book of self-discovery. Juniper is very sure of herself in the beginning, but quickly realizes her life of pampering is nothing like that of the people who aren't royalty. At first, she's more worried about the number of dresses and parties she's going to hold, but by the end, she's more concerned about food and safety. Her progression makes the book a lot less flowery and a whole lot more relatable.
Author Ammi-Joan Paquette has done a fine job setting the stage for more books while still giving readers some closure with the first. And her writing as a whole is comfortable and easily accessible. It will be interesting to see where she goes with subsequent books. Here's hoping she's able to continue the strong balance between dark and light she created in "Princess Juniper of the Hourglass."