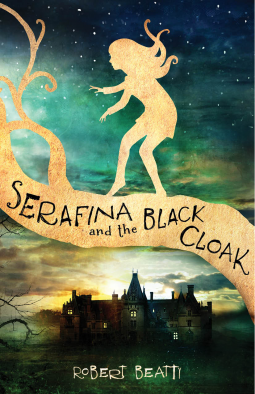 "SERAFINA AND THE BLACK CLOAK," by Robert Beatty, Disney Hyperion, July 14, 2015, Hardcover, $16.99 (ages 8-12)
Serafina lives at the Biltmore Estate, the closest thing to a castle in the United States and an icon of the Gilded Age. But Serafina isn't a member of the Vanderbilt family; she's not even one of the servants — at least not one anyone knows about.
Serafina secretly lives in the basement with her father, the estate's maintenance man. Dubbed the Chief Rat Catcher by her father, Serafina finds comfort in the night. She catches rats and explores the grand home under cover of darkness, never seen by the rich people who live upstairs.
With more than 175,000 square feet of living space to investigate, Serafina never feels the need to leave the grounds she knows and loves. But when children begin to vanish into thin air, Serafina knows she must help. She's seen a terrifying man in a black cloak slipping through the hallways at night, and she barely escaped his grip herself.
Serafina finds an unlikely ally in Braedon Vanderbilt, the young nephew of the Biltmore's owners. The new friends must uncover the mysterious man's identity before all the children disappear.
There are a number of reasons why I wanted to read "Serafina and the Black Cloak" — the beautiful cover, the Biltmore Estate, and the overall synopsis. I was not disappointed on any of those fronts. What I wasn't expecting were some of the nuanced surprises along the way.
Even though I had read the original synopsis of "Serafina and the Black Cloak," when the story took its first initial turn, I was caught off guard. I was so engrossed in the world author Robert Beatty had crafted — his descriptions of Serafina and her domain in the underground Biltmore are top notch — that I had to put the book down for a bit before continuing on. Once I picked it back up, I couldn't put it down.
I will say that there are some predictable elements, and toward the end the story seems to get a little away from the author, but he's able to reign it in for a satisfying conclusion.