ICYMI (In case you missed it) looks at books that have already been released. They're books I feel deserve a second look even though I won't be offering a full review on Cracking the Cover. Each book description includes a publisher's synopsis, what others thought about the book, and my thoughts on what attracted me to it in the first place.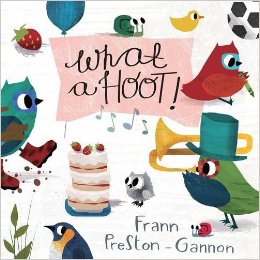 What a Hoot! by Frann Preston-Gannon, POW!, June 16, 2015, Boardbook, $12.95 (ages 2-5)
A companion to the best-selling Hot Dog, Cold Dog, Frann Preston-Gannon's new lap-sized boardbook, What a Hoot! explores opposites through the antics of adorable owls. Wide-eyed and plump, Frann's colorful little owls cavort happily through these pages–sloshing through the mud in a pair of rainboots ("This one's dirty") or nose-to-nose with a rubber ducky in a sudsy tub ("That one's clean"), they embody simple opposites that kids will immediately appreciate. A surprise ending adds to the read-aloud fun.
My daughter loves this one for one thing alone — the picture of a soccer ball. She doesn't really care about it otherwise. The illustrations are cute, though, and I'm hoping when she's older, she'll pay more attention to the book as a whole.
Here's the review from Publisher's Weekly:
"As she did in 'Hot Dog, Cold Dog' (2014), Preston-Gannon uses an animal and some peppy rhyming to highlight a range of activities, opposites, and interests. The verse is initially as precise as a classic nursery rhyme ("Owl is dirty./ Owl is clean./ Owl is blue./ Owl is green"), though it breaks down a bit later on ("Owl who pushes./ Owl who pulls./ Owl is big./ Owl is small"), deflating the fun somewhat. Even so, there are several entertaining moments along the way—an "owl who stands out in the crowd" wears a top hat and bowtie as it tries to blend in with some penguins."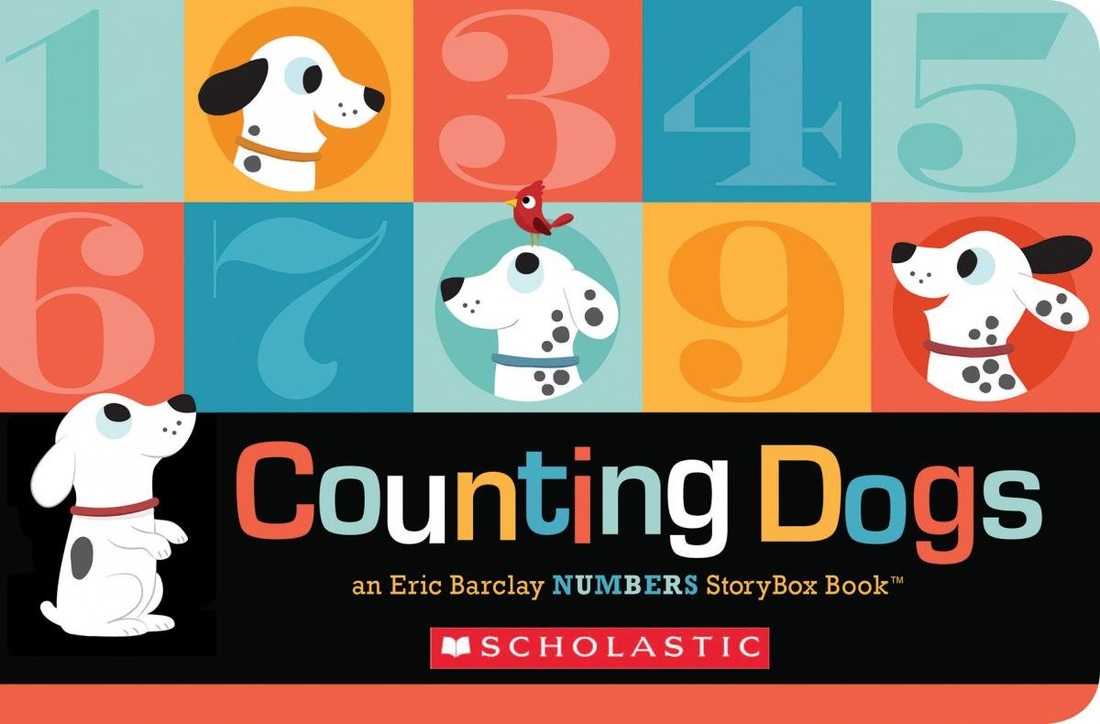 Counting Dogs (Numbers Storybox Book) by Eric Barclay, Cartwheel Books, May 26, 2015, Boardbook, $10.99 (ages 3-5)
Follow ten adorable dogs as they learn to count from one to ten using the animals around their neighborhood. A simple counting story brillianty packaged in a unique, hands-on Storybox format with die-cut, tabbed board pages that will keep kids learning and having fun!
This is part book, part box, and it's lots of fun. At first, my daughter just loved turning the tabbed pages, but now that she's a little older (18 months), she enjoys looking at the dogs in more detail.
Here's what Kirkus Reviews says:
"A sense of fun, clear, uncluttered design, and construction that should hold up to heavy use make this board book's relatively high price well worth the extra expense."
How Tiger Says Thank You! (Little Traveler Series) & How Penguin Says Please! (Little Traveler Series) by Abigail Samoun and Sarah Watts, Sterling Children's Books, May 5, 2015, Boardbook, $6.95 (ages 2-4)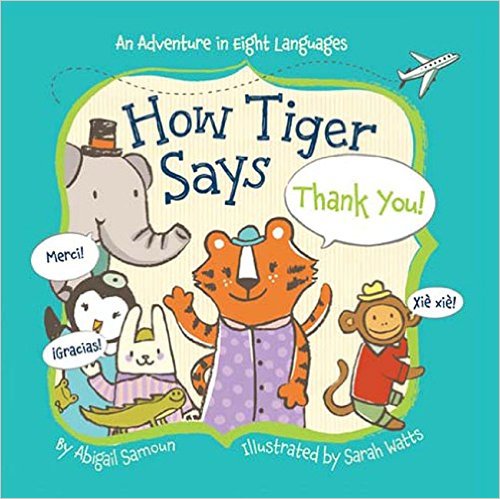 "How Tiger Says Thank You!" Spasibo, arigato, shukran, merci! Tiger's taking a trip—and everywhere she goes, from the market in Moscow to a boat on Egypt's Nile River, she says "thank you" to the friendly people she meets. And, as they follow her round the world, children will learn to how to say thanks in seven different languages, too: French, Russian, Arabic, Hindi, Mandarin, Japanese, and Spanish. Each "please" word is translated and has a pronunciation guide, and an illustrated map follows Tiger's travels.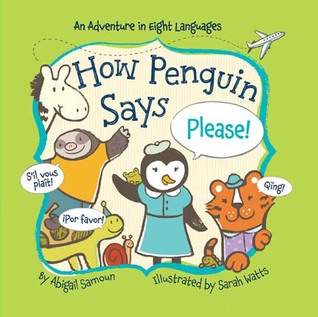 "How Penguin Says Please!" Por favor, s'il vous plaît, ching: this adorable board book teaches preschoolers how to say "please" in seven languages! Join Penguin as she enjoys pastries in France, explores the Hermitage in Russia, sees Mount Fuji in Japan and the Pyramids in Egypt, buys fish in China, sips chai in India, visits relatives in Argentina—and remembers her manners everywhere she goes! Each "please" word is translated and has a pronunciation guide, and an illustrated map follows Penguin's travels round the world.
These simple books have yet to appeal to my 18-month-old. I suspect they will grab her attention as her language skills grow. Other books in the series include, "How Gator Says Hello" and "How Hippo Says Good-bye."
© 2015 – 2017, Cracking the Cover. All rights reserved. Unless otherwise noted, all books — digital and physical — have been provided for free by publishers in exchange for honest and unbiased reviews. All thoughts and opinions are those of the reviewer.