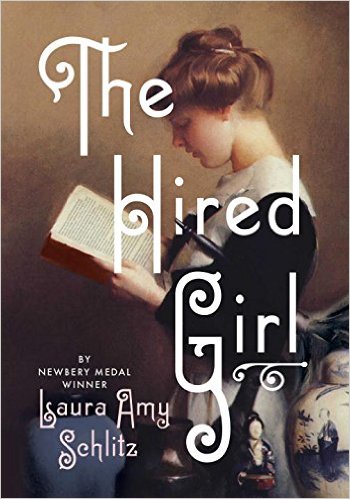 "THE HIRED GIRL," by Laura Amy Schlitz, Candlewick, Sept. 8, 2015, Hardcover, $17.99 (young adult)
First off, can I say how much I love the cover of "The Hired Girl"? The cover image is "The House Maid" painted by William McGregor Paxton in 1910 and used courtesy of the National Gallery, and it's a perfect representation of the book and main character. The cover alone made me want to read "The Hired Girl." Once I read the description, there was no going back.
"The Hired Girl" is comprised of the journal entries of the fictional Joan Skraggs. Joan's beloved teacher gives her the diary when the 14-year-old's father decides she must earn her keep on their Pennsylvania farm. Joan dreams of a life away from the farm, somewhere she can live like one of the heroines from her beloved novels. That's never going to happen in her current circumstances, but when Joan's father burns her books, she decides to change her future.
Joan plans her escape and heads for Baltimore. She pins up her hair and puts on a longer dress. And when the chance arrives, she presents herself as an 18-year-old looking for a position as a hired girl. Soon Joan finds herself in the Rosenbach home, training under the strict Malka in a Jewish household with two stoves and two sinks. Keeping a kosher household is a little strange for Joan, but the Rosenbachs have all the newest amenities, they send out the laundry, and she makes $6 a week. What more could she ask for?
"The Hired Girl" takes place during the summer of 1911, and it's a fascinating time period. Technological inventions were changing the landscape. Women were focusing more on rights and education. That's all represented here. As is the multifaceted social structure in which Jews and Christians intermingled. More than once, I found myself rereading a passage because I found it so interesting.
The inspiration for "The Hired Girl" came from author Laura Amy Schlitz's grandmother's journal. And that makes sense. Joan's diary entries come across as authentic. The book feels as if you are reading a true account. The thing is, though, you get so caught up in Joan's journey, that you forget about the writing style and just keep reading.
© 2015, Cracking the Cover. All rights reserved.