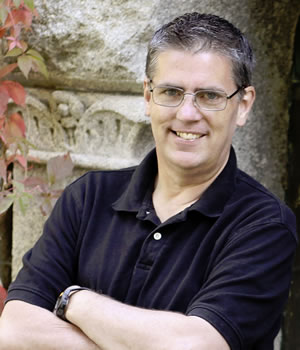 At the most basic level, J. Scott Savage writes because it makes him happy.
"It's like a spigot I can open up to release all the creativity that has been building up inside my brain," the author told Cracking the Cover. "But I also write because there's a specific story I need to tell. I write to share something I love with my readers. Way lower down the list, I write to get published. But even if I could never publish another book, I would still keep writing."
Jeff is the author of 16 novels. Like his Farworld and Case File 13 series, his latest book, "Fires of Invention" is written for middle readers. The book takes place in a world where creativity is against the law. But holding back your imagination is hard to do, and when a girl and a boy build something beyond their wildest dreams, their world is changed forever.
"Fires of Invention" came, as most of Jeff's books do, from the meeting of two separate ideas. "The first spark came when my wife and I went to see the Broadway musical 'Wicked,'" he said. "As soon as I walked into the theater and say the big mechanical dragon above the stage, my head started spinning. All I could think was, 'I need to write about kids building a mechanical dragon. I need to write about kids building a mechanical dragon.' The second piece if inspiration came from my nephew. He is one of the smartest and most creative kids I know. But his creativity often gets him into trouble. The two pieces merged and I thought, what if those kids were building a steampunk dragon in a city where creativity was against the law? Things just kind of took off from there."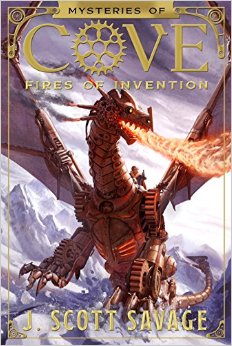 Jeff has always loved dragons. They're his favorite creatures in the fantasy lexicon — powerful smart and crafty. "I think every fantasy reader imagines at some point how cool it would be to ride on the back of a dragon. So, if you don't have the real thing, why not build one?"
Why not build one, indeed? But that's a bit harder than you'd think. By adding steampunk into the mix, Jeff also created a lot of work for himself. "I had to research everything from the history of steam-powered engines to hydroponics," he said. "There are some things you have to take with a little bit of imagination, like a 30-foot-tall metal dragon getting off the ground in the first place. But I wanted the technology to be as real as possible. I didn't want anything that felt like I was forcing the reader to accept something that might pull them out of the story. Time will tell if I put in too much technology, but I'd rather err on that side, than going, 'Yeah, it's um, magic, I guess.'"
It's not always easy to make a book stand out among its contemporaries, but Jeff says there are a couple of things that set "Fires of Invention" apart — genre and role reversal. "Steampunk is not all that common in middle grade, and combining that with dragons is kind of like mixing peanut butter and chocolate," Jeff said. "Second, one of the things I see a lot in middle grade fiction, and have written myself at times, is an impetuous boy character who takes all the risks, and an smart, cautious girl who waits to see what happens. That is definitely not the case here. Trenton and Kallista are both smart, and excellent mechanics. But Kallista is much more the leader when it comes to taking risks. She's the one who says, 'I'm climbing through the vents to the next level. You can come or stay.'"
Jeff always wanted "Fires of Invention" to be part of a series — he saw it as a trilogy — Mysteries of the Cove — and had a good idea of where he wanted the story to go. But there's never any guarantee what you're writing will be picked up as a multi-book contract, so you have to write a standalone with series potential, he said. "One thing I knew was that even if it was made into a series, I didn't want the first book to end with one of those big cliffhangers where you throw the book against the wall and curse the author. I felt pretty confident people would finish the first book and want to see where things go, but I wasn't going to end midstory."
"Fires of Invention" was picked up as a series, and Jeff is currently working on the second book, tentatively titled "Smoke and Mirrors." "It takes the steampunk to a whole new level and introduces some great new challenges," Jeff said. "[It's] a very different setting from book one, and definitely some new risks."
Learn more about J. Scott Savage, including why he writes and how Mystery of the Cover differs from his previous series, by reading the complete transcript of his interview with Cracking the Cover.
© 2015 – 2017, Cracking the Cover. All rights reserved. Unless otherwise noted, all books — digital and physical — have been provided for free by publishers in exchange for honest and unbiased reviews. All thoughts and opinions are those of the reviewer.