Claudia Mills loves every single thing about writing, which makes sense since she's the author of more than 50 books for young readers.
Though Claudia has loved many of the books she's read as an adult, she's never loved any of those books as much as the ones she read as a child. Among her favorites: "Anne of Green Gables," "A Little Princess," "A Wrinkle in Time" and the Betsy-Tacy books by Maud Hart Lovelace. "I want to write a book that a child might cherish as much as I still cherish these," she said.
"I love putting words on a blank piece of paper, groping toward story ideas, learning things about my characters that surprise me, thinking of problems that might befall them, watching them learn from their triumphs and tribulations," Claudia told Cracking the Cover. "I even get tears in my own eyes when I write an emotional scene and chuckle aloud when I write something I think is funny!"
Claudia's latest book is "The Trouble with Ants." It's the first chapter in The Nora Notebooks trilogy. The Nora Notebooks were born out of Claudia's earlier Mason Dixon series in which Nora appeared as a character. In "Pet Disasters," "Fourth-Grade Disasters" and "Basketball Disasters" Nora's character "provides a serious, scientific contrast to always-pessimistic Mason Dixon and his always-optimistic best friend, Brody Baxter," Claudia said. "My editor at Knopf, Nancy Hinkel, suggested that I give Nora her own series. Her words were: 'I could use a book about a girl with an ant farm.'"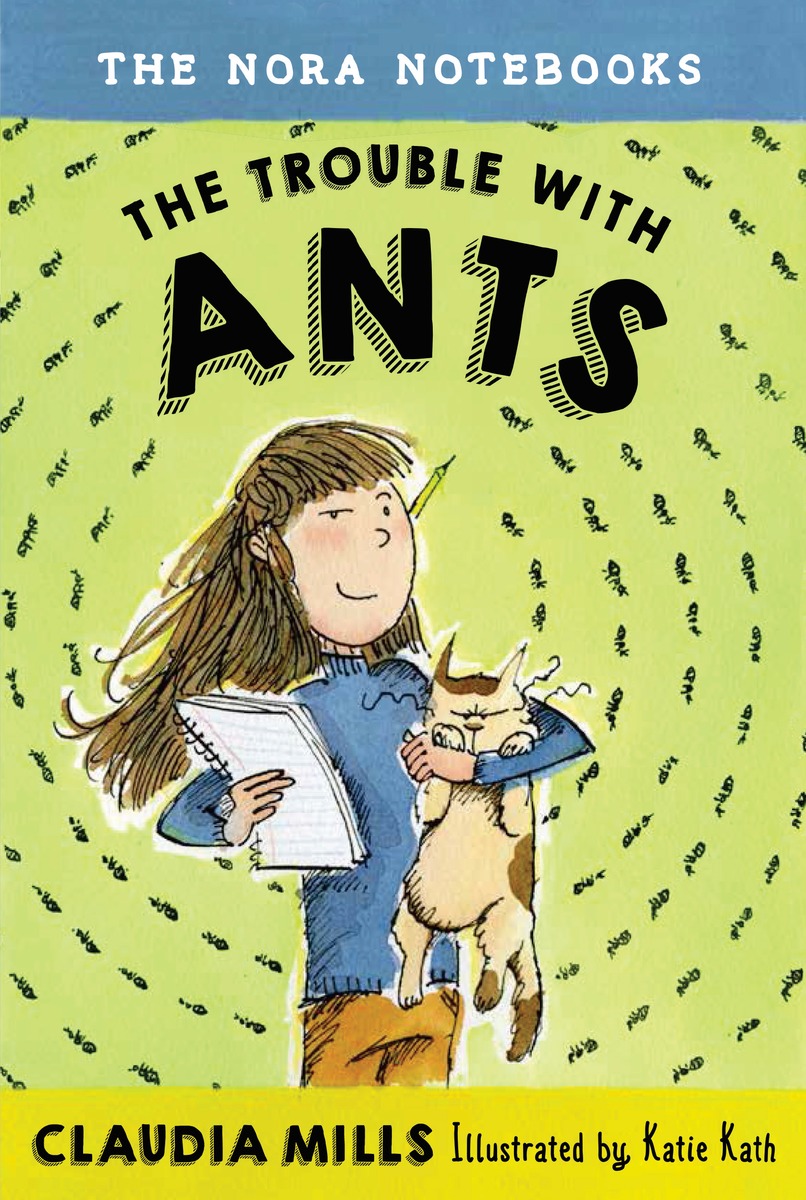 Nora is a fourth-grader who is obsessed with facts — more specifically facts about ants — and what better way than to keep track of those facts than by noting her observations in her notebook (hence The Nora Notebooks).
When crafting Nora, Claudia wanted to create a character with a passion for science. "I decided it would be fun if that passion focused on an unlikely and tiny object: the ordinary, almost unnoticeable ant," she said. "Once I started reading about ants, I was even more hooked on this idea. They are fascinating!"
All of Nora's ant facts come from the book "Journey to the Ants: A Story of Scientific Exploration," by scientists Bert Hölldobler and Edward O. Wilson. Claudia also did a phone interview with ant expert Whitney Cranshaw, a professor at Colorado State University. Che filled in the blanks as to what kinds of ants Nora would keep in her ant farm and what kinds of experiments she might do with them.
As with all of her books, Claudia hopes "The Trouble With Ants" will resonate with young readers. "I hope they get inspired to follow their own passion for whatever odd or unusual subject attracts them — and to keep on following it despite a lack of enthusiasm from their peers or temporary setbacks in achieving their dreams," she said.
*Learn more about Claudia Mills and "The Trouble With Ants" by reading the complete transcript of her interview with Cracking the Cover.
© 2015 – 2017, Cracking the Cover. All rights reserved.