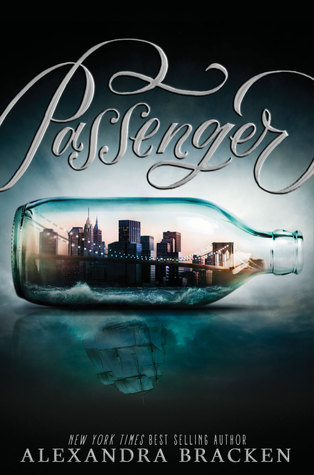 "PASSENGER," by Alexandra Bracken, Disney-Hyperion, Jan. 5, 2016, Hardcover, $17.99 (young adult)
Alexandra Bracken's "Passenger" is currently in the top 100 books on Amazon, and there's a reason why — it's a strong read with a compelling premise.
Etta Spencer is a violin prodigy. She's given up everything, including her boyfriend, to get to her level, and now things are about to pay off. Her debut is coming up, and she's been asked to perform at a prestigious event. But instead of making a splash, her performance is marred by a dissonant sound that pulls her deep into the past — not her past, but THE past.
Etta's inherited the ability to time travel, though she knows nothing about it nor does she know the family from whom she inherited it from. The one thing she does know: She wants to go home and set things back to how they should be. If only things were that easy.
Nicholas Carter is a sailor. He's content with his life and wants nothing to do with the Ironwoods, his family by blood and nothing else. Etta's arrival on his ship changes things. The Ironwoods are searching for a stolen object, one they believe only Etta can find.
Together, Etta and Nicholas piece together clues left behind by a mother Etta clearly did not know. They travel through time and across continents, all while keeping the Ironwoods at bay.
There are times when I read a book based solely on the cover and author, deliberately avoiding the synopsis on the back. There's something about going in blind that can be extremely satisfying, as long as the book is good. Luckily for me, "Passenger" is good.
The book starts out a bit slowly, but there are enough twists early on to capture interest and hold it. Bracken has clearly researched the eras in which she places her characters, paying a lot of attention to clothing, mannerisms and etiquette. She transports readers to the cramped quarters of and 18th century ship, bombed ravaged London during WWII and Syria long before the conflicts we know of today. As someone who has an interest in history, the detail was a welcome addition that added to the overall feel to the book. I can see, however, how it might trip up some readers.
Bracken's characters are interesting but flawed. Etta starts out as a shy wallflower of sorts. That changes after a number of events early on in the novel. Suddenly, she's a bit brash and daring. While some might find this a bit jarring, it made perfect sense to me. Etta's world is turned upside down, and she finally has had enough. Those events trigger a change in her that makes her infinitely more interesting as a character. Nicholas is the less likable of the two main players. I want to like him more, but feel as if more development is needed.
"Passenger" is a solid novel. It's part of a planned series, and I'm excited to see how Bracken builds on an already strong foundation.
© 2016, Cracking the Cover. All rights reserved. Unless otherwise noted, all books — digital and physical — have been provided for free by publishers in exchange for honest and unbiased reviews. All thoughts and opinions are those of the reviewer.