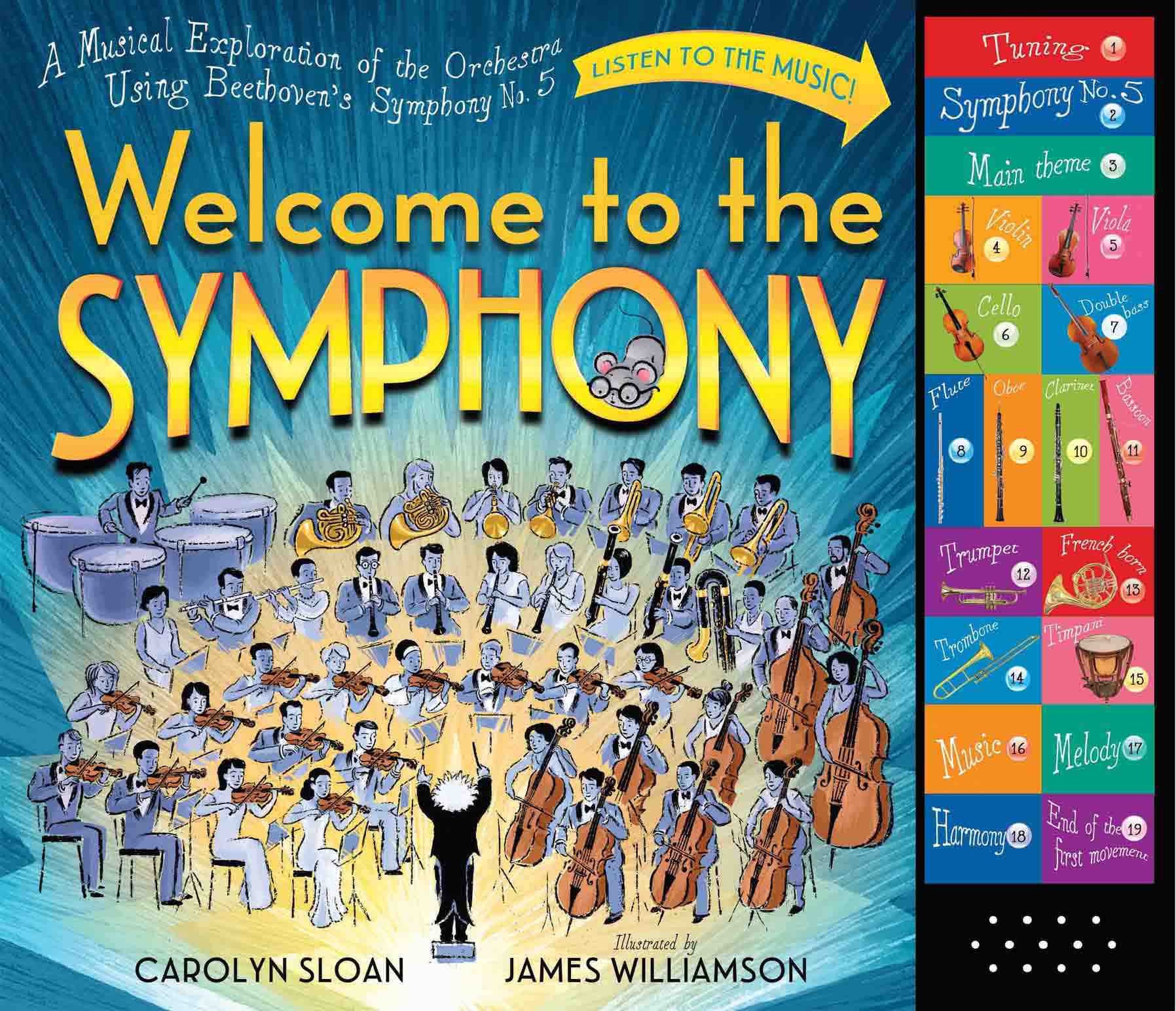 "WELCOME TO THE SYMPHONY: A Musical Exploration of the Orchestra Using Beethoven's Symphony No. 5," by Carolyn Sloan and James Williamson, Workman Publishing Company; Nov edition, Oct. 27, 2015, Hardcover, $24.95 (ages 4-8)
Beethoven's Fifth Symphony is one of the most recognizable pieces of classical music, which makes it a good foundation for "Welcome to the Symphony: A Musical Exploration of the Orchestra Using Beethoven's Symphony No. 5." This interactive picture book features a panel of 19 sound buttons that correspond to different elements throughout i.e., tuning, main theme, cello, oboe, melody, etc. With each turn of the page comes another element of music or the orchestra, answering the questions: What is a conductor? What is a symphony? Who was Beethoven? A trio of sweet little mice joins readers on the tour, adding a little whimsy to the book.
It's never too soon to expose your child to classical music. I've listened to it for as long as I can remember, so it was natural to have it in our household when my daughter was born.
But you shouldn't stop at just listening to it. I learned this first-hand with my almost-2-year-old while going through "Welcome to the Symphony." While I expected my daughter to have fun pushing the buttons, I never expected her to become so engaged with the book, which is, quite honestly, too advanced for her. We began "Welcome to the Symphony" like any other book, but with each turn of the page, I adapted the content for her level — pointing out different instruments, matching the numbers on the buttons with the ones in the book. She was enamored.
We spent 45 uninterrupted minutes with "Welcome to the Symphony" upon its first reading and 20 with each subsequent. Anyone who has a toddler knows this is amazing! She now knows the difference between most of the instruments in the book, although the nuances between some like the violin and viola are too complex for her at this time. She "dances" to Symphony No. 5 and even recognized the music when we found a version on YouTube. Most importantly, this has helped her become excited about music. You can't ask for much more than that.
"Welcome to the Symphony" is a book that will grow with your child. It's easy to begin much the same way I did with my daughter, and as time goes by, we'll add in the more complicated elements such as pitch, theme, melody and harmony. I never expected to enjoy "Welcome to the Symphony" as much as I do. It's a great book to bond with your child over.