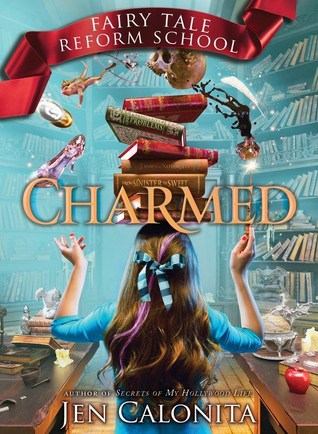 "CHARMED," by Jen Calonita, Sourcebooks Jabberwocky, March 1, 2016, Hardcover, $15.99 (ages 9 and up)
"Charmed" returns to a world where life after "ever after" means reform — reform of anyone (or anything) considered wicked. It's the second book in Jen Calonita's Fairy Tale Reform School series, and like its predecessor, it's a lot of fun.
When we first met Gilly Cobbler, she was in a heap of trouble. Her pickpocketing habits had landed her in Fairy Tale Reform School. After Gilly helps thwart plans to bring evil back into power she's granted her freedom, but the mostly reformed thief volunteers to stay at school so she can flesh out the spy who's helping Alva — the fairy who cursed Sleeping Beauty.
Alva is after the Princesses (Snow, Ella, Sleeping Beauty, Rapunzel), and she wants students from Fairy Tale Reform School to join her. While some of her classmates answer the call, Gilly goes undercover as a Royal Lady in Waiting. The plan — catch the mole before the mole can do some serious damage.
Setting out on her own, Gilly is acting like the hero she is, or so she thinks. But it took all her friends to defeat the evil queen the first time, and if Gilly thinks it's going to be any easier the second time around, she's got a surprise coming.
I really enjoyed "Flunked" the first book in this series. I found the interplay between the snarky Gilly and smooth Wicked Stepmother to be nuanced and well balanced. And I enjoyed Gilly as a character. There was less of that this time around.
In "Charmed," Gilly has let her hero status go to her head, and that makes her somewhat annoying. If you hadn't met her previously, you wouldn't want to get to know her. This character development plays right into the storyline, so there is a purpose for it, but I did find myself missing her more likeable self.
The plot this time around, is also somewhat predictable. I figured things out fairly early on but was still entertained nonetheless. The best part of "Charmed" is the supporting characters, many of whom you get to know better. They make up for Gilly and help flesh out the story for a more cohesive feel.
© 2016 – 2017, Cracking the Cover. All rights reserved.