Two recent picture books celebrate strong young protagonists who want nothing more than to excel.
"THÉRÈSE MAKES A TAPESTRY," by Alexandra S.D. Hinrichs and Renée Graef, J. Paul Getty Museum, March 8, 2016, Hardcover, $19.85 (ages 6-9)
Thérèse and her family work in the Gobelins Manufactory, making tapestries to hang on the walls of fine palaces. Though Thérèse only spins wool, she dreams of weaving intricate pictures. Girls aren't allowed to be royal weavers, but that doesn't stop her from practicing on a small loom at home.
When her father brings home a painting of King Louis XIV's palace in winter, Thérèse decides to use it as a pattern for a tapestry. With the help of family, friends and the artisans of the Gobelins, Thérèse finishes her work just in time for a royal visit.
Though Thérèse's story is a work of fiction, her adventures were inspired by real people, and a real tapestry that now hangs in the J. Paul Getty Museum in Los Angeles.
"Thérèse Makes a Tapestry" is a beautiful picture book. It features original paintings by award-winning artist Renée Graef that not only illustrate the art of weaving but give life to Thérèse and her family.
Both Graef and author Alexandra S. D. Hinrich meticulously researched the history of 18th-century tapestries and how they were created. And yet, with all the research, the book never feels dry or overcomplicated. Hinrich tells a fascinating story that is at the same time age appropriate but compelling for readers of all ages.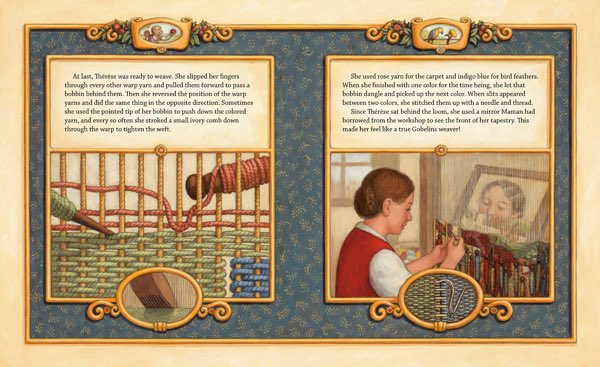 ---
"CLEONARDO, THE LITTLE INVENTOR," by Mary Grandpre, Arthur A. Levine Books, Aug. 30, 2016, Hardcover $18.99 (ages 4-8)
Cleonardo comes from a family of inventors — her father, grandfather, great-grandfather and beyond. So naturally Cleo wants to be one, too. But when Cleo tries to help her father in his workshop, she and her ideas tend to get in the way.
Frustrated and determined to prove herself, Cleo decides to invent something big and important all by herself. With a little help from Grandpa Leonardo, Cleo learns sometimes the best ideas come in the form of collaboration.
One of my favorite elements of "Cleonardo, the Little Inventor" is that her grandfather is Leonardo, as in THE Leonardo. Even though this is a fictionalized story, it opens up a wealth of further learning opportunities for young readers and their parents.
Most readers will recognize the name Mary Grandpre as the illustrator behind the Harry Potter novels. "Cleonardo, the Little Inventor" marks her first time as sole author and illustrator. Her illustrations are as charming and detailed as ever, and her writing is quite strong, too.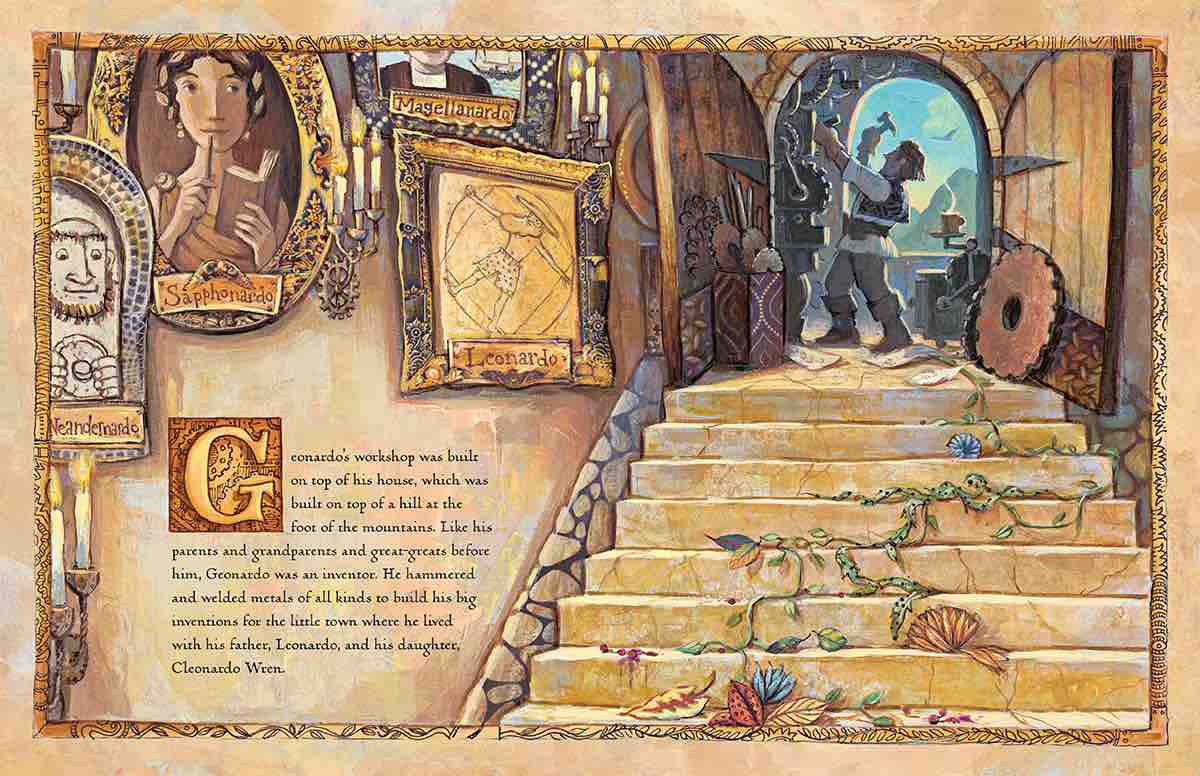 © 2016 – 2017, Cracking the Cover. All rights reserved. Unless otherwise noted, all books — digital and physical — have been provided for free by publishers in exchange for honest and unbiased reviews. All thoughts and opinions are those of the reviewer.