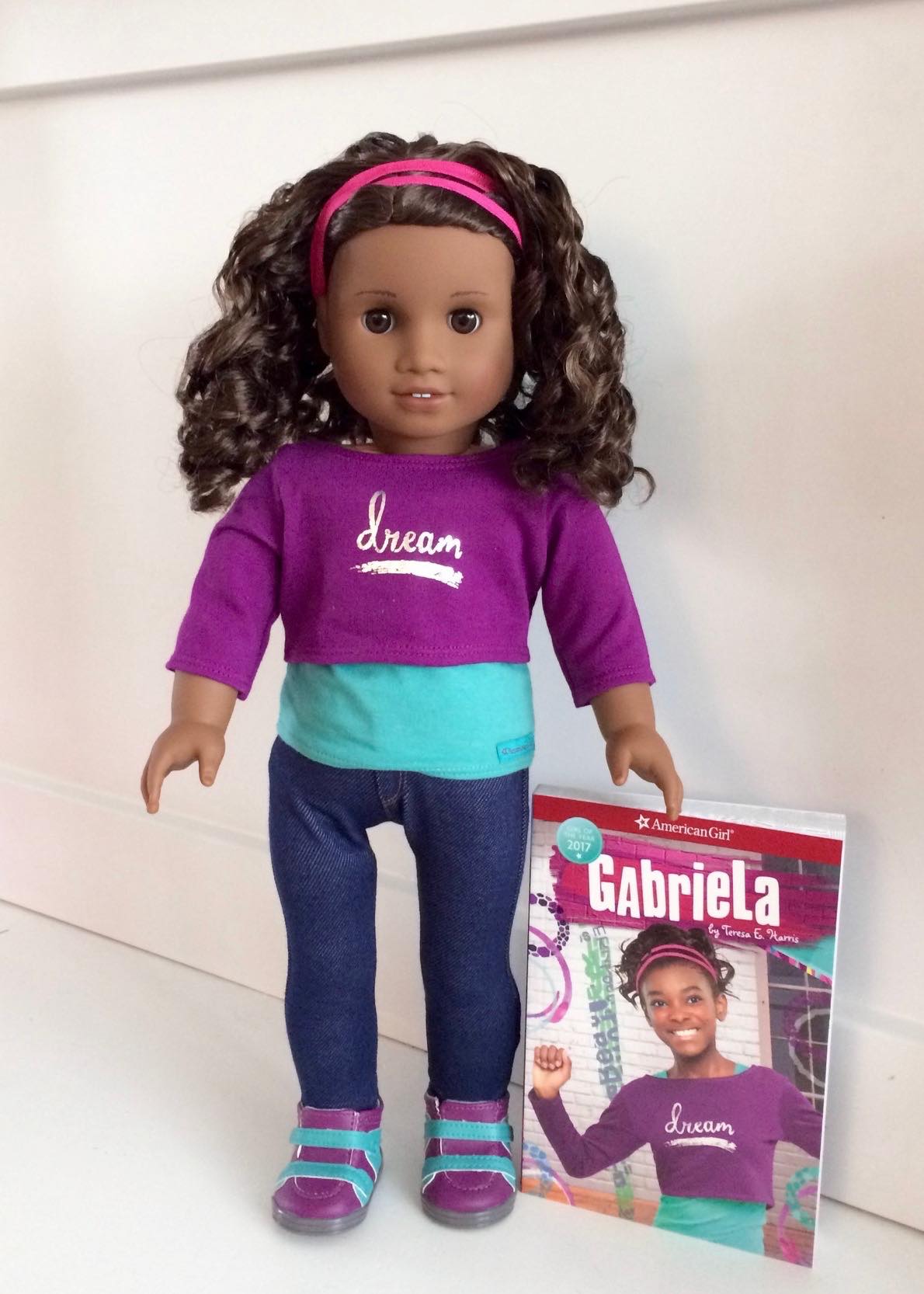 Each year, American Girl announces a Girl of the Year. In 2017 that girl is Gabriela McBride, a girl with a passion for the arts — specifically spoken poetry.
Gabriela launched in January with a 18-inch doll, and several performance-inspired outfits, accessories, and toys. As with other Girls of the Year, Gabriela also comes with books. The first book, Gabriela, launched with the doll. The second, Gabriela Speaks Out, comes out April 25.
To connect readers with Gabriela's message and to bring awareness to spoken word poetry, American Girl has also partnered with Scholastic to create and distribute Express Yourself, a program for classrooms that empowers students to use the arts as a tool for self-expression.
American Girl sent me Gabriella and her book for review.
THE BOOK
GABRIELA, by Teresa E. Harris, Scholastic, Softcover, $9.99 (ages 8 and up)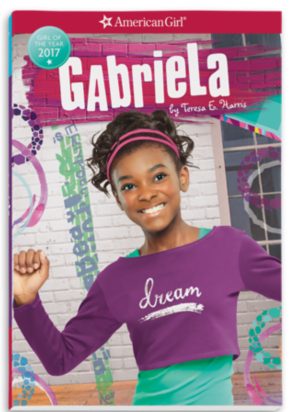 Gabby has spent her life at Liberty Arts, the community arts center her mom runs. Liberty Arts is where Gabby met her best friend, Teagan, it's where she dances, and it's where she's learning to find her voice. You see, Gabby struggles with stuttering, but lately poetry club — specifically spoken word poetry — has helped calm her stammer.
Liberty Arts is home, but that all changes when an electrical problem leads city inspectors to find even more problems with the center. Now the city might tear down the building, displacing Liberty Arts for good. With the prospect of losing the community arts center, Gabriela, her friends and family must work together to rally the community and show the city why Liberty Arts is worth saving.
Gabriela follows the typical American Girl pattern — girl is happy; girl faces problem; girl is sad; girl and friend/s work together to solve problem; happy ending. While it sounds very formulaic, American Girl does an excellent job of finding authors who create new and interesting characters that young readers can easily embrace.
THE DOLL
The Gabriella doll is beautiful, but she's much prettier out of the box than in. It's amazing the differences you notice once you're holding her. Even the promotional pictures do not do her justice. Below is a rundown of the pros and cons to purchasing Gabriela:
Price: Gabriela is an 18-inch doll, which like the BeForever dolls, run at $115 for the doll and paperback book. The 18-inch Truly Me customizable dolls are $115 for the doll only.
Body:Gabriela features a cloth body and plastic extremities.
Face:Gabriela has a very sweet face with rosy cheeks and eyes that open and close.
Hair: At first glance, Gabriela's hair appears plain brown, but once you get her out of the box, you can see slight variances that create a more natural look. Gabriela is packaged with her hair in a net. Once the net is removed, Gabriela's thick, curly hair springs to life. I wonder at how the har will look once played with, but it's gorgeous right out of the package.
Box: Speaking of packaging, Gabriela comes in American Girl's new box, which is basically a big Barbie box. I think this is a branding misstep by the company, which is owned by Matel. Much like Madame Alexander dolls, one of the things American Girls is known for, is the box the doll comes in. It opens like a shoebox and is very sturdy. The new packaging is flimsy and requires you slide the doll out the top. This means you have to slide the cardboard insert back into the box — which is no small feat — if you want to store the doll. The large, plastic viewing window isn't ideal for stacking, either. Now most people probably won't keep the box, but the overall look downplays the upscale look fans expect from a $115 doll.
Clothes: Like the packaging, there's been a lot of "chatter" about Gabriela's clothes and accessories. I can't speak to her accessories, but I can to her outfit. No, Gabriella does not have the intricate dress you might expect from a BeForever doll, but her leggings, tank and "dream" shirt fit her story exactly. The quality of her clothing is on par with other American Girl products, and her sneakers are super cute.
EXPRESS YOURSELF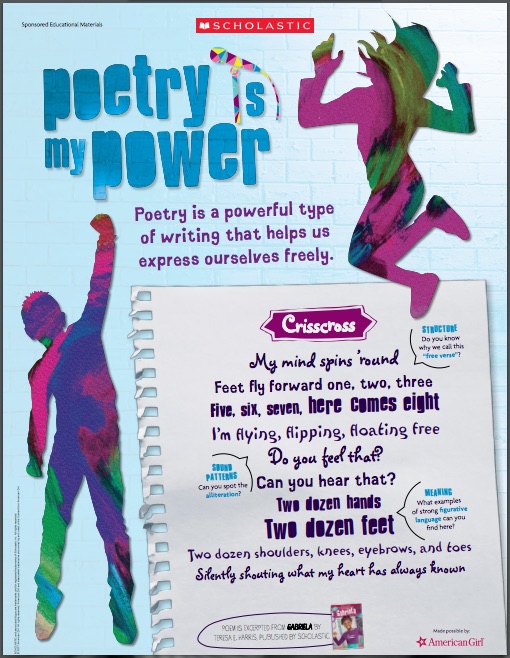 Express Yourself is a new English language arts curriculum program created by a Scholastic-American Girl partnership. The program teaches students in the third, fourth and fifth grade how to use poetry as a tool for self-expression.
The free educational materials are available at www.scholastic.com/poetryismypower. The materials include a poster teaching guide, digital lesson plans and corresponding classroom worksheets that teach the fundamental elements of poetry, emphasizing spoken word and encouraging students to create their own poems.
Teachers can also submit their students' poems in the Express Yourself Poetry Contest, which runs from March 1 through April 30 (April is national poetry month).
OVERALL IMPRESSION
I've always been drawn to the BeForever line over American Girl's other books and dolls, but Gabriela may have changed my mind. Her story is empowering and will remain timely for many years to come. Her doll and accessories are adorable, and I appreciate the effort American Girl and Scholastic have put into going beyond the products.
© 2017, Cracking the Cover. All rights reserved.