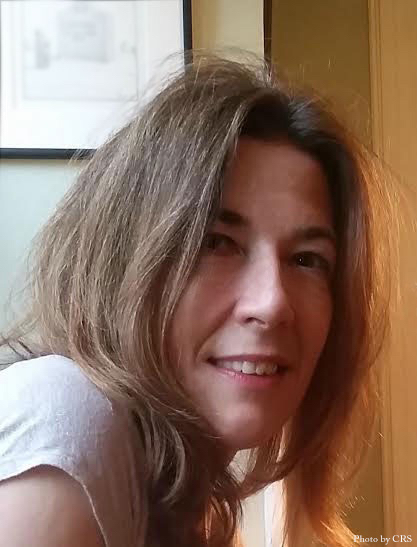 During the summer of 2012, Holly M. McGhee started writing a book about two friends who adopt a leopard gecko together. Twenty-pages in, however, she put the book down. It was a full year before she would return to what became Matylda, Bright and Tender.
When Holly realized the 9-year-old girl at the center of the book was going to lose her friend, she couldn't stand it. "That's when I began to understand that the book was about surviving, how things can change in an instant, and I knew it was about my own survival too, having been in a terrible and fatal collision as a teenager," Holly told Cracking the Cover.
"I wanted to reach out to kids who might be suffering, whose parents don't know what to say to them, I wanted to let them know they'll be okay somehow, that in time they'll fold what happened to them into themselves, that they don't have to fight it, that it will become part of who they are and they'll be bigger for it. I hope my readers figure this out faster than I did."
At the center of Matylda, Bright and Tender are Sussy and Guy. Guy's name is actually that of Holly's own imaginary friend — Guy Hose — through nursery school.
"As my imaginary friend," Holly said, "Guy always represented the darker side of me — he did all the bad things I wished I could do, and I think that's what is so special about Sussy and Guy — they 'see' each other fully, both the dark and light sides, which means they can love each other fully as well. It's the ultimate friendship."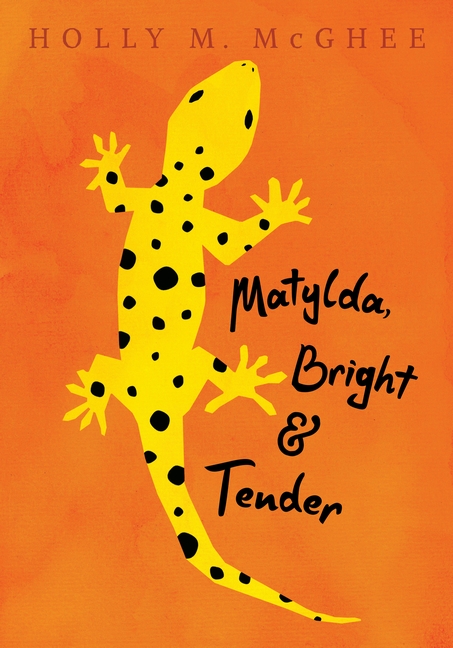 Sussy and Guy's friendship gave Holly freedom to write, because Holly knew that no matter what, the duo would remain committed to each other. "Their relationship rolls from love to anger to hate and back to love again and they became fuller and deeper people in that process," Holly said. "With that core of unconditional acceptance I (as the writer) could do anything with them, just as we can with our real and true friends."
When Sussy and Guy convince Sussy's parents that they need a pet — something to love that's all their own — it's a leopard gecko, aka Matylda, that takes up residence in Sussy's room. A leopard gecko wasn't originally part of Holly's plan. Then real life changed things. It was during the year that she put down Matylda, Bright and Tender that Holly's son got her family's first leopard gecko, Speedy.
"I didn't expect to fall so madly in love with this gecko," Holly said. "There was a week that summer when I was the only one home, and I was responsible for Speedy … and I had to catch the crickets and feed him. I was terrified but I wanted to take good care of him … so I did, and I got to know him pretty well … when I sat back down to work on Matylda, the gecko showed up to claim a spot."
All books go through multiple stages in which the length changes, chapters get rewritten and moved around, and characters develop. The biggest emotional shift in Matylda, Bright and Tender came from a question author Kathi Appelt asked Holly.
"In the funeral scene, Sussy promises Guy that she'll love Matylda enough for them both," Holly said. "Kathi asked me what was at stake for Sussy in that promise. I considered her question for quite some time, until it became clear Sussy thought keeping the promise meant she could hold on to Guy, even in death. It was a powerful question and the answer reverberates throughout the novel. I am forever grateful to Kathi. She is one of the most generous humans I know."
Matylda, Bright and Tender is Holly's first middle-grade novel — she's written a number of chapter and picture books under the pen name Hallie Durand.
Writing Matylda, Bright and Tender was a different experience because Holly was willing to make herself and her readers uncomfortable in order to tell the truth about grief. "More importantly I had the privilege of holding my readers close as I told Sussy's story," she said, "so that hopefully they come away knowing they can survive whatever life has in store — this is what grief feels like and you can go on, just like Sussy does. The emotional stakes were higher for me with this one."
Holly is currently working on four projects in various stages of completion. Come with Me is a picture book with long-time friend and artist Pascal Lemaitre. It was born from the duo's mutual experience of the 9/11 terrorist attacks and the lockdown in Brussels last spring. Come with Me goes on sale Sept. 5. Pascal and Holly are tinkering with another idea, and Holly's got a few pages of a middle-grade novel. "It's the first time I've had the title of a book before the story," she said "Maybe that's a good omen…"
---
Learn more about Holly M. McGhee, including why she writes for young people and how her work as an agent and editor influences her own work, by reading the complete transcript of her interview with Cracking the Cover.