DAD AND THE DINOSAUR, by Gennifer Choldenko and Dan Santat, G.P. Putnam's Sons Books for Young Readers, March 28, 2017, Hardcover, $17.99 (ages 5-8)
Every child has some fear of some kind. Usually it has to do with the unknown — something hiding in the dark, something strange behind a door, etc. Dad and the Dinosaur, by Gennider Choldenko and Dan Santat explores fears and how one child conquers them.
Nicholas wants to be just like his dad, Nick. Nick isn't afraid of anything. But it's not that easy for Nicholas. He's afraid of the dark outside his door, the bushes where the giant bugs live and the underside of manhole covers.
The only thing that helps Nicholas is his toy dinosaur; when he's in Nicholas' pocket Nicholas can do anything. He can climb walls, swim and face off against a huge goalie during soccer. Nicholas depends on his dinosaur for almost everything. So when Nicholas' dinosaur goes missing, everything goes awry. It's as if his bravery dries up completely.
Lucky for Nicholas, his dad knows a thing or two about being brave — even the bravest of the brave can get scared — and he's more than happy to lend a helping hand.
Dad and the Dinosaur has a lot of good things going for it. Newbery Honor-winner Gennifer Choldenko and Caldecott Medal-winner Dan Santat are equally paired. The story is sound and the illustrations are bold and creative.
I do, however, wish that the message at the end didn't allude to bravery being "guy stuff." While I'm sure this wasn't the author's intent, it does make the book a harder sell for girls, who also face fears and like dinosaurs. As is, I'm not sure how I would explain this to my daughter.
The publisher's suggest age range is 5-8 and I think the book runs a little younger than that. If not for the "guy stuff" issue, I'd read this to my newly 3-year-old now.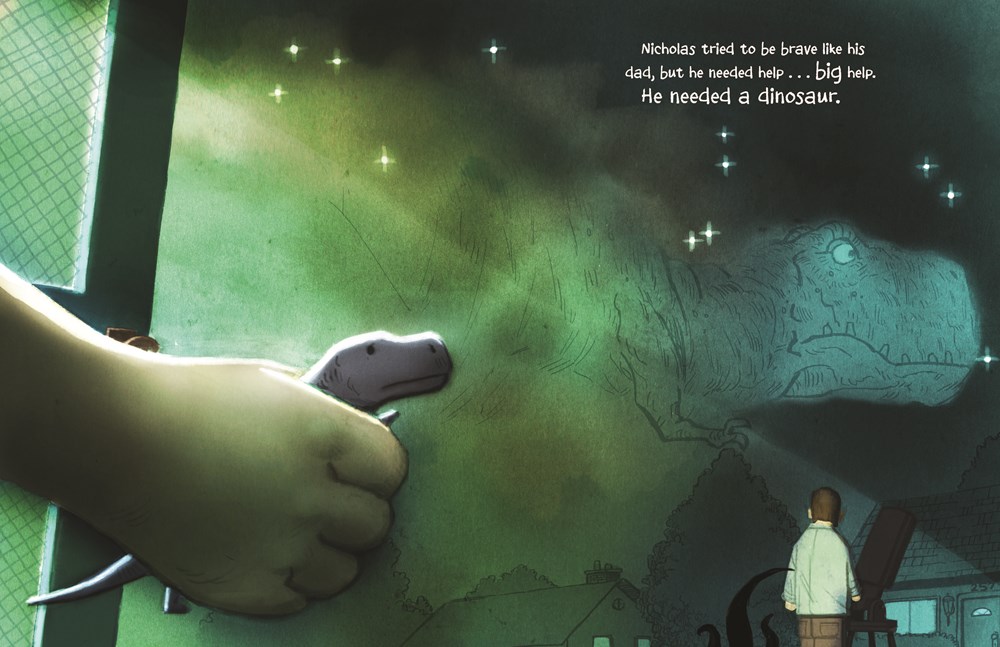 © 2017, Cracking the Cover. All rights reserved. Unless otherwise noted, all books — digital and physical — have been provided for free by publishers in exchange for honest and unbiased reviews. All thoughts and opinions are those of the reviewer.