The husband-and-wife team of Anna Kang and Christopher Weyant are back with their third book about of two fuzzy friends in I am (Not) Scared.
Based on the success of the couple's first two books, it's no surprise they're back with a third. Those books are You Are (Not) Small (featuring two fuzzy, bear-like creatures who can't agree on who is small and who is big) and That's (Not) Mine (featuring the same to characters fighting over who gets to sit in a comfy chair).
In I Am (Not) Scared the two fuzzy creatures find themselves at an amusement park, trying to convince each other that there are much scarier things than a roller coaster. But the more things they list — hairy spiders, a pit of hot lava, a pan of fried ants — the more scared they become. And just when they think it can't get worse, a roller coaster WITH a snake pulls in. But perhaps, being scared isn't so bad when you're scared together.
Like its predecessors, I Am (Not) Scared features simple text and bright, animated illustrations. The two are perfectly paired. Kang's text is straight-forward, creating the framework in which Weyant's ink-and-watercolor illustrations take center stage. Weyant's expressive characters are at once loveable and easily understandable for young readers.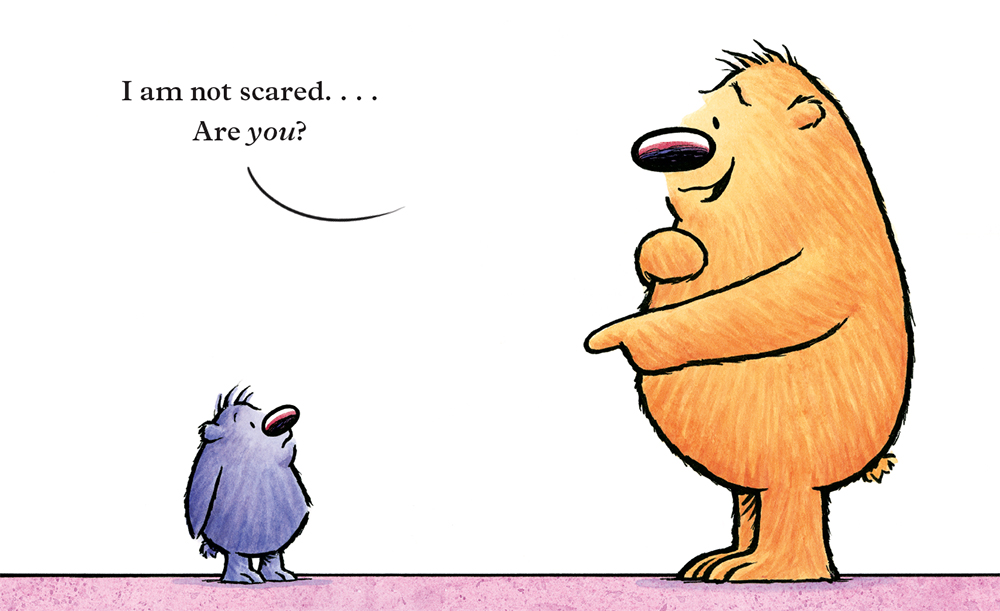 ---
Learn more about the author and illustrator by visiting their websites at www.annakang.com and www.christopherweyant.com.
For more information, and to download a free activity kit, visit annakang.com, or download at: http://bit.ly/2mKbFWi
© 2017, Cracking the Cover. All rights reserved. Unless otherwise noted, all books — digital and physical — have been provided for free by publishers in exchange for honest and unbiased reviews. All thoughts and opinions are those of the reviewer.