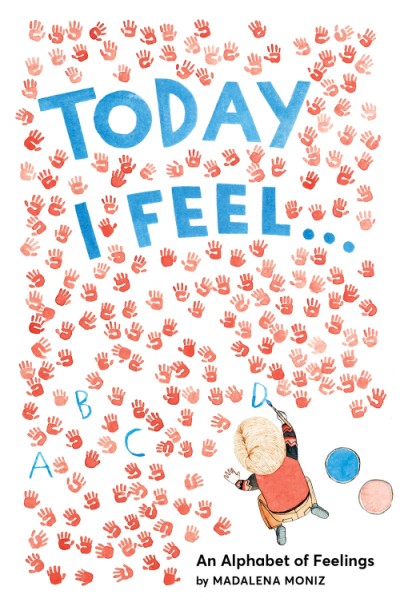 I recently received two emotions books from Abrams Appleseed that have become a big hit in our household. Today I Feel …: An Alphabet of Feelings is out now, and Making Faces releases May 2, and is currently available for preorder.
Today I Feel relies heavily on illustrations. Each spread features a letter of the alphabet representing an emotion or feeling — adored, brilliant, curious. Some of the feelings are a bit more abstract — free, light, mini — and rely heavily on context and some extra explanation from a grownup.
My husband reads Today I Feel with our daughter almost every night before bed. She loves to snuggle in his arms and talk about the pictures. Together, they discuss different emotions and talk about how our daughter has felt throughout the day.
We've also found our daughter mimicking her nighttime reads with her stuffed animals. It's fun to stand outside the door and listen as she tells her bunny or doll the different letters and explain how the boy from the illustrations is feeling. We've noticed a marked difference in our daughter's awareness of her own emotions since starting with this book and feel like it's been a great help in that regard.
Madalena Moniz's watercolor illustrations are beautiful, and I love the pairing of the alphabet with emotions. I highly recommend this for toddlers on up.
Making Faces is a fairly straight-forward and basic boardbook, Each spread features a baby's face and asks readers to match it to corresponding expressions — happy, sad, angry, surprised and silly. The final page features a mirror in which you/your child can practice making faces.
At 3, our daughter is really too old for Making Faces, but she loves it nonetheless. I don't know what it is about kids seeing pictures of other kids that make them so excited. This is another one that my husband reads with our daughter at night; in part because it's a fast primer when other book selections push us well past bedtime. I don't think we'll be reading it for too much longer, but I definitely recommend it for younger readers. We'll be passing our copy on to younger nieces/nephews when we outgrow it.
© 2017, Cracking the Cover. All rights reserved. Unless otherwise noted, all books — digital and physical — have been provided for free by publishers in exchange for honest and unbiased reviews. All thoughts and opinions are those of the reviewer.