Mother's Day may be next Sunday, but in the book world, publishers have already moved on to Father's Day. And if you're looking for a sweet new book that celebrates new fathers and the love of parents in general, Rosalinde Bonnet's Daddy Honk Honk! is a good option.
Summer is coming to a close, and all the tundra animals are enjoying the last sunny days. Aput the fox is watching the geese fly away when he realizes they've left something behind — an egg.
When the egg breaks open and a gosling arrives, it immediately mistakes Aput as his Daddy. Aput doesn't know how to raise a baby, so he decides to find the gosling a home. But the gosling has already found a home with Aput, and as Aput asks his friends for help, he realizes what the gosling needs the most is love.
As I read Daddy Honk Honk! I couldn't help but think of my husband as a new father. I experienced complications during childbirth, and my husband had to take care of our daughter by himself. He felt immensely unprepared, and yet, when faced with the challenge, he flourished. Loved ones who helped him care for our little one, and the two have a special bond to this day.
I love how Daddy Honk Honk! celebrates new fathers and community support. Bonnet's story sweet and her ink-and-watercolor drawings are charming. My daughter was immediately drawn to the book when it arrived and I had to hide it until I finished my review.
Bonnet created an awesome printable activity book in conjunction with Daddy Honk Honk! You can download it on her website.
---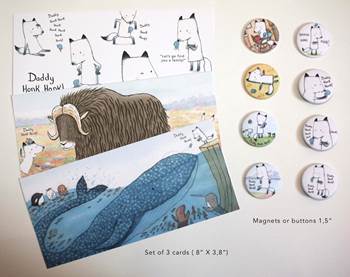 Daddy Honk Honk! Giveaway
Dial Books is offering a Daddy Honk Honk! prize pack — including a copy of Daddy Honk Honk!, as well as the following goodies – each featuring Bennet's delightful illustrations:
1 set of four magnets
1 button
4 prints (2×9")
1 deluxe print (2×9")
1 book
To enter the contest, fill out the Rafflecopter form below. The giveaway is open to the U.S. only, and runs through midnight (Mountain Time) on Sunday, May 14.
a Rafflecopter giveaway