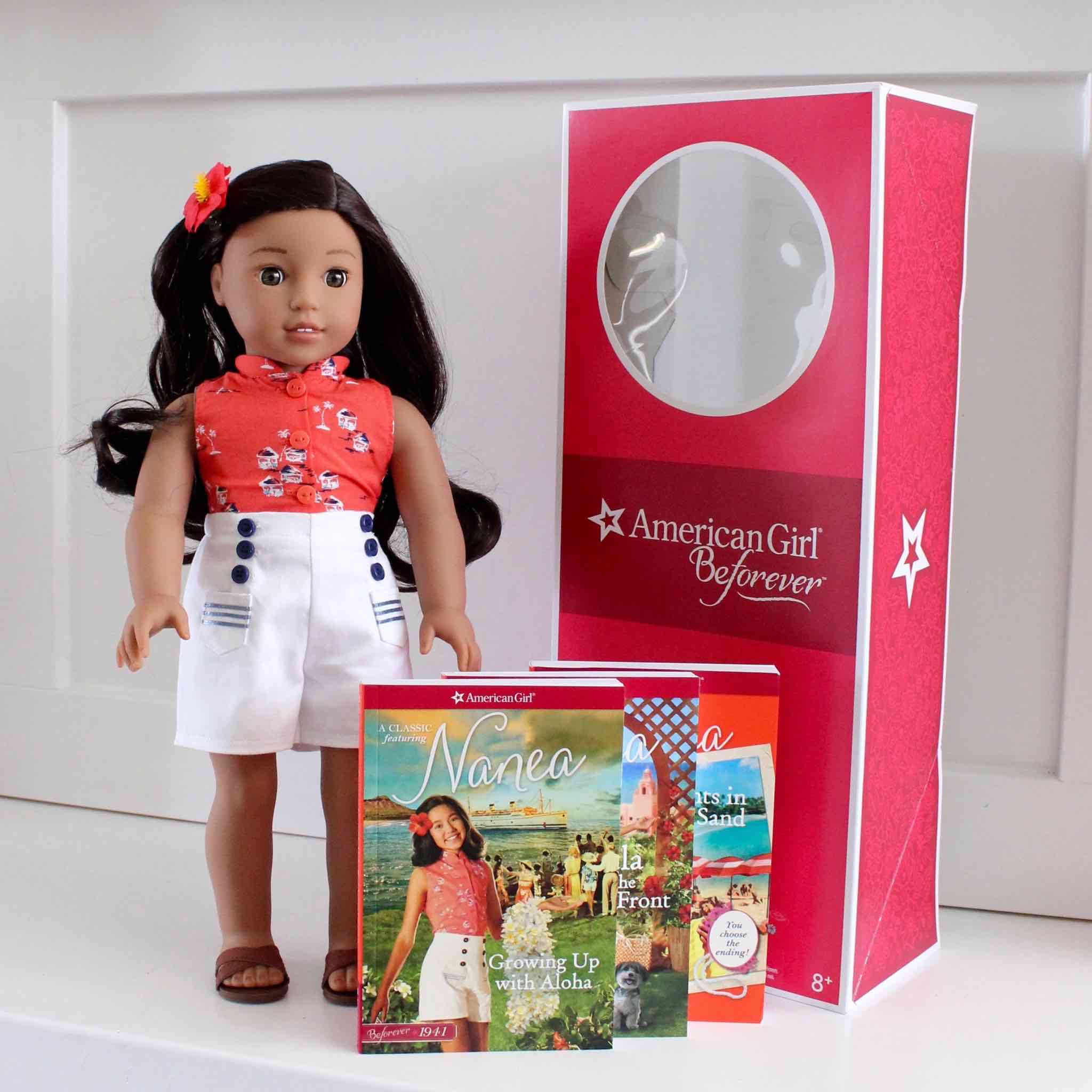 On Aug. 21, American Girl released its newest BeForever (aka historical) character, Nanea Mitchell. Nanea is a Hawaiian girl growing up in Honolulu, Hawaii, in 1941.
Nanea launched with an 18-inch doll, and several outfits, accessories, and toys. As with all BeForever characters, Nanea also comes with three books. The first book, Nanea: Growing Up with Aloha, is included with the purchase of the Nanea doll, can be bought separately or in a box set with two other Nanea books — Hula for the Home Front and Prints in the Sand, a choose-your-own adventure book.
In conjunction with Nanea's debut, American Girl is supporting the American Red Cross and its Service to the Armed Forces mission to provide care and comfort to members of the military, veterans and their families. Now through Dec. 31, 2017, American Girl will match any customer donation, up to $75,000 maximum, made at americangirl.com or at any American Girl store in the United States.
American Girl sent me Nanea and her books for review.
THE BOOKS
Meet Nanea
Nanea's story focuses on the bombing of Pearl Harbor and the impact it had on those living in Hawaii. As those who have read the Molly BeForever stories will quickly realize, life on the home front was much different on the islands than it was on the mainland.
In creating the Nanea books and product collection, American Girl created a five-member advisory board — including an eyewitness to the Pearl Harbor attack. Members of the board worked with American Girl and author Kirby Larson to ensure that not only the events but also Nanea's culture where represented accurately.
GROWING UP WITH ALOHA, by Kirby Larson, American Girl, Aug. 21, 2017, Softcover, $9.99 (ages 8 and up) and HULA FOR THE HOME FRONT, by Kirby Larson, American Girl, Aug. 21, 2017, Softcover, $9.99 (ages 8 and up)
Written by Newbery Honor Award-winning author Kirby Larson, Growing up with Aloha and Hula for the Home Front, focus on the time just before the attack on Pearl Harbor to the Battle of Midway in June 1942.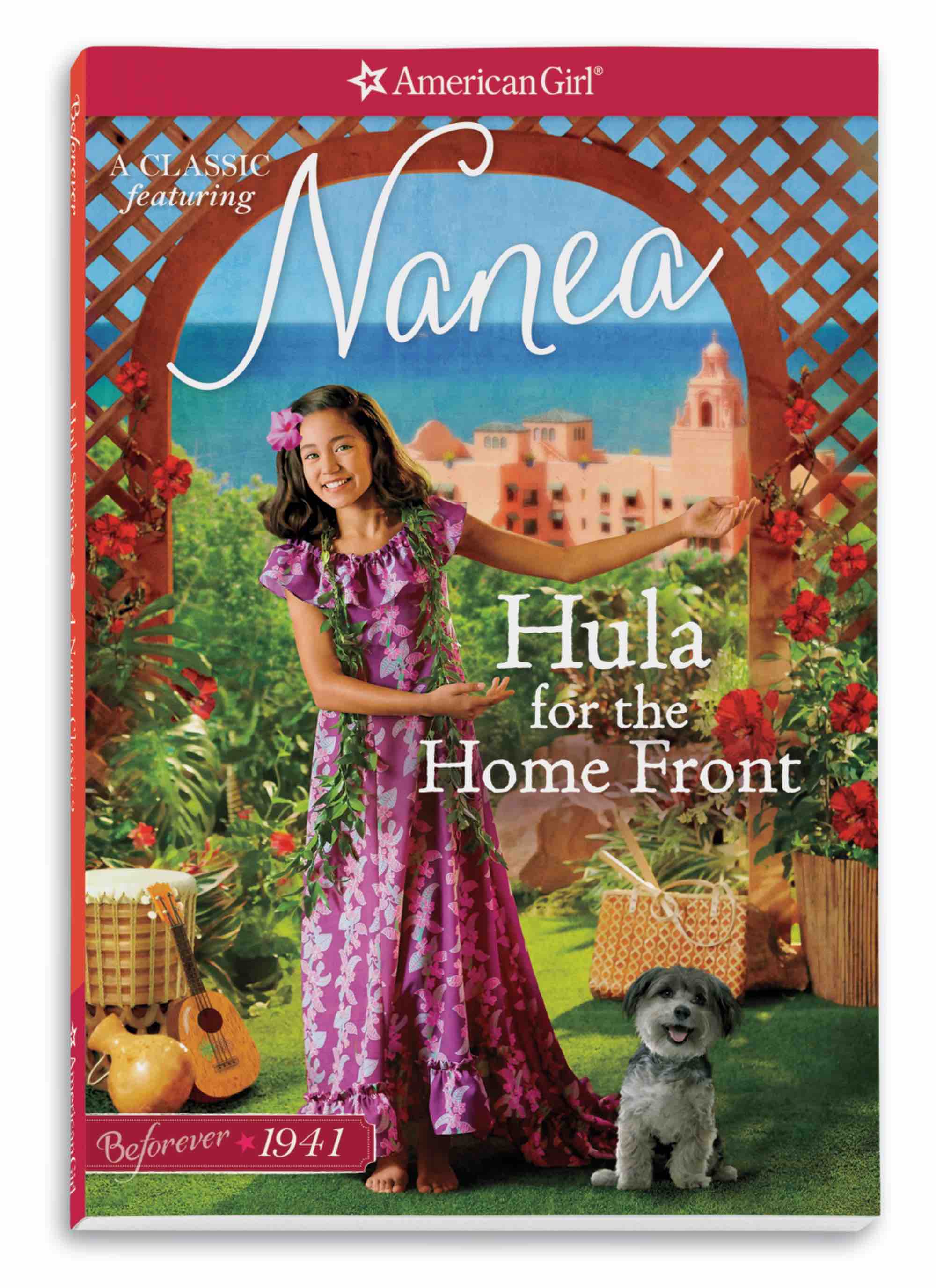 At the center of the books is 9-year-old Nanea Mitchell who wants nothing more than to be useful. Nanea loves her family (traditional and extended), dancing the hula, playing with her dog, Mele, and fishing with her father. And she and her friends Donna and Lily are pretty much inseparable.
Nanea's friends and family are just starting to think about the Christmas season when the Japanese attack Pearl Harbor, the naval base where Nanea's father works. In the blink of an eye everything changes. The island is put under martial law, Japanese neighbors are arrested and air-raid drills become a regular occurrence. But Nanea isn't willing to let the new normal displace the spirit of aloha, and with the help of friends learns even the simplest of actions can make a big difference.
Making a difference can't change the trajectory of the war, though, and going back to school fails to make life normal again. School isn't what it used to be and now Nanea's brother is talking about joining the Army. Amid all the changes, Nanea finds solace in her dancing. Soon Nanea starts wondering if the Hula can help her, maybe it can help others, too.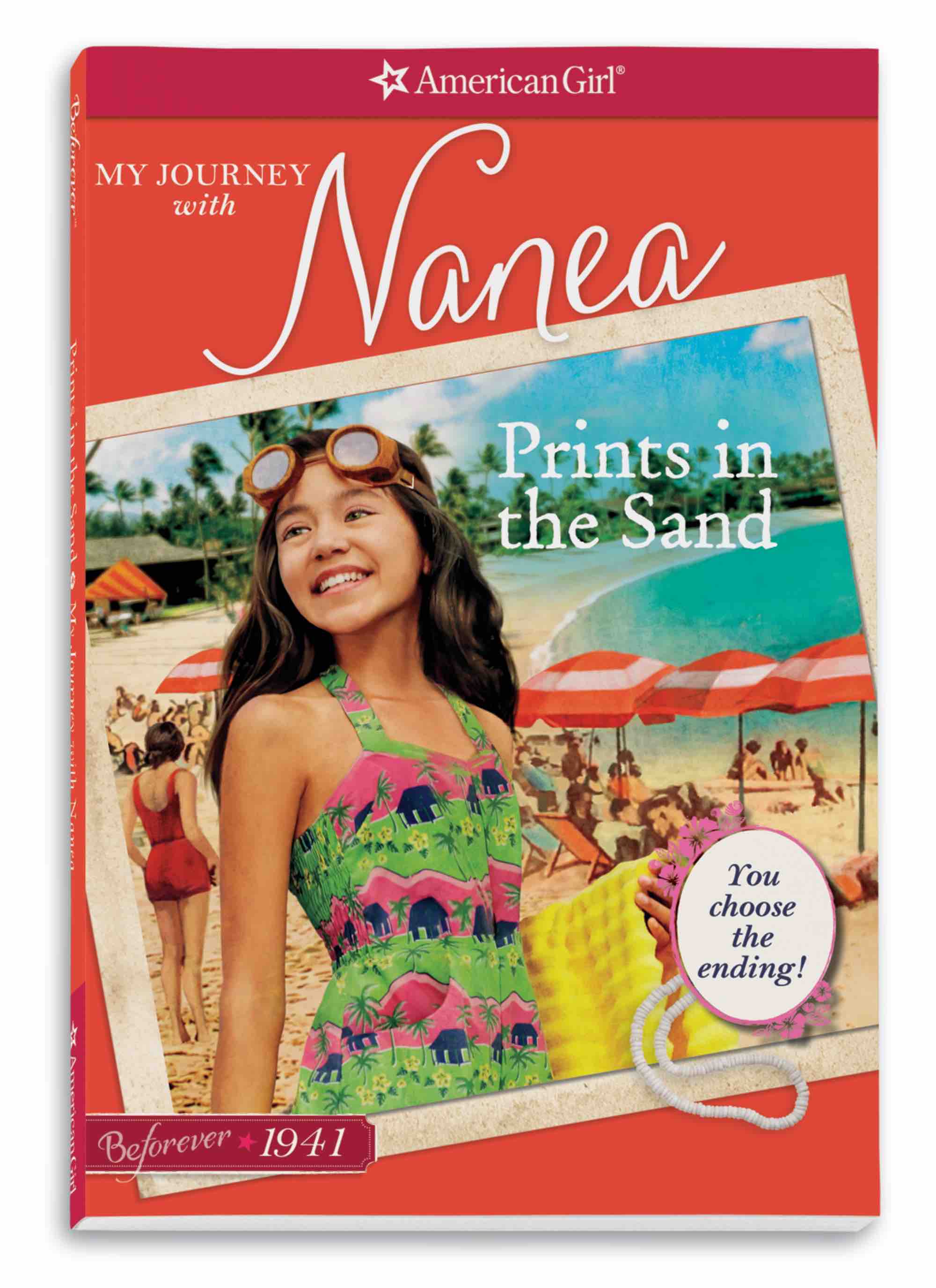 Review: I've always been a fan of the American Girl historical novels. I loved the books long before I even knew there were dolls attached to them. Nanea's books are no different.
Author Kirby Larson gives Nanea an authentic voice despite never having lived in Oahu and not having any Hawaiian heritage herself.
"I took very seriously being respectful of customs and cultures that weren't my own," Kirby said. "I was a bit nervous about how I might manage. Thankfully, my editor, Teri Robida, brought together a generous and dedicated advisory board comprised of people with a variety of backgrounds and knowledge: one person was an expert on the Hawaiian language, one on Hawaiian history, one on Hawaiian dress, and one on the culture, especially hula. One advisory board member actually lived through the Pearl Harbor attack herself!
"What a treasure trove of information! This lovely group of people taught me the true meaning of aloha as they gave me feedback on what I was writing. They were so encouraging, and also very honest when I went astray. I can't begin to express my gratitude for their guidance."
Beyond the historical and cultural information, readers will appreciate Nanea's intelligence and heart. Without those, her story would fall flat.
On a personal note, I miss the old book format that featured six books with illustrations and historical photographs at the end. What would have been especially useful here would have been the family tree that used to be included at the front of each book. There were a few of times I found myself wondering who a character was and how they were related to Nanea. A cast of characters would have solved that problem.
THE DOLL
The Nanea doll is beautiful, and like most American Girl dolls, she's much prettier out of the box than in. Below is a rundown of the pros and cons to purchasing Nanea:
Price: Nanea is an 18-inch doll, which runs $115 for the doll and paperback book. The 18-inch Truly Me customizable dolls are $115 for the doll only.
Body: Nanea features a cloth body and plastic extremities. In February, American Girl announced it would start sewing underwear onto the dolls' cloth bodies. It was not a popular move, and in May, the company announced it would return to removable underwear. While both of these changes happened before Nanea, it's important to note her underwear does come off.
Face: With Nanea, American Girl debut a new facial mold. Her face is heart-shaped and her hazel eyes are wide. Nanea's heritage is part Hawaiian part European (her dad has red hair and blue eyes). A few commenters have noted a flatter, wider nose would be more appropriate. I can see their point, but it wouldn't stop me from buying her.
Hair: At first glance, Nanea's hair appears plain brown, but once you get her out of the box, you can see slight variances that create a more natural look. Nanea is packaged with her hair in a net. Once the net is removed, her long hair with very loose curls falls to her waist. Her hair comes pulled to the side and a flower alligator clip is also included.
Box: The great American Girl box faux pas has been corrected! When American Girl changed its packaging at the beginning of 2017, customers weren't happy. The new box, which was basically a big Barbie box, was flimsy and required you slide the doll out the top. The large, plastic viewing window wasn't ideal for stacking, either. The box was decidedly the opposite of upscale. On May 22, the company announced its "return to our iconic boutique box for our 18-inch dolls. Only the new 2017 contemporary characters, as well as some of our Truly Me dolls, will come in the current packaging until inventory is sold through." Nanea comes in the iconic box, and I can tell you from experience that getting her in and out of it is a night-and-day difference from the one I had with the Girl of the Year Gabriella. Even my husband, who cares nothing about dolls, noticed the difference. "Branding is everything," he said. "And this immediately thinks the doll is high-quality."
Clothes: Nanea is the first BeForever doll to come in shorts, and they are very cute. The shorts are paired with a coral sleeveless top that's charming and is in-line with styles I've seen in pictures of my own grandmother from the time period. In the book, Nanea spends most of her time barefoot, so I'm glad American Girl included some sweet sandals that make perfect sense for Nanea's life.
© 2017, Cracking the Cover. All rights reserved.