More than once, when our country has been in unrest, a single voice has cut through the noise. One such voice was that of Pete Seeger, a musician who helped change the landscape of social discourse.
Listen: How Pete Seeger Got America Singing follows the musician's life from beginning to end.
Listen: How Pete Seeger Got America Singing is the type of book that banks on parent/grandparent nostalgia; that and the curiosity of a younger generation. What will really appeal to grown-up readers is his peaceful fight against social injustice. This book is about as timely as it gets.
Listen isn't just about Seeger's activism, although it was weaved into many parts of his life. It also celebrates his music and his love for all people. It wasn't until I read this book that I realized how much of Seeger's music I thought. What I didn't realize was how his life shaped that music.
Listen.
There was nobody like Pete Seeger.
Wherever he went, he got people singing.
With his head thrown back
and his Adam's apple bouncing,
picking his long-necked banjo
or strumming his twelve-string guitar,
Pete sang old songs,
new songs,
new words to old songs,
and songs he made up."
Author Leda Schubert's text has a musical rhythm to it, and her use of the word "listen" throughout works as a call to action. Artist Raúl Colón's illustrations have a stylized, folk art feel to them that pairs beautifully with the text and the subject.
An author's note, timeline, suggested reading and recommended recordings are included at the end of the book. Beyond that, I think it will be fun to pick a different Pete Seeger song to play with each reading of the book. I know that my daughter will love the interactive nature of this as she gets older.
Leda Schubert provides some great links to recordings and videos of Pete Seeger here.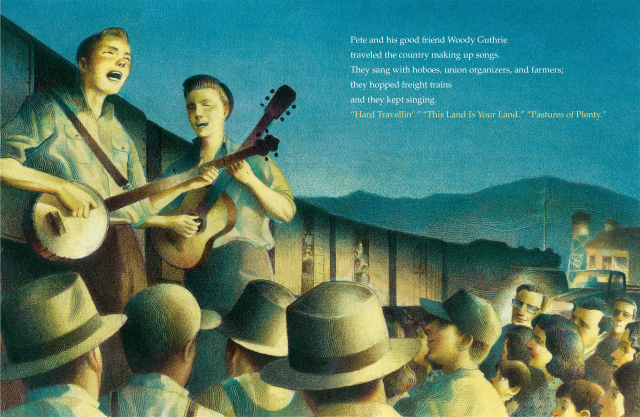 ---
Learn more about the author and illustrator behind Listen: How Pete Seeger Got America Singing
Leda Schubert holds an MFA from Vermont College of Fine Arts in the Writing for Children and Young Adults and was a core faculty member until 2012. She is the author of many award-winning titles, including The Princess of Borscht, Ballet of the Elephants, and Monsieur Marceau, winner of the Orbis Pictus Award for Outstanding Nonfiction. Leda lives in Plainfield, Vermont, with her husband and two dogs. To learn more, and to download a curriculum guide, visit ledaschubert.com.
Raúl Colón has illustrated several highly acclaimed picture books, including Draw!; the New York Times-bestselling Angela and the Baby Jesus by Frank McCourt; Susanna Reich's José! Born to Dance; and Jill Biden's Don't Forget, God Bless Our Troops. Mr. Colón lived in Puerto Rico as a young boy and now resides in New City, New York, with his family.