Each year, Cracking the Cover compiles a list of books that make great gifts. The following are middle-grade books published in and reviewed by Jessica in 2017. Scroll down for the complete list or click or tap the following links to directly visit a section. AGES 7 AND UP • AGES 8 AND UP • AGES 9 AND UP • AGES 10 AND UP

AGES 7 AND UP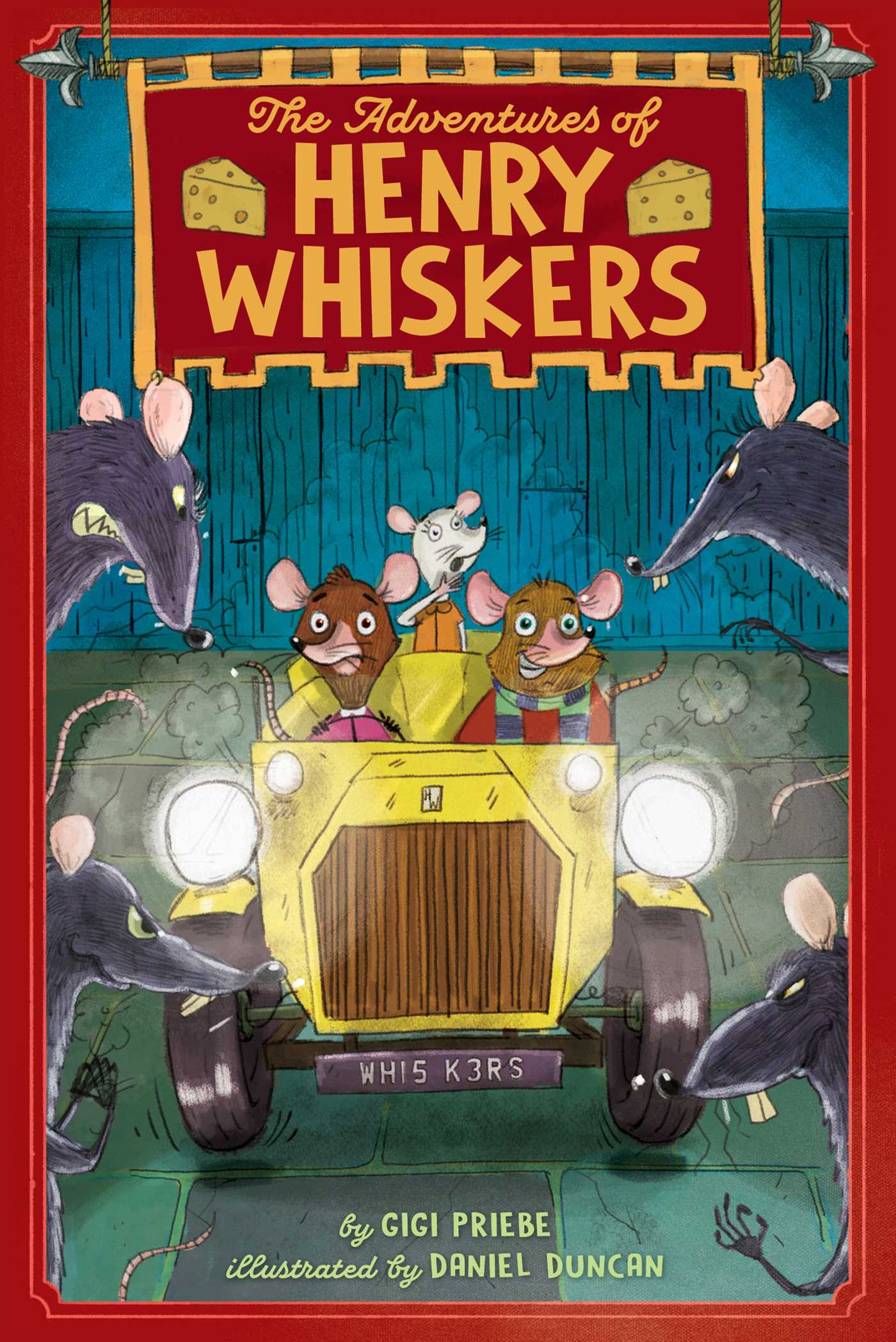 THE ADVENTURES OF HENRY WHISKERS and THE LONG WAY HOME (THE ADVENTURES OF HENRY WHISKERS) by Gigi Priebe and Daniel Duncan, Aladdin, Aug. 29, 2017, softcover, $5.99 (ages 7-10)
I'm always on the lookout for books for the younger middle-grade set that are smart, enjoyable and don't talk down to their readers. The new Henry Whiskers series by Gigi Priebe and illustrated by Daniel Duncan is an excellent example of this.
The star of the series is Henry Whiskers. Henry and his family live in Windsor Castle's most famous exhibit: Queen Mary's Dollhouse. In fact, 25 generations of Henry's family have lived there and have served as caretakers of sorts.
Henry and his family live in the base of the dollhouse. When the exhibit closes to visitors for the day, his family has the run of the house, keeping it clean and exploring. Henry doesn't need to explore too much, though. His favorite place is the dollhouse's library. Both books follow Henry and cousin Jeremy on wild adventures.
The books are on-point for lower middle-grade readers, easing them in to chapter books with ease. Lovely black-and-white illustrations grace the top of the page with each new chapter, serving as the perfect tease for what's to come. The Long Way Home is slightly longer than its predecessor and the adventure a bit more grand, but the first book is the perfect setup for what could become a long-lasting series.
THE VANDERBEEKERS OF 141ST STREET, by Karina Yan Glaser, HMH Books for Young Readers, Oct. 3, 2017, Hardcover, $16.99 (ages 7-10)
The brownstone on 141st Street is the only home the five Vanderbeeker kids have ever known. The problem is, it's not going to be their home much longer. In fact, the family has to be out in eleven days.
When the siblings learn their grouchy landlord hasn't renewed their lease, they decide to take matters into their own hands. One way or another, they plan to convince Mr. Beiderman to let them stay. The problem is, Mr. Biederman doesn't care. He doesn't want anything to do with the kids at all. It's because of the kids he's not renewing their lease. It's going to take a team effort and a creative plan if the Vanderbeekers have any hope of staying in the home they love.
The Vanderbeekers of 141st Street is a contemporary novel that feels as if it could be set in any time. The children are creative and smart without coming across as overly cute. Each has their own strengths and personalities and each have equal billing throughout.
There's magic to The Vanderbeekers of 141st Street although not in the way you usually think of it. The magic comes in the siblings' resourcefulness. They are both supportive of each other and willing to try things on their own. They don't spend their time in front of electronic devises, but rather create things of their own. The Vanderbeekers of 141st Street is a charming middle-grade novel that would be fun read aloud or individually. It's quick-paced and laced with humor sure to appeal to even the pickiest of readers.
FLASHES OF GENIUS SERIES by Luca Novelli, Chicago Review Press, June 1, 2017, Softcover, $9.99 (ages 7 and up)
NEWTON AND THE ANTIGRAVITY FORMULA :  In the late 1600s, science was still in its infancy. But that changed in 1687 when professor Isaac Newton published a book describing three laws of motion as well as a theory of universal gravitation. He also came up with a brand new field of mathematics, called calculus, to explain it all. The same equations that described the motion of a falling apple could also be used to describe the orbit of planets around the sun. It was revolutionary! Newton and the Antigravity Formula tells the story of the man who launched the field of modern physics and changed the way humans look at the world around them. —Synopsis provided by Chicago Review Press
DARWIN AND THE TRUE STORY OF THE DINOSAURS: When Charles Darwin published The Origin of Species in 1859, he shocked the world. In it he claimed that humans were just another animal species that had evolved from more primitive life forms. Years earlier, Darwin had collected thousands of animal specimens during a five-year voyage around the world, specimens that he used to make his case for biologic evolution through natural selection. Darwin and the True Story of the Dinosaurs tells the story of the brilliant naturalist who changed humankind's understanding of its origins. —Synopsis provided by Chicago Review Press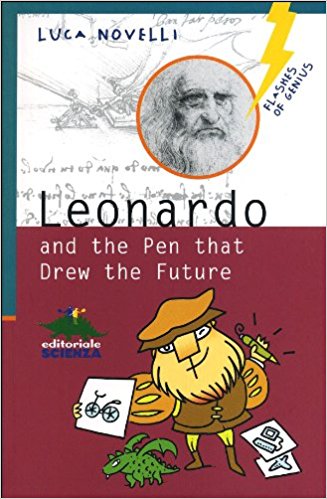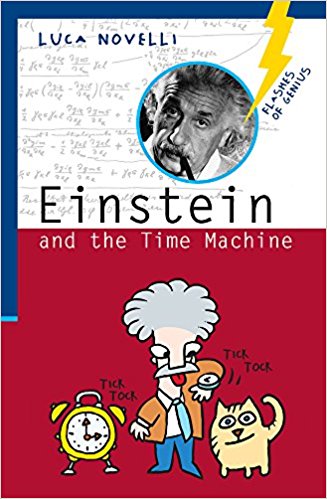 LEONARDO DA VINCI AND THE PEN THAT DREW THE FUTURE: Like nobody before or since, Leonardo da Vinci united both the arts and the sciences. He was not only a painter and skilled draftsman, but also an inventor and tireless researcher. His art, including the Mona Lisa and The Last Supper, remain classics of Western civilization. And though he lived 500 years ago, many of his futuristic ideas, such as the contact lens and the armored vehicle, are still with us today. Leonardo da Vinci and the Pen That Drew the Future tells the story of the greatest thinker of the Renaissance. —Synopsis provided by Chicago Review Press
EINSTEIN AND THE TIME MACHINE: Albert Einstein wasn't afraid to think for himself. Working as a clerk in the patent office in Bern, Switzerland, he wrote papers with fantastical theories—that light is both a wave and a particle; that matter can become energy, and energy can become matter; that space can "bend," and time is relative. His revolutionary theories turned the world of physics upside down, and earned him a Nobel Prize. Einstein and the Time Machine tells the story of one of the greatest thinkers of the 20th century, as well as the basics of his Theory of Relativity. —Synopsis provided by Chicago Review Press 
Newly updated with original cover art, this freshly printed edition of The Adventures of Chatterer the Red Squirrel invites a new audience to read about the antics of our eponymous, furry, hero as the little mischief-maker escapes Shadow the Weasel and Redtail the Hawk. As with all Burgess' charming tales, young readers will learn important lessons about curiosity, carelessness, and mistrust as well as true-to-life behaviors of our favorite woodland animals. In addition to the beautiful, color illustrations of Maddie Frost, this edition of The Adventures of Catterer the Red Squirrel features the original black-and-white artwork by Harrison Cady. —Synopsis provided by Seasgrass Press
In The Adventures of Reddy Fox, our crafty, eponymous main character must outsmart Farmer Brown's Boy so he can continue to steal his chickens. Along the way, Reddy Fox learns many important lessons, like the danger of showing off, the importance of using all of his senses, sympathy, and kindness, to name a few. —Synopsis provided by Seasgrass Press
Return to Top
---
AGES 8 AND UP
THE HARLEM CHARADE by Natasha Tarpley, Scholastic, Jan. 31, 2017, Hardcover, $16.99 (ages 8-12)
The Harlem Charade takes place, as the title suggests, in New York's Harlem. The neighborhood is home to people from all cultures and all walks of life. Jin has spent her whole life watching people pass by the window of her family's bodega. One day, she notices a girl from her school leaving free MetroCards for unsuspecting individuals. Intrigued, Jin gets up the courage and asks if she can help.
All Alex wants to do is help people who are less fortunate than herself, but she can't do that with Jin tagging along. Or can she? When the two cross paths with Elvin, who was forced to live on the streets after his grandfather was attacked, everything changes and a new purpose is discovered.
Jin, Alex and Elvin begin looking into who hurt Elvin's grandfather, who has some secrets of his own. Soon the trio find themselves looking into an artist whose missing masterpieces are worth a fortune. Those paintings are worth enough to save the neighborhood from a development project that would house a ludicrous historic theme park. But it all depends on who finds those paintings first.
I live in a place that isn't very diverse so it's always fun for me to read books like The Harlem Charade. Natasha Tarpley brings Harlem to life with food for the senses. I immediately felt transported to a place that felt grounded and substantial. And her use of history and artists from numerous mediums adds weight to an already intriguing story. Jin, Alex and Elvin are unique and perfectly paired. Their strengths and weaknesses lend to each other and the plot.
Once upon a time, dragons roamed freely, and those dragons almost destroyed the world. It was then that the ancient order of the Dragonwatch was formed, and the dragon sanctuaries created. Wyrmroost is one of those sanctuaries, and Celebrant the Just, King of the Dragons, has been named co-caretaker of it. Celebrant sees this as an advantage, and is putting his newfound position — and the freedoms — it comes with to the test.
The Dragonwatch was initially made up of wizards, enchantresses, dragon slayers, and others who worked to confine the dragons. But that was a long time ago, and now nearly all of the original members are dead. With so few resources, the wizard Agad turns to the Sorensons for help. Kendra and Seth have unique abilities that make them critical to the success of Agad's plan. But the siblings will have to work together, if they're even going to make it past the front door.
Dragonwatch is the first book in a new series featuring Brandon Mull's Fablehaven characters. First, and foremost, if you haven't read the Fablehaven series, do yourself a favor and go back and read it before diving into Dragonwatch. While Brandon does a nice job giving a brief overview of what came before, it's not enough to fully understand the nuances of the world you're about to enter. In fact, I found myself wishing I could have reread the Fablehaven series again beginning Dragonwatch.
If you're already familiar with Brandon's earlier books, then dive right in. Fans will immediately notice that while Seth remains true to his rambunctious nature, he has matured a little bit. Kendra has grown, too. Unfortunately, in Kendra's case, that equates to an interest in boys that is a touch annoying. Dragonwatch is fast-paced with lots of interesting characters and situations. If you're a fan of the Fablehaven series, this is a must-have.
ORPHAN ISLAND, by Laurel Snyder, Walden Pond Press, May 30, 2017, Hardcover, $16.99 (ages 8-12)
Orphan Island opens on the day of the Changing. On the island, everything is pretty much perfect. The nine children who live there are protected by their surroundings — wind that blows them to safety, food that keeps their stomachs full and snug cabins to sleep in at night.
Each day is predictable as the next, even when the Changing happens. Each year, a boat — seemingly powered by magic — appears on the horizon. In that boat, a young child sits, waiting to become the island's newest inhabitant. After its arrival, the boat makes a return trip to the unknown, taking the eldest child from the island with it.
It's a pattern all the children — except, perhaps the newest inhabitant — are used to. Today is no different. Except, now that Deen is gone, Jinny is the new Elder. She's responsible for teaching Ess everything she needs to know about the island. Being the Elder changes everything, and Jinny's not sure she'll be ready when the boat returns to take her away forever.
Orphan Island is immediately engrossing. I did not want to put it down, and stayed up late into the night finishing it. While author Laurel Snyder has written Orphan Island for middle graders, it will strike a chord with YA and adult readers as well. Not only does Snyder accurately depict the change from childhood to teen, she also gives her characters — the children — freedom to grow and explore on their own. She celebrates their resiliency through beautiful prose and a compelling plot.
Orphan Island is a quiet book — no dystopian or paranormal elements here — and yet there's a magic to it that's unparalleled. This thoughtful story of growth and self-discovery is well worth reading.
BAN THIS BOOK, by Alan Gratz, Starscape, Aug. 29, 2017, Hardcover, $15.99 (ages 8-12)
At the center of Ban This Book is Amy Anne, a shy and soft-spoken fourth-grader. There's nothing Amy Anne likes to do more than escape into a good book. And recently that book is From the Mixed-Up Files of Mrs. Basil E. Frankweiler by E. L. Konigsburg. Amy Anne can totally relate to running away and hiding in a museum.
When Amy Anne arrives at her school library to check out her favorite book, it's not on the shelf. But it hasn't been checked out, either. It's been pulled from the library all together, and it's not the only book. A parent has been hand-selecting books she sees as dangerous for young people and getting the school board to ban them.
So Amy Anne does what all mild-mannered girls would do — she sets up a banned books library in her locker. At first it's just a few friends who are borrowing books but pretty soon kids from all grades are coming to her for reading material. But it isn't until she gets caught that Amy Anne really finds her voice. With the help of friends she sets out to make a point by getting every single book in the library banned.
Gratz's writing is easy and inviting, and his characters are multifaceted. I loved how Amy Ann related to the children from From the Mixed-Up Files of Mrs. Basil E. Frankweiler, and how Amy Anne helps a friend deal with loss by sharing Bridge to Terabithia. Ban This Book is an excellent read that will probably earn a place on the banned list just because it challenges the notion. That's OK, though. When you ban something, especially a book, you tend to only make it more popular.
MUSTACHES FOR MADDIE, by Chad Morris and Shelly Brown, Shadow Mountain, Oct. 3, 2017, Hardcover, $16.99 (ages 8-11)
Maddie is 12. She's silly and bright and loves to make her classmates laugh by sporting fake mustaches at the most opportune times. Things are looking up because those mustaches have landed Maddie in Cassie's good favor. Cassie is the class queen and everyone wants to be her friend, Maddie included. But Maddie can't help noticing the way Cassie excludes people, and she's sort of bossy, too. Maddie learns that the hard way when she is cast as Juliet in the school play. It's the part Cassie wants and she makes it clear she's not happy.
The play is the least of Maddie's problems, though. She's started tripping when she walks, and her hand curls up at her side without her knowing it. A trip to the doctor confirms that Maddie has a brain tumor. Maddie doesn't want everyone at school to know what's going on, but something this big is hard to hide. As her surgery approaches, Maddie learns that being funny isn't the only thing she's good at.
Mustaches for Maddie was based on the true story of the authors' daughter, Maddie, who was diagnosed with a brain tumor in 2013. Because the authors lived through this experience, Mustaches for Maddie feels very real. But while the medical elements are spot-on, this book isn't necessarily about a brain tumor. Rather, it's a book about love, family and the resiliency of spirit. While I liked a number of components throughout Mustaches for Maddie, the one that resonated the most for me, was Maddie's interaction with Cassie. Maddie realizes that just because she's going through something big right now, doesn't mean she's the only one facing challenges. And everyone's challenges are big for them, even if they don't appear so on the surface.
Prosper Redding is the only Redding who isn't exceptional. And for a family that goes back as far as the Reddings, that's saying something. He sort of a thorn in everyone's side until the family discovers there's a demon living inside of him. Then, they sort of want him dead.
It turns out a long, long, long time ago, Prosper's great-great-great-great-great-something grandfather made a contract with a malefactor, a demon who exchanges fortune for eternal servitude. The problem is, Prosper's grandfather broke the contract, and Alastor (the demon) isn't too pleased.
Now Alastor has reawakened inside Prosper's body — his sole purpose to destroy the Reddings. Prosper only has days send Alastor back to the demon realm, and he must do it with Alastor trying to thwart his every effort. But even though his family is no help, Prosper isn't alone. With the help of his long-lost uncle, Barnabas, and his daughter, Nell, a witch-in-training, Prosper may just have a chance.
The Dreadful Tale of Prosper Redding is Alexandra Bracken's first foray into middle-grade, but it feels like she's been writing for middle readers for years. If anything, I felt like middle-grade conventions forced Bracken to tighten her prose and hone her pacing. She provides the perfect framework for imaginative reading at its best.
Embers of Destruction is the final book in the Mysteries of Cove trilogy. It opens with Trenton, Kallista and their friends just outside what used to be San Francisco. The friends are hoping to rescue any survivors from the battle of Seattle, including Kallista's father, Leo Babbage. They also hope to find something about the dragons that can help defeat them once and for all.
Instead, they happen upon a bustling city where humans and dragons seem to peacefully coexist. Skeptical of this alliance, Trenton and his friends cautiously begin to explore, and run into Kallista's father in the process. It turns out the humans are working as slaves to the dragons, but they don't want to be rescued. They may be slaves, but a huge white dragon who lives in a tower above the city keeps them safe and keeps them fed. What more could they ask for.
Even Kallista's father seems to think the setup is a good idea, and, in a stunning move, turns Trenton and his friends over to the city's guards. Though they've officially been assimilated into the city, the friends are anything but accepting. And they're not the only ones. Kids from all over the city feel the same way. Together, they track down the source of the dragon's power and discover how the beasts came to be in the first place.
As with the other books in this series, there's lots of steampunk machinery and mixed with fantasy elements. But this time around author J. Scott Savage also focuses on more of the little moments, getting inside Trenton's head and working through his insecurities. With Embers of Destruction being the third book, Savage could have easily coasted. Instead he continues to build his characters and world. This keeps the books fresh and exciting.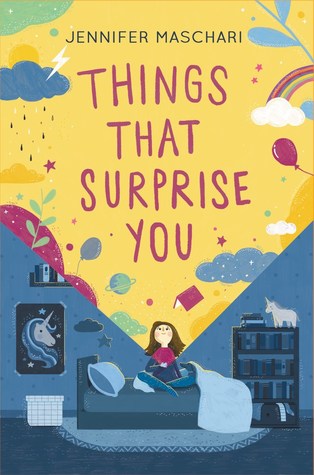 THINGS THAT SURPRISE YOU, by Jennifer Maschari, Balzer + Bray, Aug. 22, 2017, Hardcover, $16.99 (ages 8-12)
Things That Surprise You features Emily Murphy who is about to enter middle school. Emily and her best friend, Hazel, are the biggest Unicorn Chronicles fans, and Emily can't wait for them to celebrate the series' new book and movie. But things are changing, and they're changing faster than Emily is prepared for. Hazel's joined the field hockey team, and her tastes have evolved to match those of her teammates. Hazel starts wearing makeup and caring about clothes and boys. Suddenly Emily seems so babyish next to them.
Home isn't much better. Emily and her mom have started to adjust to just the two of them at home, but that won't be for much longer. Emily's sister, Mina, who has been in a treatment facility for anorexia, is expected to come home soon. Emily wants Mina come home, but she's afraid Mina's return will mean walking on eggshells again. It doesn't seem to matter what Emily does. She no longer seems to fit anywhere. If only she could reinvent herself into the new Emily, the one everyone wants around.
Any book that makes you think beyond it is good, and Things That Surprise You is excellent. In Emily, Jennifer Maschari has created a character that a lot of young people can see themselves in. Her balance of insecurity and an underlying sense of who Emily is at her core rings true. Emily is dealing with changes at school, changes with friends, with her sister's illness, and with her parents who are recently divorced. Those themes provide multiple entry points for readers to engage. I wish there had been more books like Things That Surprise You around when I was a middle-grader. I would have gobbled them up.
SNOW & ROSE, by Emily Winfield Martin, Random House Books for Young Readers, Oct. 10, 2017, Hardcover, $17.99 (ages 8-12)
Inspired by the tale Snow White and Rose Red, Snow & Rose tells the story of two sisters who find themselves uprooted from the home they've always known and missing a father who disappeared without a trace. When Snow and Rose last saw their father, he was headed out into the woods. Now, the sisters and their mother live in a small cottage in those very same woods. While their mother moves through life as though moving through quicksand, the girls take it upon themselves to explore.
As the girls wander, they realize the woods are not so lonely as they once thought. New friends are made and magic discovered. But not all is happy in the woods. There's a dark force just waiting to take advantage of two young girls. It will take all of Snow and Rose's might and the help of some unexpected creatures to expel the darkness forever.
Snow & Rose is just the sort of fairy tale I would have devoured as an 8-year-old, and I can't wait to share it with my daughter when she's old enough. There's an innocence to Emily Winnfield Martin's writing that pairs perfectly with the subject matter. She perfectly balances the sad and scary with the wonder and excitement young people often feel. Her characters are well developed with strong emotions and compelling storylines.
Emily's strong writing is paired with enchanting illustrations. Snow & Rose was conceived as a picture book and then grew into a full-length novel. While the illustrations aren't necessary to the story itself — it stands well on its own — they do add a charm that takes the book over the top. I love the whimsical nature of Emily's illustrations and know younger readers will enjoy them, too.
Homer's two age-old classics have been revisited countless times. Gillian Cross and Neil Packer's versions of The Iliad and The Odyssey are a good choice for readers who have not yet made the acquaintance of Odysseus, Achilles, or Hector. Depicting their actions, and those of the gods they invoke, are vivid, stylistic illustrations reminiscent of Greek pottery, giving these large-format volumes an extra measure of authenticity and appeal. From the raging battles outside the walls of Troy to the strangely surreal 10 years it takes Odysseus to journey home, these bold re-envisionings of Homer's stories are told with simplicity and style — perfect for fans of graphic retellings and mythology enthusiasts alike. —Synopsis provided by Candlewick
Return to Top
---
AGES 9 AND UP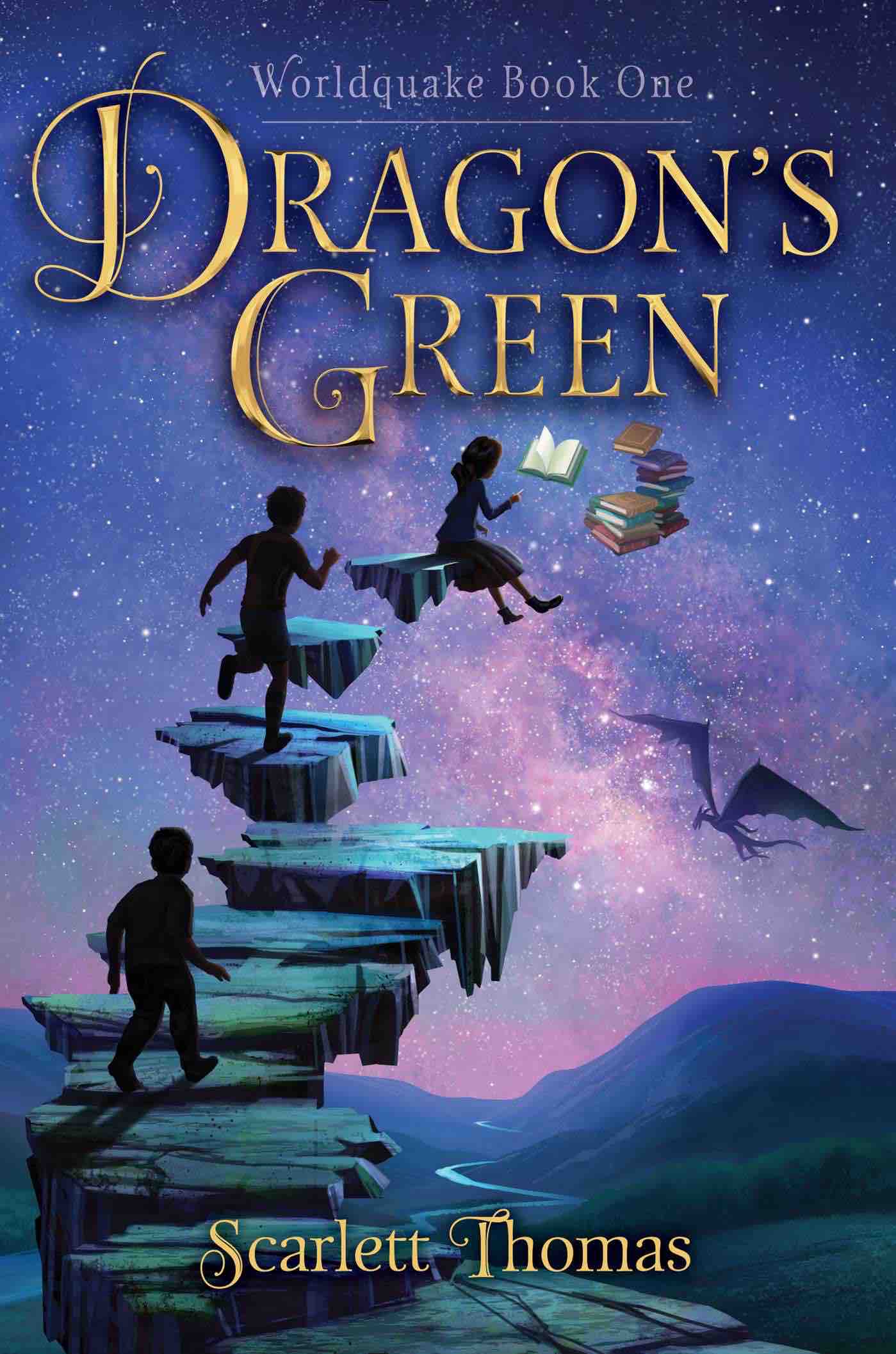 DRAGON'S GREEN, by Scarlett Thomas, Simon & Schuster Books for Young Readers, May 30, 2017, Hardcover, $17.99 (ages 9-12)
Effie Truelove has always believed in magic, and despite her father's denial of it, she holds that belief close to her heart. Effie's grandfather, Griffin, seems to confirm its existence but refuses to do any or to teach Effie how to use it. When Griffin is attacked and left for dead, Effie finds herself in the possession of an unusual silver ring and tasked with protecting her grandfather's library of rare and powerful books. While Effie is able to salvage a number of Griffin's strange objects, the library falls into the hands of a shady scholar.
Unwilling to see her grandfather's things sold off, Effie enlists the help of her new friends — nerdy Maximilian, rugby-mad Wolf, helpful Lexy, and eccentric Raven. It's a ragtag group of children that one would never expect to join forces, but as they quickly discover, they each hold true powers that could make all the difference.
At first glance, Dragon's Green seems a little formulaic — a child discovering magical powers and using them to thwart evildoers. Once you start ready, though, you realize there's much more to the book. The magical world unfolds in bits and pieces, allowing the reader to experience it just as Effie does.
Author Scarlett Thomas has created a unique world where magic exists in the most unexpected places. Dragon's Green isn't just told from Effie's point of view. Readers also get to know her friends, although Maximilian gets much more attention here. I'm excited to see all the children develop as the series advances.
THE STAR THIEF, by Lindsey Becker, Little, Brown Books for Young Readers, April 11, 2017, Hardcover, $16.99 (ages 9-12)
The Star Thief opens at the Vidalia mansion. Honorine is a maid, going about her mundane chores among the magical treasures once brought home by the famous explorer Lord Vidalia. Those chores are interrupted first by a small fire and then by two sailors ransacking Lord Vidalia's study.
Just when Honorine thinks things might be settling down, a mysterious girl with wings swoops in, and Honorine finds herself following along. Before she can even blink, Honorine lands smack dab in the middle of a battle of epic proportions. The stars in the sky — the constellations themselves — have come to life to defend their very way of life. The crew of an amazing steamship is after the constellations in a quest to harness their powers. At the center of the battle is Honorine herself, who may hold the key to bridging the divide between magic and science.
The Star Thief is unlike any other middle-grade novel I've read. It's part magic, part steampunk and part mystery. Lindsey Becker's prose is sophisticated and well suited for her audience. Lindsey's pacing is spot on, as is her world. This unpretentious adventure is fast paced and infinitely interesting. The story is complex and Honorine is a strong main character.
Return to Top
---
AGES 10 AND UP
A SINGLE STONE, by Meg McKinlay, Candlewick, March 14, 2017, Hardcover, $17.99 (ages 10 and up)
Jena's people depend on the mountain and the mica it provides for survival. Long ago, an earthquake trapped the people who were mining the mountain in a small mountain valley. Of the people who were inside the mountain when it crumbled, only the women survived. Since then, the Mothers have been the leaders and protectors, and the members of the line have been the providers.
Jena is the leader of the line — seven girls who work together, squeezing and contorting through the mountain's tunnels to harvest mica. Mica provides heat and light to the villagers throughout the year, and most importantly during the winter when heavy snows trap them inside for months. Being chosen as a line member is an honor, but it comes with sacrifice — years of denying girls food and wrapping their limbs to keep them small. No work is more important, yet Jena has a sneaking suspicion that all is not as it seems. Babies are being born earlier and smaller than ever before. Winter is coming fast, and the foundation on which Jena's life has been built is crumbling.
A Single Stone very much reminds me of Shannon Hale's Princess Academy. The similarities between the mica and linder are obvious, as is the story of a girl who defies what's expected of her. But those aren't really why the one makes me think of the other. Rather, it's Meg McKinlay's quiet, but determined, prose that evokes the same feel.
BEYOND THE BRIGHT SEA, by Lauren Wolk, Dutton Books for Young Readers, May 2, 2017, Hardcover, $16.99 (ages 10 and up)
Beyond the Bright Sea tells the story of 12-year-old Crow. Crow has lived her entire life on a tiny, isolated piece of the Elizabeth Islands in Massachusetts. Crow is an orphan, raised by Osh, the man who rescued her from a small boat when she was just hours old, and Miss Maggie, a neighbor from across the sandbar.
Thought to have been set adrift from the leper colony on another island, Crow finds herself isolated. While Osh and Miss Maggie hold no fear of becoming sick from contact, the others who live in the Elizabeths are more wary. Crow is curious about everything around her, and yet, she's not even allowed to attend school with the other children. But Crow has Miss Maggie and Osh, and for the most part, she's content. But one night, a mysterious fire appears across the water, and Crow starts to truly wonder about her own history. Sometimes, curiosity has a way of getting away from you, and soon Crow's questions set in motion a chain of events that can't be stopped.
Beyond the Bright Sea is a quiet book. While there is action, it's through excellent prose that tension is created. Author Lauren Wolk has a way of giving readers just enough. She often goes right to the precipice with readers, but never pushes too hard.
At the heart of Beyond the Bright Sea is Crow, an intelligent young woman with strong intuition and sense of what's right and wrong. Crow's relationships with Osh and Miss Maggie are what I hope to achieve with my own daughter — open and with the ability to freely ask questions and challenge each other.
THE LIST, by Patricia Forde, Sourcebooks Jabberwocky, August 1, 2017, Hardcover, $16.99 (ages 10-14)
Imagine a world where when you speak, you only have a few hundred words to choose from. Welcome to Ark where everyone must speak List, a language made up of only 500 words.
People used to have thousands of words, but then the Melting came. Noa was one of the few who foretold of the destructive force, and he was prepared when the Melting came. After the Melting, Noa and his followers return to a more simplified lifestyle. Technology is all but abandoned. Believing that the arts and language were among the vices that led to the current situating, Noa eliminated music, dance and art from society, and he limits the amount of words, making them utilitarian in use only.
As apprentice to the Wordsmith, 12-year-old Letta is one of the lucky few who is able to speak more than List. Her master is in charge of collecting and cataloging words for a time when they might be used again — at least that's what Noa said initially. After her master disappears, Noa makes Letta the new Wordsmith and suggests she cut even more words from the list. Then she meets a stranger who speaks as if List was never invented. Soon, Letta is questioning everything she's ever known to be true, and she's faced with a choice — allow language to disappear completely or embrace it as her ancestors once did.
Patricia Forde has crafted a world that is terrifyingly realistic. There's nothing here that screams, "this is just imaginary," and that is why The List works so well. Forde's world and character building are spot-on. Letta is complex and likeable. She faces hard decisions and doesn't come by them easily. There were a few places where the pacing felt a little off, but otherwise, The List is a well-crafted dystopian novel that should appeal to middle-graders, young adults and adults alike.
YOU MAY ALREADY BE A WINNER, by Ann Dee Ellis, Dial Books, July 11, 2017, Hardcover, $16.99 (ages 10-14)
You May Already Be a Winner is a story of dreams, of imagination and resiliency. At the center of the novel is 12-year-old Olivia Hales. Olivia spends her days entering contests — at least 10 each day. Olivia is sure that if she wins $1 million all her family's problems will be solved. With the money, Olivia and her sister, Berkeley, and even her mom can move out of Sunny Pines Trailer Park. If she won, maybe her dad would come back, too.
Having yet to win the mother load, Olivia keeps plugging away at her entries, writing letters to her dad — even though he's never written back — and taking care of Berkeley. Mom can't afford daycare, so Olivia stays home from school and makes sure her little sister knows the important stuff.
But Olivia can't stay away from school forever. When the time comes that she must return, she's asked to go above and beyond what any 12-year-old should have to do. Olivia's spent so much time taking care of everyone and everything that when she needs to take care of herself, she doesn't know where to turn. Luckily for Olivia, sometimes help is right behind you.
You May Already Be A Winner is an excellent study of family dynamics, where the child becomes the parent when the real parent can't see beyond the very basic of necessities. In You May Already Be a Winner Ann Dee Ellis has created a relatable young protagonist that calls out to be loved for her bravery and creativity. Ellis' mixes humor with an authenticity you can't just make up. Her prose is at once warm and welcoming and her story brims with optimism despite a heavier subject. This is one book I will read again and again.
Return to Top