Ideas for books come from the most random and normal of places. Take Lindsay Ward's Don't Forget Dexter! for example. Lindsay's husband was waiting to get a T-DAP booster shot prior to their first son's birth when he noticed a toy dinosaur under a chair that got left behind by its owner. He texted a photo of it to Lindsay with the caption "Well, they left me here."
"I laughed out loud when I read the text and immediately sat down to write Dexter's story," Lindsay said. "To this day it's still the fastest idea to story moment I've ever had."
Lindsay, who is the author and illustrator of Brobarians, Henry Finds His Word, and When Blue Met Egg, always knew she wanted to be an artist, but didn't initially see herself as an author.
"Writing was never something I thought I could do; that part happened by accident," Lindsay told Cracking the Cover. "Eventually I started to write with some encouragement from my first agent, and found that I really loved it. Now I can't imagine not doing both, although I still love getting the opportunity to illustrate other author's stories. Illustrating comes naturally for me. I don't overthink it—whereas writing is a constant challenge for me."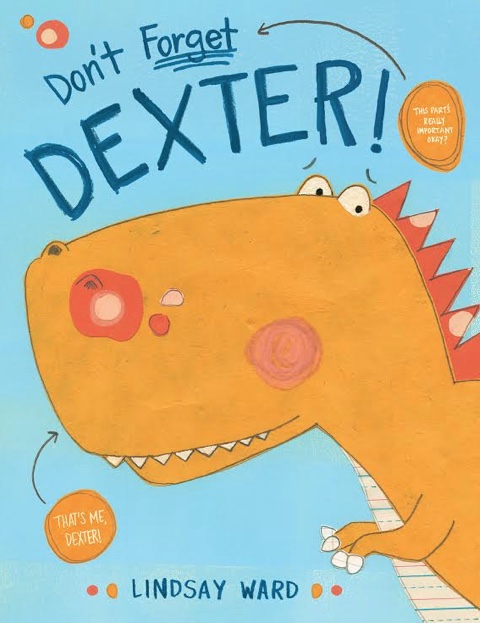 It's not often that Lindsay comes up with a character like Dexter in Don't Forget Dexter first. Typically she develops an idea or concept into a solid manuscript and then begins sketching to determine characters and medium best suit the story.
"I usually revise over and over again and I'm a perfectionist so if it doesn't feel right, it will bother me until my gut tells me otherwise," she said. "My agent helps tremendously with the revising process too, as we do a lot of back and forth before going out on submission. It always helps to have a second pair of eyes to catch what I miss."
Dexter, however, is not your average dinosaur. When his best friend, Jack, leaves him behind at the doctor's office, Dexter T. Rexter panics. First he tries to find Jack. Then he sings their special song. Then he sings their special song even louder. But when Jack still doesn't appear, Dexter starts to wonder. What if he's being replaced by another toy?
"I knew I wanted Dexter to talk to the reader directly from the beginning," Lindsay said. "Knowing that I was going to break down the fourth wall allowed for me to experiment with a different type of voice altogether. In my head, Dexter was always neurotic and insecure about himself. I wanted readers to find him endearing and funny, but also a little over the top. I could hear is voice in my head from the start and as crazy as this may sound, there were many times where I felt as though he was just telling me what he would say, rather than me deciding on what his dialogue would be."
With nine books under her belt and more in the pipeline, you'd think Lindsay would have perfected her craft by now, but the author says that's not the case. Her work has changed a lot over the years and continues to evolve.
"I'm proud of every book I've published, but there are certainly things I would change if I could, knowing what I know now as a writer and illustrator," she said. "Each book has given me a new experience and challenge creatively. I feel as though I've become stronger with each book and hopefully my readers do too. I'm also a lot more open to different mediums. In the beginning I was solely focused on working in cut paper, without considering its limitations. Now I try to consider each book and what medium would help me tell the story in the best way possible."
Lindsay just finished up the sequel to Don't Forget Dexter!, titled It's Show-and-Tell, Dexter!, which will come out in July 2018. She's starting work now on a new book with Two Lions, This Book Is Gray, as well as a new board book transportation series with HarperCollins.
---
*Learn more about Lindsay Ward and Don't Forget Dexter! by reading the complete transcript of her interview with Cracking the Cover.