ELMORE, by Holly Hobbie, Random House Books for Young Readers, Jan. 30, 2018, Hardcover, $17.99 (ages 3-7)
If you're in the market for a sweet picture book that celebrates friendship and being true to yourself, Elmore, by Holly Hobbie, is the book for you.
Elmore is a porcupine who lives by himself in an ancient maple tree. He loves his home. His life is simple and solitary. It's peaceful, but it's lonely. Elmore wants the companionship that comes with friends, but he's too prickly for the other animals.
Elmore is overwhelmed by sadness. When an old uncle reminds him of his quills' beauty, Elmore gets an idea — maybe sharing his quills with others would help them see the beauty, too.
Elmore is a deceptively simple picture book with a big heart. The main character is adorable, and his need for friendship is palpable. This cuddly porcupine is immediately relatable to readers young and old. I can see us reading this one over and over again.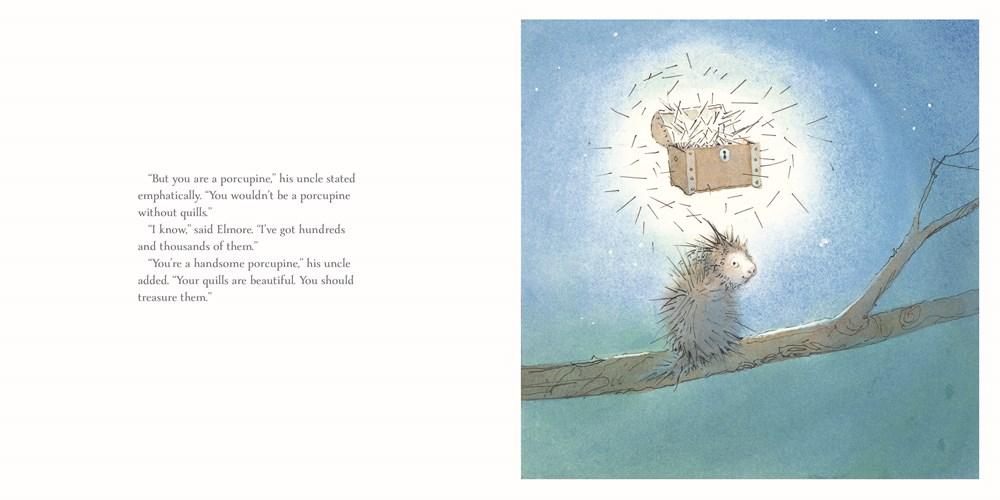 HOLLY HOBBIE has worked as an artist for more than forty years and is the author of eleven highly acclaimed Toot & Puddle picture books. She most recently created the picture book A Cat Named Swan and wrote and illustrated her own picture-book memoir, Everything but the Horse: A Childhood Memory. Holly and her husband, Doug, live in Massachusetts.
© 2018, Cracking the Cover. All rights reserved.