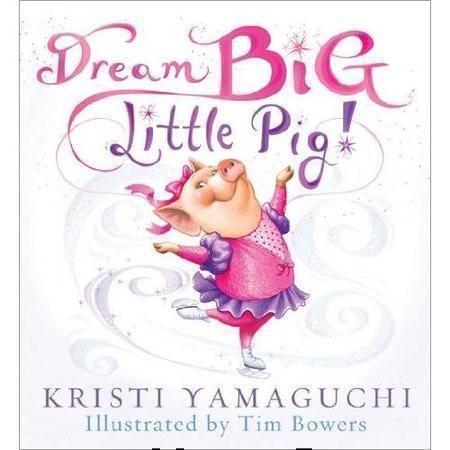 "DREAM BIG, LITTLE PIG," by Kristi Yamaguchi, illustrated by Tim Bowers, Sourcebooks Jabberwocky, March 15, 2011, $16.99 (ages 4-8)
Kristi Yamaguchi knows how to dream big. The figure skater has won Olympic and World Championship gold medals and is known the world over for her class and style.
Now Kristi wants kids around the world to dream big, too. And she's sharing that message in her debut children's picture book, "Dream Big, Little Pig."
Poppy is a pig, a pig with a dream: become a star.
"Follow your dreams," Poppy's parents tell her, but it's not so easy.
First, Poppy tries ballet, but she's too clumsy to make a serious go at it. She's not too good at singing either, failing to carry a tune. Perhaps a supermodel? Perhaps not.
How can Poppy become a star? "Follow your heart," is her mother's advice.
It's then that Poppy tries skating on ice. She slips and slides and falls a lot, but Poppy perseveres and by the end of the night she's manages to stay upright. She's not perfect, but no one notices, not even Poppy. And because of that, she becomes a star.
"Dream Big, Little Pig" is charming. No one would expect to see a pig gliding around on ice, but with this fun story and dynamic illustrations, the impossible becomes possible.
Poppy has a lot of personality, and that comes through in Tim Bowers' artwork. And Kristi's upbeat attitude and text really help build excitement.
This book is all about positive pig power. It's a great outlook that both parents and young readers will appreciate.