Simon & Garfunkel have sold more than a hundred million records and won 10 Grammy's, including the Lifetime Achievement Award, and yet there's an entire generation who has no idea who Paul and Artie even are. And then there are the millions of fans who have no idea how the duo became some of the most influential musicians of the 20th Century.
When Paul Met Artie: The Story of Simon & Garfunkel rectifies both the above problems.
Paul Simon and Art Garfunkel became best friends after meeting in a sixth-grade production of Alice in Wonderland. The duo bonded over girls, baseball and rock 'n' roll.
The two have dreams of singing on the radio. They lock themselves in Artie's basement and sing into a tape recorder over and over, building their harmonies until their sound clicks.
Paul and Artie write songs and perform whenever they get a chance. They knock on the doors of every music company and are rejected at every single one. Small successes go nowhere, and by 18 the friends are already has-beens.
Even at their darkest hour, the friends don't give up. The music, the poetry is inside them.
When Paul Met Artie follows Simon & Garfunkel's eventual rise to fame against a backdrop of street-corner doo-wop gangs, the beginnings of rock 'n' roll, and the rise of folk music.
When Paul Met Artie is not your typical picture book. This one is clearly intended for middle-graders, and they will love it. G. Neri's prose is lyrical and inviting, and David Litchfield's illustrations are full of life.
Each spread is actually a chapter in the duo's life and their marked very aptly with song titles — The Sound of Silence, He Was My Brother, Homeward Bound, etc. At the end of the book there's an afterword, discography, bibliography, and a list of song influences.
While When Paul Met Artie is intended for middle-graders, those who grew up with Simon & Garfunkel's songs will love it, too. In fact, it would make a great Mother's Day gift for my mom.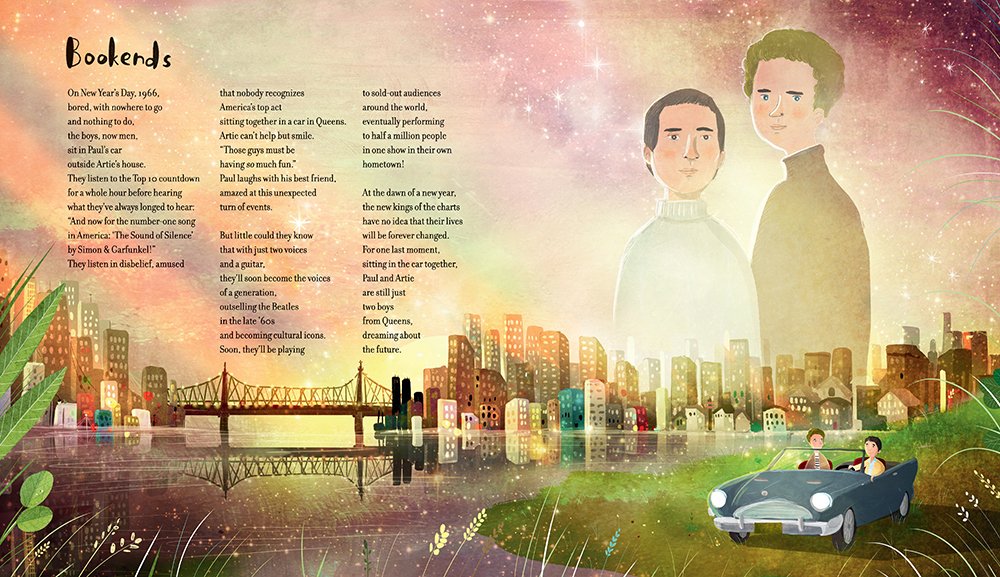 © 2018, Cracking the Cover. All rights reserved.