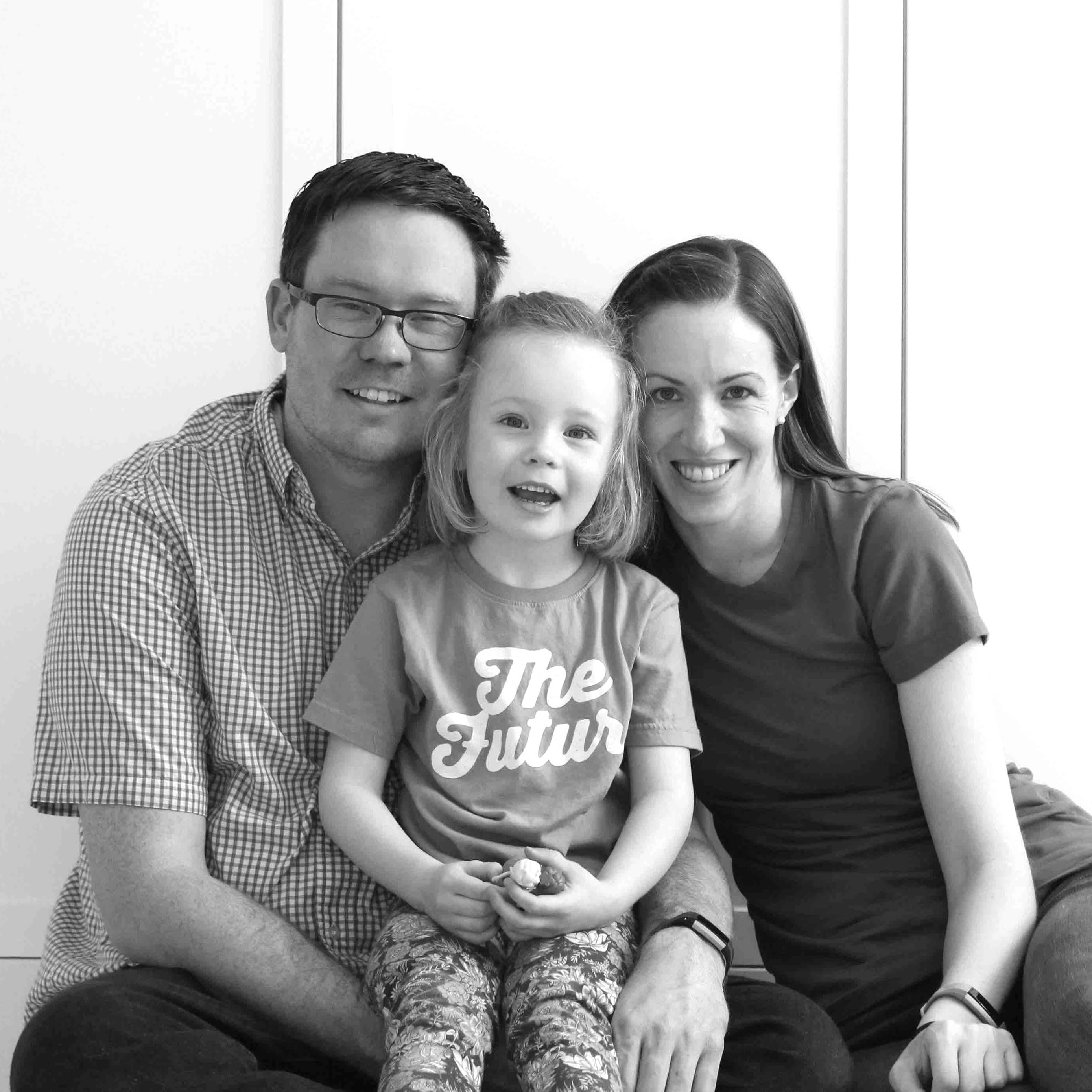 It's not often that I share personal items on Cracking the Cover, so you know it's a big deal when I do. The past couple of weeks have been busy — my mom was in the hospital, my 4-year-old had to have two bruised teeth pulled, oh, and we finished work on my dream library!
When my husband and I bought our house 3 1/2 years ago, we set out to make it our forever home. To say getting there has been a monumental fete is an understatement. The previous owners smoked in it for 30 years, and then when they moved to a care facility, it sat closed up for another three. Our realtor told us most buyers wouldn't walk past the front door, the smell was so bad.
We toured the house once and walked away. But we couldn't get it out of our minds. We toured it again, seeing the potential. We made an offer and a plan. The only way this house was going to work for us was a major renovation, and we had to get rid of the smell. We focused on fixing the upstairs and pulled out everything in the basement down to the foundation.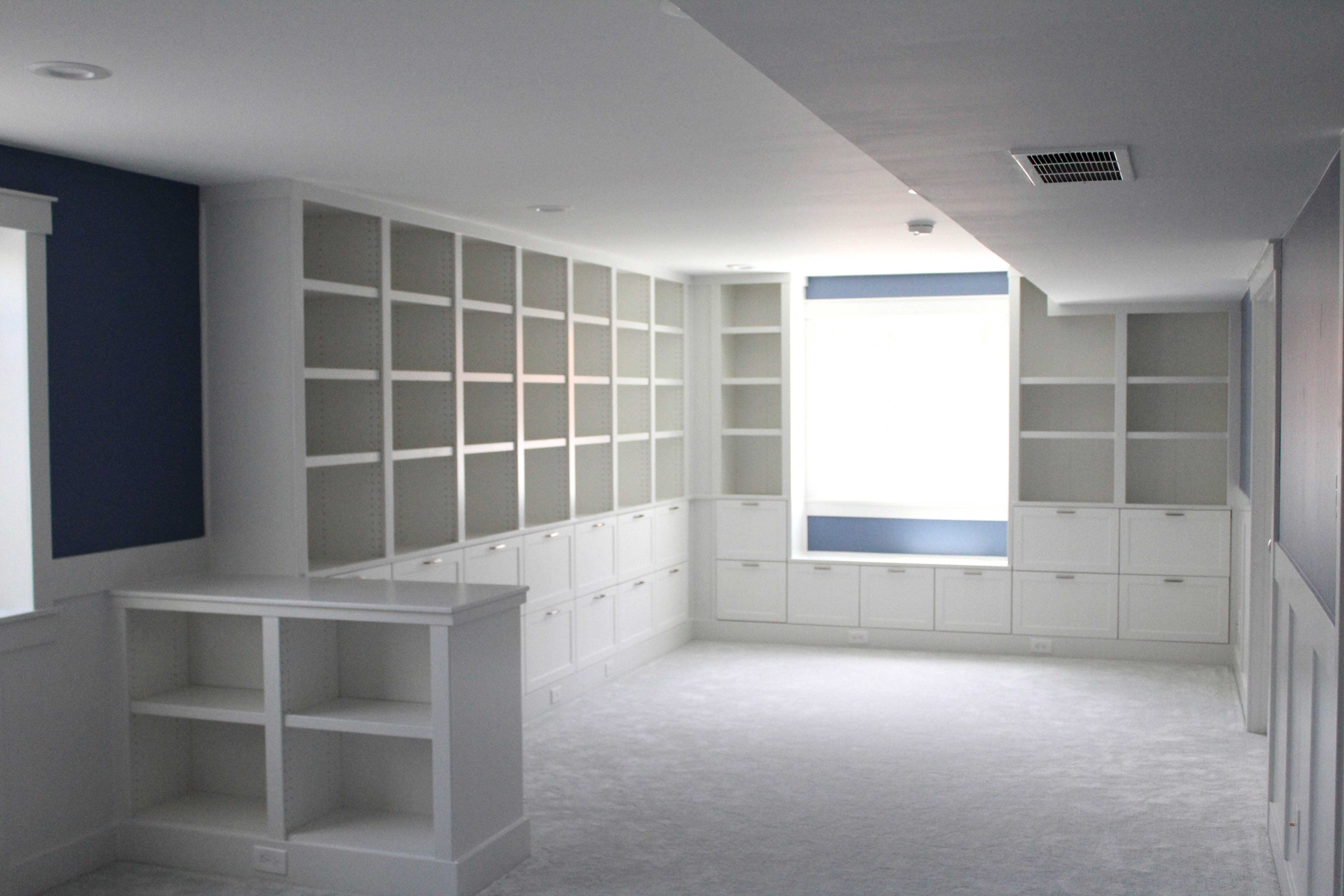 Slowly, our vision took shape. We lived with an ugly kitchen for more than a year so we could really see how we used the space. We got a new driveway and replaced the roof. And last fall, we began in earnest on our basement. My husband did almost all of the work on his own (I did some, but spent most of the time trying to keep our then 3-year-old out of the way).
Six months and multiple revised plans later, we have a beautiful living space that is far beyond my expectations. My husband has his own office. My daughter has her own play area. And I have the library of me dreams. The space is cool and peaceful, and I can't wait to get my books on the shelves!
About those books, most have been living in boxes since we moved to our home. And review copies have immediately gone into boxes after being read. My husband and I hauled 59 boxes downstairs this past weekend! As I unbox them, I'm taking my time and culling my collection. That means big giveaways are coming your way in the next few weeks.
THE DETAILS
Built-ins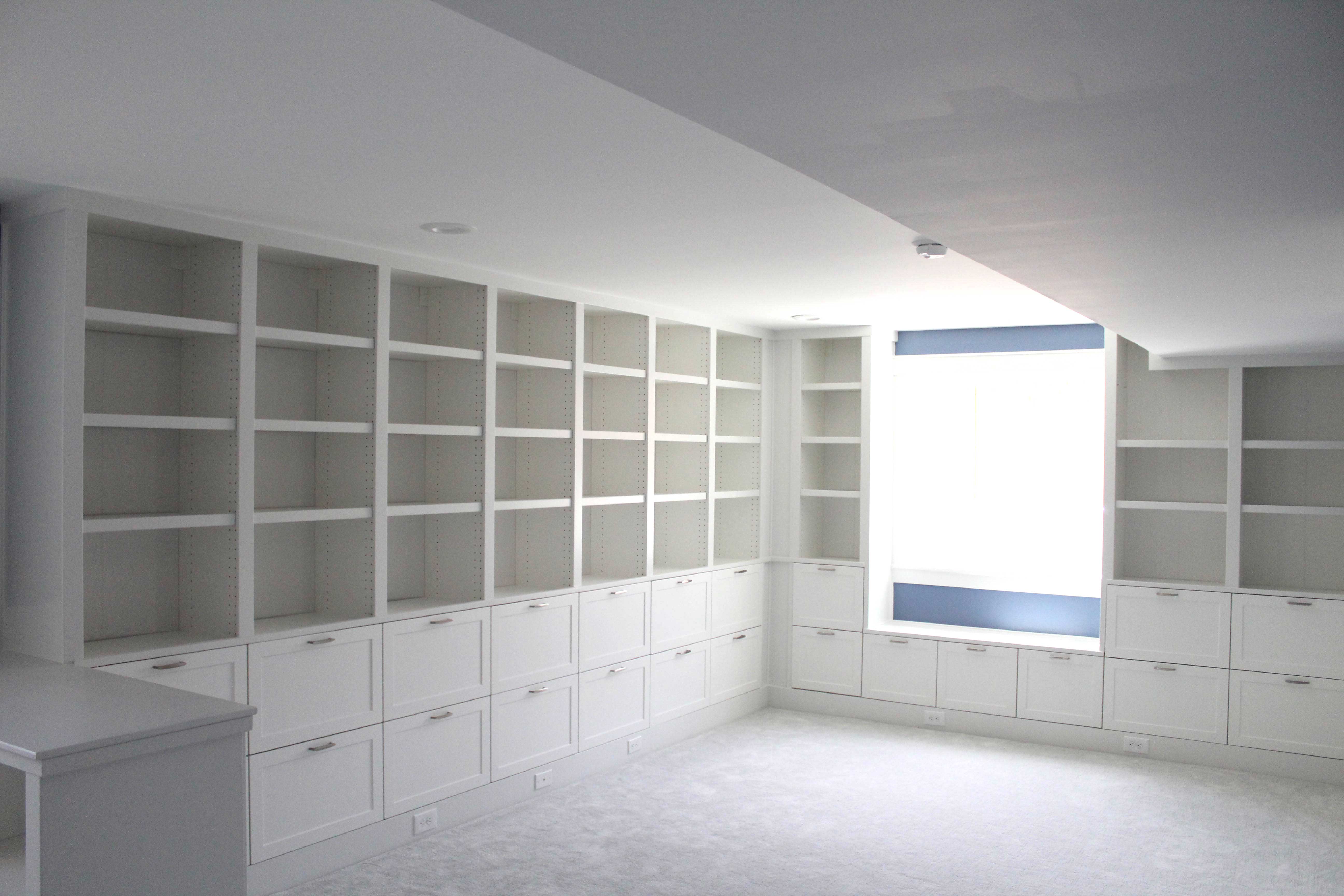 The office, library and TV built-ins are an Ikea hack. Ikea's Billy Bookcases are only 11 inches deep and don't work for picture books or "nonstandard" size novels. That's why we used Ikea's Sektion kitchen system instead.
My husband built a base, which allowed for electrical and data outlets. We used wall cabinets that attach to a rail. We used the Ikea drawers for extra storage, but bought drawer fronts from Semihandmade . My husband brought it all together with custom mill work. We bought the Ikea items during the store's kitchen sale, which helped cut down on costs, and the system significantly cut down on construction time.
The drawer pulls are Liberty Mila 5-1/6 inch in satin nickel from Home Depot.
---
Paint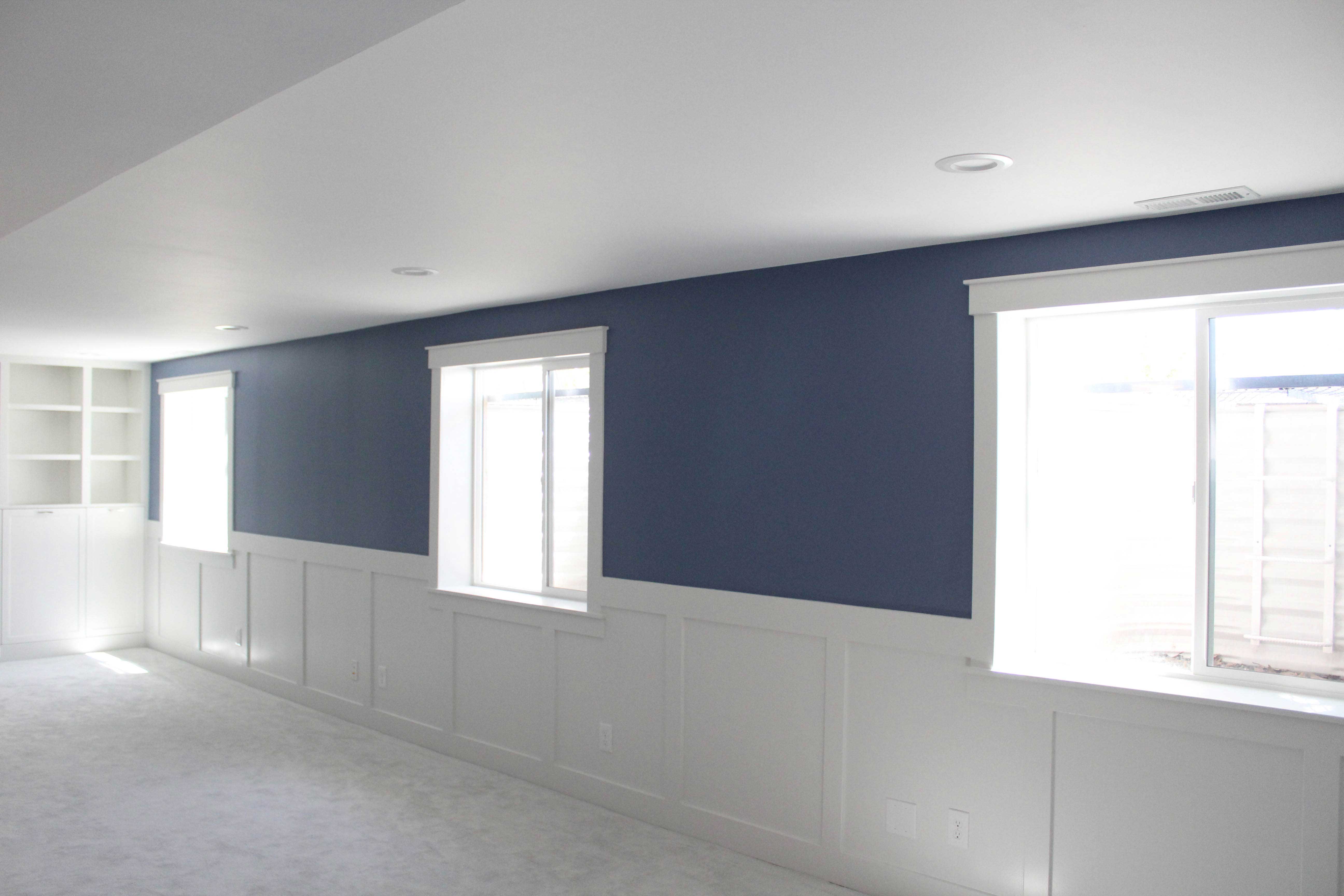 We used two shades of blue paint for this project. Both are Behr Ultra from Home Depot. The darker blue in the office, family room and library is Thundercloud. The other blue in the bathroom and bedroom is Peaceful Blue. We painted a number of sample colors on the wall before choosing these two, which complement each other well. We chose to go lighter in the bedroom because it only gets morning light and in the bathroom, which gets no outside light.
---
Carpet
We ended up going way lighter on carpeting than we initially thought. We bought it through Kay Riley Flooring and Design in Bountiful, Utah. The carpet has a slight grey pattern to it that looks different depending on the viewing angle. The color is Sky Light.
---
Bathroom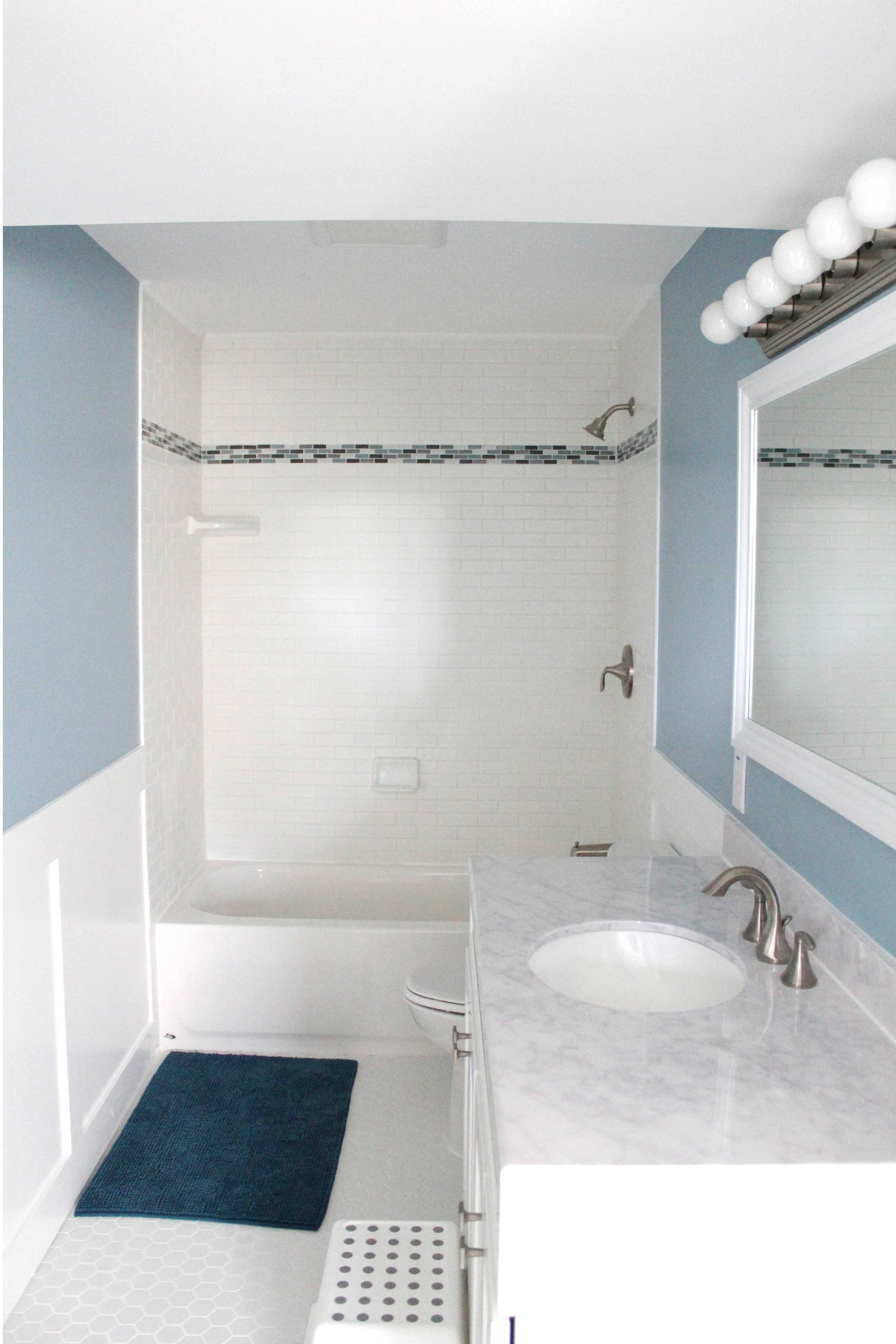 We bought our tile from three different places. The floor tile is Retro Hexagon 2″ x 2″ HePorcelain Mosaic Tile in White by EliteTile.
The shower/tub white subway tile is from Floor and Decor.
The bath/shower accent trim is Jeffrey Court Malibu Breeze from Home Depot.
The vanity is Creeley 48 in. Vanity Cabinet in Classic White from Home Depot. Ours came with a white variegated marble top.
The rug and stool are from Ikea.
---
Below is a before and after gallery of our basement project.
© 2018, Cracking the Cover. All rights reserved. Unless otherwise noted, all books — digital and physical — have been provided for free by publishers in exchange for honest and unbiased reviews. All thoughts and opinions are those of the reviewer.