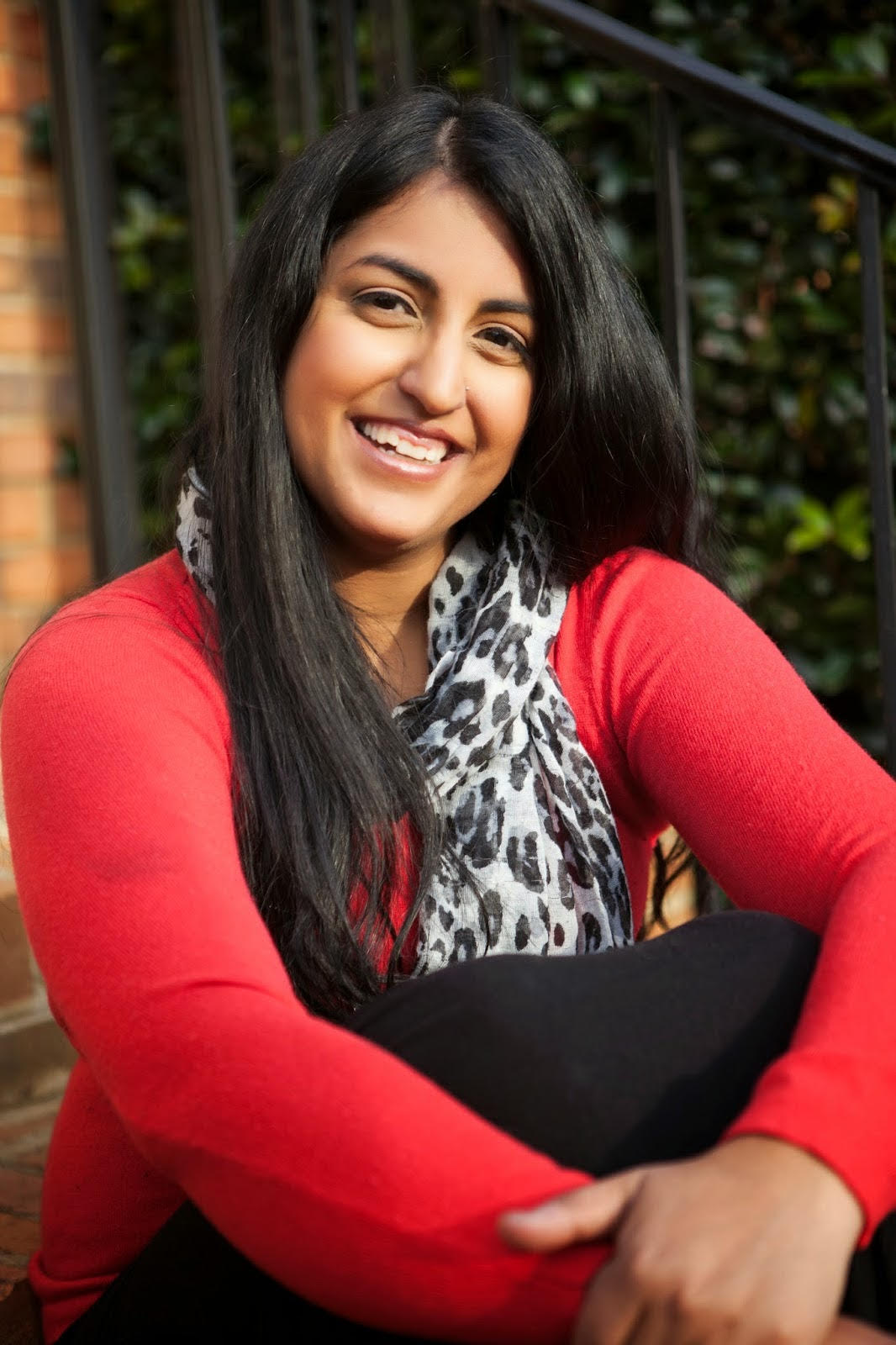 Several Years ago, Aisha Saeed was drinking a cup of tea and perusing the day's headlines. Among the news, Aisha came across the story Malala Yousafzai, a Pakistani schoolgirl who stood up to the Taliban, defending her right to an education. Aisha had already been working on a story about a girl in Pakistan, and Malala's story helped further inform the story Aisha hoped to tell.
"As a former teacher, Malala's story reminded me of the strength and resilience many young people show every day in the face of unspeakable difficulties," Aisha told Cracking the Cover.
"In Amal Unbound, Amal is a strong girl who faces challenging and unjust circumstances but who, despite everything, never loses hope. I never knew this fierce desire to hold on to hope would ultimately be so timely in our current times I hope it gives hope to young children who are worried and struggling."
Life is quiet and ordinary in Amal's Pakistani village, but she had no complaints, and besides, she's busy pursuing her dream of becoming a teacher one day. Her dreams are temporarily dashed when — as the eldest daughter — she must stay home from school to take care of her siblings. Amal is upset, but she doesn't lose hope and finds ways to continue learning. Then the unimaginable happens — after an accidental run-in with the son of her village's corrupt landlord, Amal must work as his family's servant to pay off her own family's debt.

Life at the opulent Khan estate is full of heartbreak and struggle for Amal — especially when she inadvertently makes an enemy of a girl named Nabila. Most troubling, though, is Amal's growing awareness of the Khans' nefarious dealings. When it becomes clear just how far they will go to protect their interests, Amal realizes she will have to find a way to work with others if they are ever to exact change in a cruel status quo, and if Amal is ever to achieve her dreams.
In Amal Unbound, Amal talks back to the wrong person and ends up an indentured servant. The book deals with big issues, and Aisha didn't shy away from them. Instead, she worked hard to find the right balance for her audience.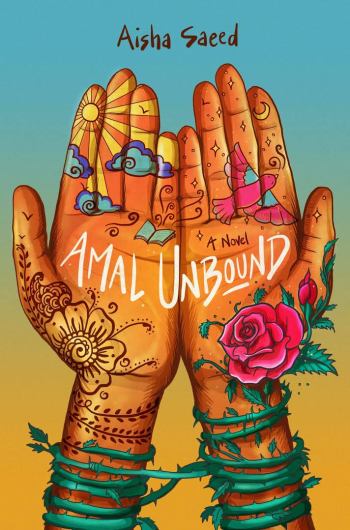 "Writing a story about this topic for the middle-grade audience meant that it was important to portray the situation and the harsh realities honestly but also to make sure that it was age appropriate," Aisha said. "While the situation Amal is in is a very difficult one, in my authors' note, I talk about how many in Amal's situation would face much harsher conditions and would likely never have a happy ending. I hope that the story paired with the author's note helps strike a balance by giving readers a story about a horrendous practice but written in a manner that keeps it accessible for the target audience."
Amal's story is set in Pakisan, but Aisha says her story won't be as foreign to readers as some might think. "If we are capable of connecting with cartoon rabbits and mice, hobbits, and Star Wars androids and space creatures, I believe American readers will be able to relate to fellow human beings who live beyond our geographic borders," Aisha said.
"I believe all people can connect with many other people across faith, race, and geographic locations. The world is a beautiful place with people who have many different cultures and faiths but at the end of the day we are all human. Despite all the things that may make us feel we are different from others, there is a core thread of humanity that binds us all together. All of us regardless of where we live have hopes, and fears, and dreams. All of us want a better life for ourselves and our families. I hope when readers have a chance to read Amal Unbound they can see that we have more in common than they had previously thought."
Aisha is also the author of Written in the Stars, a tale of forbidden love written for young adults. While both her books are written for young people, Aisha says she has never set out to write for a specific age group.
"When it comes to storytelling the most important thing for me to get right and figure out first is the voice," Aisha said. "I have never specifically limited myself to only writing for and about young people but thus far most of the voices that compel me and draw me into their stories are stories for young people. I am grateful for this because writing for young people is an honor, privilege and joy. As a child, I never saw books featuring children who looked like me as the heroes of their own stories, and it is a moving experience now to have the opportunity to give children the opportunity to see themselves in print."
---
Learn more about Amal Unbound and Aisha Saeed, including how Aisha's past careers influenced her writing, by read the complete transcript of her interview with Cracking the Cover.
---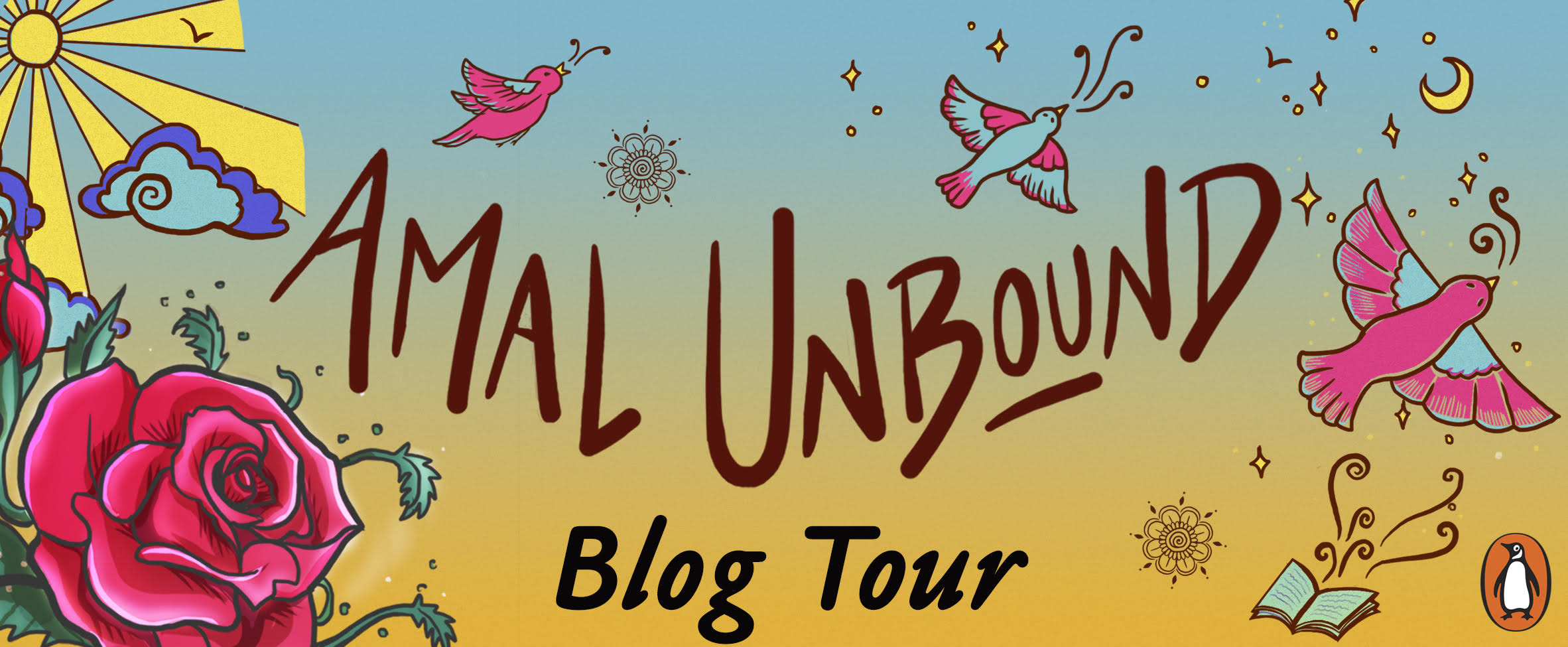 WEEK ONE
April 30 – Crossroad Reviews
May 1 – Novels and Necklaces
May 2 – Picture Books to YA
May 3 – Avid Reader
May 4 – Bri's Book Nook
WEEK TWO
May 7 – Wandering Bark Books
May 8 – Kid Lit Exchange
May 9 – Awkwordly Emma
May 10 – The Book Chamber
May 11 – Fyrekatz Blog
WEEK THREE
May 14 – Cracking the Cover
May 15 – YA Books Central
May 16 – The Grey Duchess
May 17 – Just Add a Word
May 18 – Happy Book Lovers