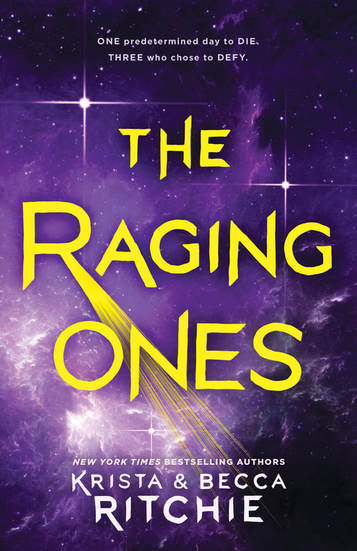 If you could escape death, what would you do? How would you survive? That's the premise behind The Raging Ones by twin sister authors Krista and Becca Ritchie.
The Raging Ones follows three teens who should have died young: Franny Bluefort, a young orphan who lived fast and hard, only to wake up the next morning after her death day in the cold, unforgiving city streets; Mykal Kickfall, who was meant to die at 8 but instead was forced to flee his rugged home to avoid questions of his survival; and Court Icefort, the mysterious boy who acts like an Influential, but has a terrible secret. And, for some inexplicable reason, they can feel each other's emotions as if they were their own.  

With the threat of people learning the teens have dodged their deathdays, they must flee their planet, Saltare-3, to survive. Who knows what will happen if people suddenly think they might be able to escape death? But to do so, all three will have to hide their shared bond as they vie for a highly sought after spot in the newest mission to space. Against thousands of people who are far smarter, will live longer, and will never fear death the way that they do. —Synopsis provided by Wednesday Books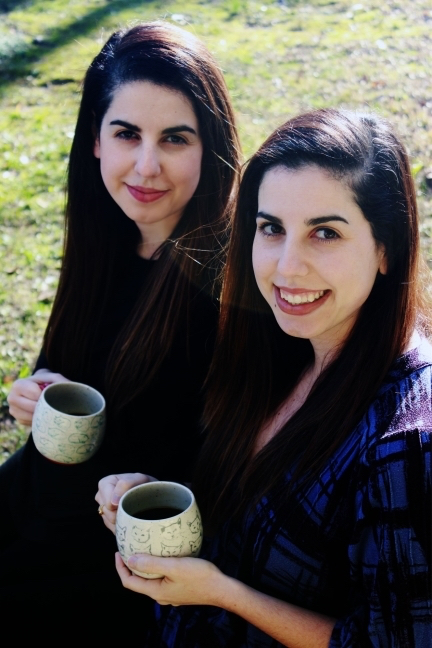 The Raging Ones features three teens who can feel each other's emotions. Krista and Becca said the process of creating this connection and its evolution went pretty quickly.
"We call their emotional connection 'the link' and it first originated in a draft that Becca wrote in college," Krista told Cracking the Cover. "We love raw, visceral writing, and when dealing with emotions, it takes us to that place."
The link pretty much stayed the same from the get-go, Becca said. "We always knew that they'd share only three senses — touch, taste, and smell. We'd written a version of the link before, so we knew how we wanted to write the emotional beats in The Raging Ones."
Becca and Krista have been writing together since high school so they've been able to "fine-tune" their process over time.
"Being sisters seems like we'd bicker a ton, but we find our bond a huge strength," the sisters said in a press release Q&A. "We understand each other's vision and welcome varying opinions and ideas. We always describe what we have as a mini 'writer's room' where we constantly bounce thoughts off one another and try to improve our work. When we have different opinions, it kick-starts discussions, which often ignites better stories."
The Ritchies are already best-selling authors of more than 10 new adult and contemporary romance novels. The Raging Ones is the twins' debut YA, but they've been thinking about it since college. Back then, Krista worked out a concept about "a world where everyone knows the die they'll die, but three teens don't die on their deathday."
Becca and Krista are sci-fi and fantasy nerds. Once Krista agreed to add a fantasy element, Becca jumped on board. "While writing The Raging Ones, we were really inspired by character-driven stories with science fiction backdrops. From movies like Interstellar to television shows like The 100."
Though The Raging Ones is the Ritchies' fist published YA novel, it's a genre they know well. In their childhood, high school and college, they almost exclusively wrote YA. The shift to contemporary romance was much more difficult for them than returning to YA.
"In a lot of ways, The Raging Ones was like returning to something we'd started but hadn't finished yet," they said. "We always attribute our romance books as the reason why we're better writers, and when we went back to this other genre, we realized how much more we could do and push ourselves."