Each year, Cracking the Cover compiles a list of books that make great gifts. The following are picture books published and/or reviewed in 2018. Scroll down for the complete list or click or tap the following links to directly visit a section. BOARD BOOKS • AGES 3 & UP • AGES 4 & UP • AGES 5 & UP • AGES 6 & UP • AGES 7 & UP
BOARD BOOKS
CHOMP GOES THE ALLIGATOR, by Matthew Van Fleet, Simon & Schuster/Paula Wiseman Books, Sept. 4, 2018, Boardbook, $19.99 (ages 2 and up)
Chomp Goes the Alligator is the story of a hungry alligator that chomps his way from one to ten. Each spread features adorable creatures with touchable textures. The star, however, is the alligator. Young readers can help the reptile gulp down everything from otters to hummingbirds by using his chomping pull tab. The story culminates with a giggle-inducing pop-up that introduces even more creatures.
Originally, I though that Chomp Goes the Alligator would be too young for my 4½-year-old. Boy was I wrong. She loves it! While she's past the counting to ten phase, my daughter is engaged by the interactive nature of the book. She loves the bright illustrations and ability to move the alligator. This is one book I think we'll keep long after my daughter's outgrown it.
Return to Top
---
AGES 3 & UP
Everyone knows that tigers are sleek, silent, and totally terrifying . . . most tigers, that is. But no one is afraid of Little Tiger. He's just too small and clumsy to frighten anyone. Determined to prove that he is terrifying, Little Tiger sets out on tiptoe, creeping through the forest to find someone to scare. He gets yawned at and laughed at, but Little Tiger won't give up. Is there any animal in the forest who will find him just as sleek, silent, and totally terrifying as the bigger tigers? — Synopsis provided by Candlewick Press
The Tiptoeing Tiger helps little ones find humor within themselves. I love Little Tiger's determination. Leather's illustrations are sweet and all the animals are adorable.
UNPLUGGED, by Steve Antony, Scholastic Press, Feb. 27, 2018, Hardcover, $16.99 (ages 3-5)
Meet Blip. Blip loves being plugged into her computer. When a blackout occurs, Blip trips over her wire and tumbles outside. Suddenly, Blip's gray world is filled with color and excitement. She plays with her new friends and has adventures all day long. When Blip finally returns home, she realizes that the world can be even brighter once you unplug. — Synopsis provided by Scholastic Press
We all need to unplug sometimes, and we often need a reminder. Unplugged does just that. It helps kids see that while technology is awesome, there's so much to explore without it. Steve Anthony's illustrations are charming.
I'M A DUCK, by Eve Bunting and Will Hillenbrand, Candlewick Press, March 13, 2018, Hardcover, $15.99 (ages 3-7)
One day, an egg rolled out of a nest and right into a deep pond. Now that egg is a little duck, and the water is still very scary. Jumping into the pond at all seems impossible, never mind swimming in a line with all his brothers. "You're a duck, and ducks don't sink," Big Frog points out. Practicing in a puddle helps a little, while backrubs and snacks from his mother help a little more. Big Frog offers to hold his friend's wing and dive in together, but our little duck knows that some challenges need to be faced alone. Even when they are very scary! — synopsis provided by Candlewick Press
I'm a Duck is told from the point of view of the scared little duck, making it much more real for young readers. It's a great way of helping kids learn how fears are not only OK but normal, too. It also sets up a great framework for facing those fears. Will Hillenbrand's illustrations are charming in this sweet picture book.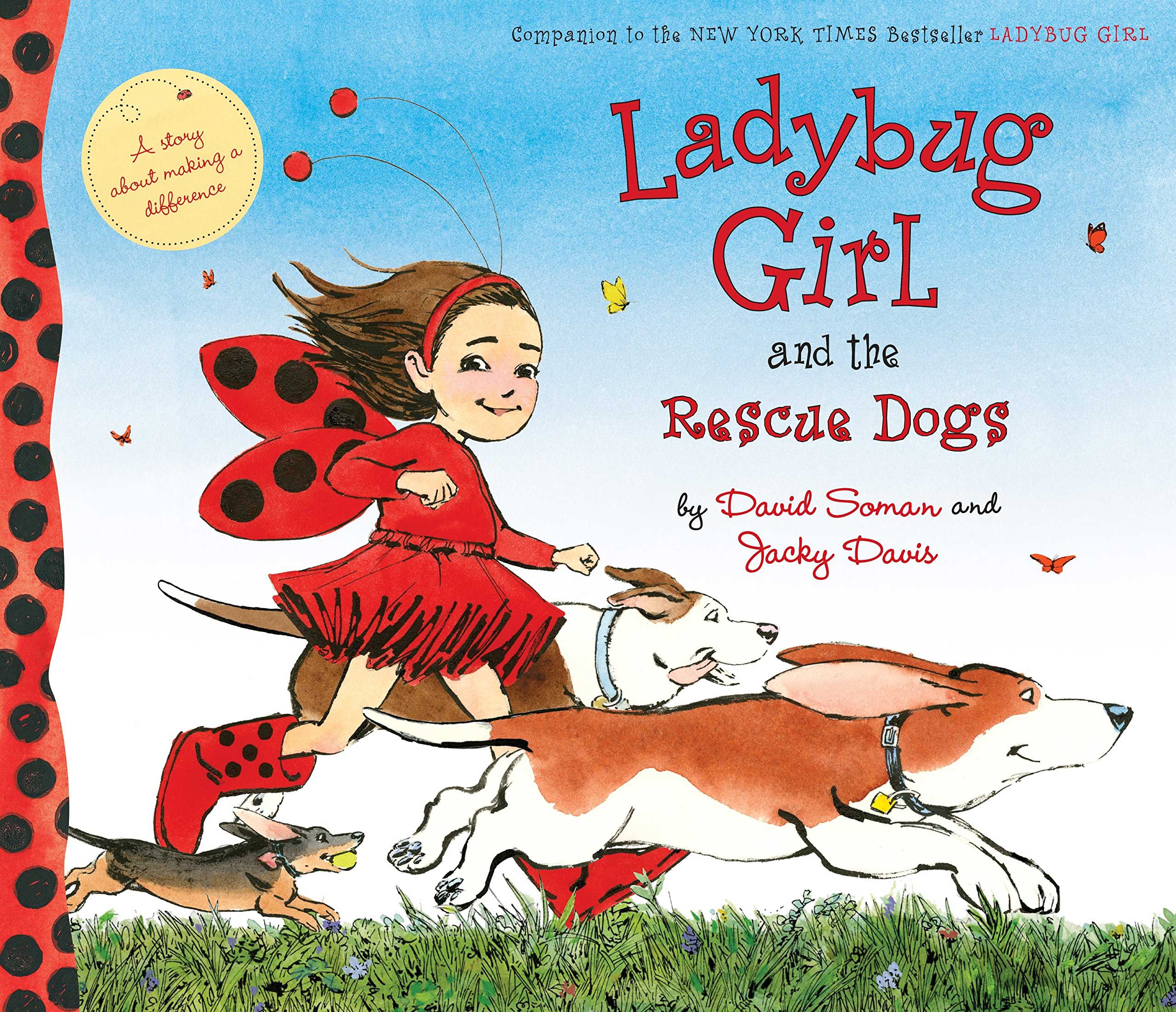 LADYBUG GIRL AND THE RESCUE DOGS, by Jacky Davis and David Soman, Dial Books, March 20, 2018, Hardcover, $17.99 (ages 3-5)
When Lulu joins her mom at the local farmer's market, she discovers a big group of dogs that need a home. Lulu wants to rescue them all, but she already has Bingo, and one dog is enough for their family. Lulu still wants to help. Soon she's recruited the Bug Squad — her friends Grasshopper Girl and Bumblebee Boy — to join the effort. Together, the members of the Bug Squad brush the dogs, play with them, and bring them water and food. Then Lulu comes up with her grandest plan yet — one that's sure to get the dogs into forever homes.
As with all the Ladybug Girl books, Ladybug Girl and the Rescue Dogs features charming illustrations that draw you in. It's fun to see all the different personalities David brings to the dogs. And Jacky's text is as accessible as ever. This is such a sweet story, and I can just see my own daughter trying to do some of the same things to help the dogs as Lulu. Ladybug Girl and the Rescue Dogs is a great addition to the series.
The filming of an underwater TV show goes awry when the crew gets interrupted by a… SHARRRK! Poor Shark, he wasn't trying to scare them, he's just misunderstood! Then he's accused of trying to eat a fish. Will Shark ever catch a break? After all, he wasn't going to eat the fish, he was just showing it his new tooth! Or was he? —Synopsis provided by Orchard Books
Misunderstood Shark is a humorous look at sharks and their eating habits. Just as kids start to see a pattern with this one, a surprise will jump out at them. Bright, bold illustrations help make this book laugh-out-loud funny.
GIRAFFE PROBLEMS, by Jory John and Lane Smith, Random House Books for Young Readers, Sept. 25, 2018, Hardcover, $17.99 (ages 3-5)
Poor Edward. He has giraffe problems. His neck is too long, too bendy, too narrow, too dopey, too patterned, too stretchy, too high, too lofty, and too necky. No matter how hard he tries, Edward can't disguise is enormous neck. Just when Edward starts to think his neck is something only his mother could love, he runs into Cyrus, a turtle who has no trouble hiding his neck but feels limited by his own shortcomings. Together, Edward and Cyrus realize the benefits of both their attributes.
Giraffe Problems is the companion book to Jory John and Lane Smith's Penguin Problems and features the same charm as its predecessor.
HENRY AND THE YETI, by Russell Ayto, Bloomsbury Children's Books, Aug. 14, 2018, Hardcover, $16.99 (ages 3-6)
Henry loves yetis. The problem is nobody knows if yetis actually exist. Henry, however, is sure they do, and he sets off on an expedition to find one. He has packed everything he needs, including a camera to take photos for evidence. But can he find a yeti? And will anyone believe him when he returns home? —synopsis provided by Bloomsbury Children's Books
I love Henry and the Yeti. Russell Ayto's writing reminds me of Ed Vere's Max at Midnight. It's simple and straight to the point in just the way a young child understands. Ayto's stylized illustrations are a joy. They, too, are simple, but lovely. Though you never see Henry's mouth, there's so much expression.
A HUG IS FOR HOLDING ME, by Lisa Wheeler and Lisk Feng, Abrams Appleseed, Dec. 11, 2018, Hardcover, $14.99 (ages 3-5)
A Hug Is for Holding Me is a book about love and affection and invites children to engage with the natural world in a fresh, new way. Some hugs are tight and some hugs are snug . . . but guess who gives the BEST hugs? —Synopsis provided by Abrams Appleseed
I love that a father and daughter are the focus of this tender picture book. Lisa Feng's illustrations are warm and familiar, evoking emotion throughout.
Return to Top
---
AGES 4 & UP
Thames & Hudson's Mice in the City series makes me smile. It's like a mashup between the Babar and Where's Waldo? books. This time around, though, it's mice that are the stars. Each book features different city attractions along with a short verse explaining the draw. Each location features a highly detailed illustration in which surprises abound. The beginning of each book highlights eight characters that are hidden in each spread. And some of them are very difficult to find!
Ami Shin's intricate illustrations are a joy. It's so easy to get swept up in what the individual mice are doing that you forget which character you're "seeking." The books are a little taller than standard picture books, but they're a good size for this specific use. These are going on my go-to list of perfect picture book gifts.
RED, by Jed Alexander, Cameron, May 1, 2018, Hardcover, $17.95 (ages 4-8)
Red is on her way through the woods to visit Grandmother when she meets the Big Bad Wolf. What are that Wolf and all of those woodland creatures up to? This version of the classic folktale ends a bit differently. — Synopsis provided by Cameron
We all know the tale of Little Red Riding Hood, or do we? Red is a beautifully illustrated wordless picture book that features mostly black-and-white illustrations with a pop of red. The surprise ending is a fun outcome children will really enjoy.
THE BIG BOOK OF THE BLUE, by Yuval Zommer, Thames & Hudson, June 5, 2018, Hardcover, $19.95 (ages 4-7)
The Big Book of the Blue is divided by subject-related spreads. It begins with explaining how different types of animals are able to breathe and survive underwater, and the different families to which they belong. It then transitions to specific sea creatures like sea turtle, flying fish rays and dolphins. Zommer brings things full circle by looking at tide pools, the deep sea and oceans in danger. Also included is a hidden sardine and fishy phrases.
The Big Book of the Blue is beautiful. Each spread is full of fun factoids that compliment Zommer's eye-catching illustrations. This is a book that we'll be revisiting at our house time and time again.
Alma and How She Got Her Name is about a little girl who isn't pleased with the name she's been given. Alma's full name is Alma Sofia Esperanza José Pura Candela, and it's just too long. Who needs six names?!? It turns out Alma does. When Alma's father tells her the story of how her name came to be, Alma realizes it's just the right size for her.
I love how Alma and How She Got Her Name celebrates past, present and future. The muted colors used by debut author-illustrator Juana Martinez-Neal are perfectly suited to Alma's story, and the stylized illustrations are fantastic. I can't wait to see more from this author/illustrator!
ANNA AND JOHANNA, by Geraldine Elschner and Florence Koenig, Prestel Junior, April 10, 2018, Hardcover, $14.95 (ages 4-8)
Although one is the daughter of a wealthy Dutch family and the other a household servant, Anna and Johanna become friends. Born on the same day, they celebrate their joint birthdays by making gifts for each other. But then a letter arrives that changes their lives forever. Told against the backdrop of the 17th-century Dutch city of Delft and its thriving commercial and artistic culture, this story of an unlikely friendship echoes the themes of Vermeer's depiction of domestic life. —Synopsis provided by Prestel Junior
Anna and Johanna is a great way to introduce children to art. The book includes copies of Vermeer's The Milkmaid and The Lacemaker and a section on the painter. It's fun to imagine two of Vermeer's subjects as friends, and their friendship plays out well in both text and illustrations. Koenig's paintings are impressionist in style, but employ the lovely light Vermeer is known for.
It's homework time for the little red chicken, who has just learned about something every good story should have: an elephant of surprise. Or could it be an element of surprise (as her amused papa explains)? As they dive in to story after story, looking for the part that makes a reader say "Whoa! I didn't know that was going to happen," Papa is sure he can convince Chicken he's right. After all, there are definitely no elephants in "The Ugly Duckling," "Rapunzel," or "The Little Mermaid" — or are there? Elephant or element, something unexpected awaits Papa in every story, but a surprise may be in store for the little red chicken as well. — Synopsis provided by Candlewick
I've never read Interrupting Chicken the Caledecott Honor Book that precedes Interrupting Chicken and the Elephant of Surprise, but now I want to. I love Chicken's personality. She's a breath of fresh air that little ones love! David Ezra Stein's illustrations are bright and perfectly paired with this fun book.
Set to the sound of  Tchaikovsky's original music, this favorite ballet story features a musical note to press on each spread. Join the King and Queen as they throw a party for their new baby, Princess Aurora. But when a terrible guest arrives and places a curse on princess, the kingdom must find the one special person who can defeat it… —Synopsis provided by Lincoln Children's Books
We own a number of books in The Story Orchestra series, so when my daughter saw this one, she immediately sat down with it. It's a beautiful book, and the musical selections are long enough to last through reading at least one paragraph out loud. As with the other books, the "buttons" aren't very sensitive to touch. We have noticed they become easier to push with use. Overall, this is a great addition to the series.
Experience the magic of Cinderella like never before with this gorgeous interactive sound book, which comes complete with your very own sparkling gold-foil magic wand! Become the Fairy Godmother's assistant by tapping the wand on the musical notes as you read the story. Then listen and see the magic happen as you turn the page. — Synopsis provided by Lincoln Children's Books
The publisher's suggested age for this book is 5, but my 4-year-old loves it. And while I wish there were a broader range of and more musical instances throughout, that doesn't seem to bother my daughter. This is a fun, stylized version of Cinderella that little girls are sure to love.
THE BOY AND THE GIANT, by David Litchfield, Harry N. Abrams, Nov. 6, 2018, Hardcover, $16.99 (ages 4-8)
There is a Secret Giant in Gableview who has hands the size of tabletops, legs as long as drainpipes, and feet as big as rowing boats. But little Billy thinks the Giant is just a tall tale that his grandad likes to tell. According to Grandad, the Giant keeps the bears away when they go camping and rescues Billy's favorite kite when it gets tangled up in the tallest tree. Grandad swears the Giant is real, but Billy's not buying it. Why has he never seen the giant before? Why does the Giant stay hidden? Grandad knows why: People are afraid of things that look different. When Billy suddenly finds himself face-to-face with the Giant, he runs away in fear—and hurts the Giant's feelings. But now he's got an opportunity to make it up to him, and, just maybe, to be friends with the nicest guy in town. — Synopsis provided by Abrams
The Boy and the Giant is one of my favorite picture books this year. The story is clever, the prose perfect and illustrations exquisite. This is a story of acceptance and looking beyond initial impressions. If you can only buy one picture book this season, I'd highly suggest this one.
Return to Top
---
AGES 5 & UP
ROOF OCTOPUS, by Lucy Branam and Rogério Coelho, Sleeping Bear Press, March 1, 2018, Hardcover, $16.99 (ages 5-8)
When Nora hears a soft "tap, tap, tap" at her bedroom window she never expects it to be the tentacle of a very large octopus, but that's exactly what it is–an octopus on her apartment building. The octopus turns out to be a very neighborly sort of octopus, helping the residents to wash their cars or weed the window boxes, and Nora makes fast friends with him. But one morning, the octopus is nowhere in sight. Has he moved on already? And just when Nora wanted to bring him for Show and Tell! — Synopsis provided by Sleeping Bear Press
There's so much to love about Roof Octopus. From the charming story to the whimsical illustrations, this book had my daughter (she's 4) hooked from Day 1. This one is a joy to read.
THEY SAY BLUE, by Jillian Tamaki, Abrams, March 13, 2018, Hardcover, $17.99 (ages 5-7)
Tamaki follows a young girl through a year or a day as she examines the colors in the world around her. Egg yolks are sunny orange as expected, yet water cupped in her hands isn't blue like they say. But maybe a blue whale is blue. She doesn't know, she hasn't seen one. —Synopsis provided by Abrams
They Say Blue perfectly captures a child's stream of consciousness. The girl in this book is full of questions, hypotheses and statements that I've heard come straight from my own daughter's mouth. I love how each topic flows from one to the next, and Tamaki's illustrations are georgeous.
THE FOX ON THE SWING, by Evelina Daciutè and Aušra Kiudulaite, Thames & Hudson, June 19, 2018, Hardcover, $16.95 (ages 5-9)
A boy named Paul lives in a cozy treehouse in a big city with his family. And then something unexpected happens―Paul befriends a wise, friendly fox on a walk home from the bakery. The fox gives Paul a space to think about what makes him happy and what friendship means―all in the pages of a bright and quirky storybook. — Synopsis provided by Thames & Hudson
The Fox on the Swing is a delightfully quirky book about friendship. Paul's family is fantastic, as is his home. Evelina Daciutè's text is the perfect framework for Aušra Kiudulaite's stylized illustrations. Varying font styles and sizes emphasize elements throughout.
Return to Top
---
AGES 6 & UP
DRAWN FROM NATURE, by Helen Ahpornsiri, Big Picture Press, March 13, 2018, Hardcover, $22 (ages 6-9)
Drawn From Nature is nonfiction book that looks at the seasons through text and illustrations. What makes this book different, though, are those illustrations. Each bird, frog, butterfly or hare is created from pressed plants. Leaves, petals and seeds are artfully combined to create unique images that are bright and easily recognizable.
Equally interesting, though not as eye-catching is Helen's text. Each spread features informative information ranging from nest building and pond life to summer nights and forest fungi.
I've never seen anything like Drawn From Nature. I could spend hours exploring Helen's intricate artwork. This would be a fun book in which to employ a magnifying glass while reading with your child. And it would make a great gift for any gardener.
Return to Top
---
AGES 7 & UP
Sing a Song of Seasons is an illustrated collection of 366 nature poems — one for every day of the year. Filled with familiar favorites and new discoveries written by a wide variety of poets, including William Shakespeare, Emily Dickinson, John Updike, Langston Hughes, N. M. Bodecker, Okamoto Kanoko, and many more, this is the perfect book for children (and grown-ups!) to share at the beginning or the end of the day. —Synopsis provided by Nosy Crow
Sing a Song of Seasons is hands down my favorite picture book of 2018. Though the suggested age is 7 and up, don't let that limit you. My daughter turns 5 in February, and I fully plan to start reading her daily poems starting Jan. 1. Everything about this book is lovely. From the gorgeous illustrations to the easily digestible poems, Sing a Song of Seasons is the full package.
Return to Top