Each year, Cracking the Cover compiles a list of books that make great gifts. The following are middle-grade books published in and reviewed by Jessica in 2018. Scroll down for the complete list or click or tap the following links to directly visit a section. AGES 6 AND UP • AGES 8 AND UP • AGES 9 AND UP • AGES 10 AND UP
AGES 6 AND UP
ADVENTURES IN SCIENCE: THE HUMAN BODY, by Courtney Acampora, Silver Dolphin Books, Dec. 12, 2017, $21.99 (ages 6 and up)
As the title suggests, The Human Body introduces young readers to the things that make our bodies work. The 40-page book covers everything from cells and layers of skin to bones, muscles and tendons. Each section includes labeled diagrams and small snippets of information that are just the right size for a kindergarten/first-grader to digest.
There's also 20 fact cards, 2 sheets of stickers and a double-sided poster. My favorite part (and my daughter's) is the 3-D skeleton that you get to assemble. My daughter is only 4, but she spent more than 30 minutes "playing" with the skeleton. Already, she is learning about her skeletal structure and can happily point out her clavicle.
While The Human Body is a great choice for those who are scientifically minded, it's really a great option for all kids. It's interactive and plays to a child's natural curiosity.
Return to Top
---
AGES 8 AND UP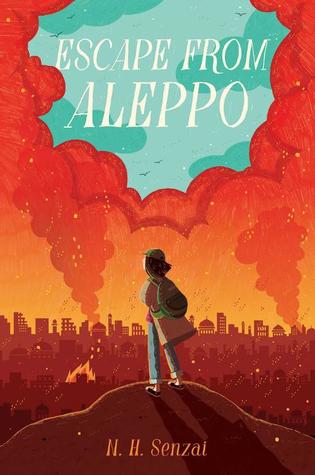 ESCAPE FROM ALEPPO, by N. H. Senzai, Simon & Schuster/Paula Wiseman Books, Jan. 2, 2018, Hardcover, $16.99 (ages 8-12)
Escape From Aleppo opens in the early hours of Oct. 9, 2013. Nadia's family has been planning their escape from Aleppo, Syria, but their exit window just moved up. Nadia awakes to her cousin prodding her out of bed. Bombing has returned to their neighborhood, and they have to leave immediately. But Nadia wavers in her doorway, and gets left behind in the process. But there's still hope for Nadia. She knows where her family was heading. If she can move fast enough, she may be able to catch up with them at the rendezvous point before they leave Aleppo. Escape From Aleppo takes place on two different points on the timeline — October 2013 and the time before the planned escape. While 2013 pulses with immediacy, the "time before," starting in December 2010 has a hazy almost-softness to it. Both treatments serve to enhance the other, creating a dynamic that is both riveting and heart breaking.
I finished Escape From Aleppo humbled and edified. Nadia's story left me emotionally raw. It also left me with a greater understanding of the events leading up to the Arab Spring and the complicated dynamics throughout the region. I highly recommend Escape From Aleppo, especially as a family read. I know I personally would want to read it with my daughter so that we could discuss it together.
THE ETERNITY ELIXIR, by Frank L. Cole, Shadow Mountain, Jan. 2, 2018, Hardcover, $16.99 (ages 8-12)
Most people don't believe in magic. Most people don't believe in potions. Gordy Stitser is not most people. In fact, the 12-year-old is anything but ordinary. Gordy not only knows potions are real; he knows how to brew them, too. Gordy is one of a select group of people who know about the secret society of potion masters. His mom happens to be on the Board of Ruling Elixirists Worldwide (B.R.E.W.), and she's been training Gordy since the moment he showed aptitude. Gordy can't help but invent his own potions. His creativity pays off when a mysterious package containing an unmarked potion arrives at his home. What Gordy doesn't know is the potion he's received is the extremely rare "Eternity Elixir," and it's more than a little bit dangerous. When nefarious characters arrive at his house to take the elixir, Gordy quickly finds himself in over his head. Lucky for him, Gordy isn't alone. With the help of his parents, and his best friends and his superior ability to think on the fly, Gordy just might be able to thwart an all-out potion war.
The Eternity Elixir is a fast-paced read — I read it in one sitting — with the familiarity and accessibility fans of the Fablehaven series will immediately recognize. Gordy is likeable, his friends plucky and his parents both involved and interesting. The Eternity Elixir celebrates learning and education. Gordy learns from recipes and trial and error, serving as a great foundation for further reading. Humor is laced throughout, making The Eternity Elixir a great choice for fans of all genres.
ELLIE, ENGINEER, by Jackson Pearce, Bloomsbury USA Childrens, Jan. 16, 2018, Hardcover, $15.99 (ages 8-12)
Ellie, Engineer opens with Ellie doing what she does best, designing and building a project to solve a problem. Ellie can't imagine making things without Kit, but as Kit's birthday approaches, Ellie fears she'll have to go this one alone. When the girls overhear Kit's mom talking about her present  — the dog Kit always wanted — Ellie knows exactly what to make. Sometimes, though, Ellie's ideas get away from her. Soon her plans for an amazing doghouse are so elaborate she has to get help from everyone but Kit. It's Ellie's biggest plan to date, and it's going to take more than engineering to get it done in time and keep it a secret.
From the cover to the last page of Ellie Engineer, there's no doubt that this is a STEM book. Illustrated sketches and plans are sprinkled throughout, and a how-to guide of Ellie's favorite tools is included at the end.
What makes all the math and engineering come together, though, is how Pearce presents it. The book is about engineering because it's Ellie's passion. She loves creating. Her friends love creating, too, in different ways. It's when the arts combine with STEM that Ellie Engineer really shines. The book is a fast, enjoyable read that will appeal to both boys and girls.
SHADOW WEAVER, by MarcyKate Connolly, Sourcebooks Jabberwocky, Jan.2, 2018, Hardcover, $16.99 (ages 8-14)
Emmeline is a solitary creature. Even her own parents ignore her. But Emmeline isn't alone. For as long as she can remember, Emmeline has had Dar, her own shadow, by her side. Dar isn't just a shadow. She's Emmeline's best friend, and she can talk. When a noble family arrives as Emmeline's home and offers to take the girl away and cure her of her magic, Emmeline is terrified. When the noble falls into a coma, Emmeline is blamed. Rather than face the consequences, Emmeline and Dar run away. Luckily for Emmeline, she's not the only one with gifts, and they're just as interested in safeguarding Emmeline's gifts as she is. As her friendship with these strangers grows, Emmeline realizes Dar might not be the friend she always thought her to be.
The Shadow Weaver is fairly dark with bits of brightness woven throughout. Connolly's writing takes some getting used to, and it won't be a fit for everyone. However, her world-building is strong, and her descriptions of how Emmeline manipulates shadows are beautiful.
Emmeline is the true star of Shadow Weaver. She reminds me a lot of Lyra from Philip Pullman's Golden Compass. She's a wild thing that most people ignore and later want to use for their own devices. Like Lyra, I had a hard time really liking her character until later in the novel. In the beginning, she feels a bit one-dimensional. It takes a while to get to know Emmeline, which may make Shadow Weaver a harder read for a less mature audience, but if you stick with her, you're rewarded.
The year is 1947. India is no longer under British rule, and while many want India to remain a unified country, it splits into two — Pakistan for Muslim Indians and India for Hindus. With the split comes a mass exodus from both sides as people move to the "designated" country. In the process, hundreds of thousands are killed crossing borders. Nisha doesn't understand why her family has to move. Her mother was Muslim, her father Hindu. The divide doesn't make any sense to her. As tensions grow, Papa decides it's no longer safe for them to remain in Pakistan, and they join the thousands of refugees now in search of a new home. Nisha's experiences unfold through the letters she writes to her late mother in a diary. In the process she finds the true meaning of home and identity.
The Night Diary is a beautiful novel. I read it in one sitting and was captivated throughout. Nisha's tale begins with a birthday and the receipt of her diary. And when she begins her story, her life is much like you'd expect of any 12-year-old's. As the days pass, however, you learn how quickly ordinary can morph into something else.
Hiranandani's prose is gentle and rich. Her characters develop with natural ease and her settings draw you further in with each page. The Night Diary is by far one of the best books I've read this year.
THE SCIENCE OF BREAKABLE THINGS, by Tae Keller, Random House Books for Young Readers, March 6, 2018, Hardcover, $16.99 (ages 8-12)
Natalie's mom used to be an inspired botanist who took a daily interest in everything Natalie did. Now, Natalie's mom is checked out. She doesn't go to work. She doesn't make dinner. She doesn't ask how Natalie's day went. Instead, she's locked up in her room sleeping or staring at the walls. Natalie knows it's going to take a miracle to get her mother out of this funk, so when Mr. Neely suggests she enter an egg drop competition, she takes it as a sign. Well, not the competition as a sign, but the prize money. With that money, she can fly her mom out to see her most important botanist discovery. Natalie just knows the flowers will be the breakthrough her mom needs. They will inspire her to live again. As Natalie heads toward her goal, she realizes that with the help of friends, she can do anything — or can she?
In The Science of Breakable Things, Tae Keller deftly explores depression and the complex roles each person plays within a family. In the case of Natalie, her therapist dad wants her to talk, wants her to explore her feelings, but never gives her the most important piece of the puzzle — understanding. It isn't until the very end of the novel that Natalie is given a "why" of sorts. She spends months trying to fix things based on an assumption rather than facts.
I love Natalie's fight. Even though the situation with her mom is broken, she's not ready to give up. She's persistent and creative and everything you could hope for your child to be. I love that even though they don't have all the answers, both her friends and her father are trying. Natalie's never really alone, even when it sometimes feels that way.
NEVER THAT FAR, by Carol Lynch Williams, Shadow Mountain, April 3, 2018, Hardcover, $16.99 (ages 8-12)
When Grampa dies, Libby thinks that's the end. Her father is wrapped up in his own grief and she's all alone. Except she's not. She awakens the night after the funeral to Grampa sitting on the edge of her bed. Grampa isn't there just to visit, though he loves spending time with Libby. He has three important things to tell her — 1) she is never alone 2) she has the ability or "Sight" to see family members who have died 3) he hid something special in the lake on their property and she must find it. With the help of a neighbor friend who has an open mind, Libby sets out to find her Grampa's "treasure" and to help her father heal from a lifetime of grief.
I can see how Never That Far would be an especially moving book for anyone who is grieving. It's a short, simple novel that never strays far from Libby's home, and yet it packs such an emotional punch. It builds on your feelings and makes you look beyond yourself.
Never That Far is set in rural Florida, and the colloquial speech does take some getting used to. However, it doesn't take long before author Carol Lynch Williams' warm prose envelopes you. Never That Far is a lovely read.
HARDSCRABBLE, by Sandra Dallas, Sleeping Bear Press, March 15, 2018, Hardcover, $15.95 (ages 8-11)
In 1910, after losing their farm in Iowa, the Martin family moves to Mingo, Colorado, to start anew. The US government offers 320 acres of land free to homesteaders. All they have to do is live on the land for five years and farm it. So twelve-year-old Belle Martin, along with her mother and six siblings, moves west to join her father. But while the land is free, farming is difficult and it's a hardscrabble life. Natural disasters such as storms and locusts threaten their success. And heartbreaking losses challenge their faith. Do the Martins have what it takes to not only survive but thrive in their new prairie life? —synopsis provided by Sleeping Bear Press
It's easy to be swept away with Sandra's story. Belle is a likeable young woman for whom much more is expected than that of 12-year-olds today. In many ways, Belle is both a child and adult, and that's what makes this book so enjoyable across the ages.
Though written for middle-graders, Sandra's writing feels ageless. Hardscrabble is a quick and engrossing read that will have you looking for more books by the same author.
The Rose Legacy, by Jessica Day George, Bloomsbury Children's Books, May 1, 2018, Hardcover, $16.99 (ages 8-12)
The Rose Legacy tells the story of Anthea, an orphan who has been passed from relative to relative until finally she is sent to live with her long-lost uncle in a remote area where no one from Coronam would actively choose to live. Once there, she learns her uncle secretly breeds horses, which have been forbidden from her kingdom for centuries. Not only that, but Anthea seems to have the ability to sense the horses' thoughts and feelings. Anthea is terrified, but when the kingdom is put at risk, she must force herself to look beyond everything she's ever known.
The Rose Legacy was born out of an idea Jessica began tinkering with as a 13-year-old writing in her yellow Cabbage Patch Kid journal. That story was about a girl and her beloved horse who were forced to live with her wicked uncle.
"It was very dramatic," Jessica told Cracking the Cover. "Fast forward to a few years ago, when I read that WWI was the last time the British used cavalry horses in battle, because it was the introduction of the tank. I put that childhood love of horses together with a story that I originally intended to be about WWI . . . but I am lazy and didn't want to do the research!"
Lou Bulosan-Nelson has the ultimate summer DIY project. She's going to build her own "tiny house," 100 square feet all her own. She shares a room with her mom in her grandmother's house, and longs for a place where she can escape her crazy but lovable extended Filipino family. Lou enjoys her woodshop class and creating projects, and she plans to build the house on land she inherited from her dad, who died before she was born. But then she finds out that the land may not be hers for much longer. Lou discovers it's not easy to save her land, or to build a house. But she won't give up; with the help of friends and relatives, her dream begins to take shape, and she learns the deeper meaning of home and family. —synopsis provided by Wendy Lamb Books
The House That Lou Built is a multilayered novel that explores family, friendship, self-reliance and cultural dynamics. I loved how Respicio weaved in Filipino traditions with such an effortless feel. I learned so much without feeling like I was being taught or talked down to. Being half Filipino is just who Lou is, and that rings true throughout.
FRONT DESK, by Kelly Yang, Arthur A. Levine Books, May 29, 2018, Hardcover, $16.99 (ages 8-12)
Front Desk, by Kelly Yang, is the fictionalized account of a 10-year-old's life as a Chinese immigrant to the United States. Mia Tang's parents brought her family to the United States for better opportunity. Never did they imagine they'd end up running a motel or that their daughter would manage the front desk. Mia doesn't mind managing the front desk. She like to feel helpful, and she likes the guests. What she does mind are the secrets she has to keep: No child is supposed to be managing a motel front desk, and her parents allow immigrants stay in empty rooms for free. Over the course of a year, Mia works hard and learns that kindness and hard work can lead to amazing things.
Front Desk is one of my favorite middle-grade novels of 2018. You can't help but fall in love with Mia. She's bright and caring and her can-do spirit is infectious. And while there are many hardships and heavy themes — poverty, extortion, fraud and racism —Yang has masterfully balanced things with humor. Everything is filtered through Mia's hopeful yet naïve dreams, adding to the rich flavor of this book.
JUST UNDER THE CLOUDS, by Melissa Sarno, Knopf Books for Young Readers, June 5, 2018, Hardcover, $16.99 (ages 8-12)
Cora is a middle schooler, a big sister, and homeless. Her mother is trying to hold the family together after her father's death, and Cora must look after her sister, Adare, who's just different, their mother insists. Quick to smile, Adare hates wearing shoes, rarely speaks, and appears untroubled by the question Cora can't help but ask: How will she find a place to call home? After their room at the shelter is ransacked, Cora's mother looks to an old friend for help, and Cora finally finds what she has been looking for: Ailanthus altissima, the "tree of heaven," which can grow in even the worst conditions. It sets her on a path to discover a deeper truth about where she really belongs. —Synopsis provided by Knopf Books for Young Readers
Melissa Sarno's Just Under the Clouds is a heartbreakingly lovely book that celebrates family and the concept of home. It's not the happiest of books, but it is touching. Sarno's writing is easily accessible and her characters are ones you want to root for.
The Splintered Light, by Ginger Johnson, Bloomsbury Children's Books, Sept. 4, 2018, Hardcover, $16.99 (ages 8-12)
After his brother's disappearance and his father's tragic death, eleven-year-old Ishmael lives a monotonous and grief-filled existence on his family's meager farm. In a world without color, the only break in his sorrow is a strange light that pierces a pane of glass in the barn and splinters Ishmael's world into a spectrum of color he never knew existed. But even that can't lift Ishmael's heavy burden. When the worries become too great for him to bear, Ishmael sets out to find his older brother Luc and bring him home. His search takes him to the Commons, where he discovers a place of wonder and beauty that intrigues him and calls to his heart. —Synopsis provided by Ginger Johnson
Ginger Johnson adores color, and began college as an art major. She "reveled" in mixing oil paints into rich colors then, and she still does now.
"From the beginning, this story was always about color," Ginger said. "In fact, its original title was Spectrum. It wasn't until later that I realized that this story was much larger than I had originally intended, and that if this were truly a story about creating and creation, it would, of necessity, require other aspects of creation."
Lucy Callahan was struck by lightning. She doesn't remember it, but it changed her life forever. The zap gave her genius-level math skills, and ever since, Lucy has been homeschooled. Now, at 12 years old, she's technically ready for college. She just has to pass 1 more test–middle school! Lucy's grandma insists: Go to middle school for 1 year. Make 1 friend. Join 1 activity. And read 1 book (that's not a math textbook!). Lucy's not sure what a girl who does calculus homework for fun can possibly learn in 7th grade. She has everything she needs at home, where nobody can make fun of her rigid routines or her superpowered brain. The equation of Lucy's life has already been solved. Unless there's been a miscalculation? —Synopsis provided by Random House Books for Young Readers
As a mom of a 4 ½ –year-old, I appreciated Miscalculations of Lightning Girl probably for different reasons than the intended audience. The book serves as a gentle reminder of not only how important social skills are but also how they have far-reaching implications. Watching my daughter learn to navigate "play" with other children has been fascinating. Miscalculations of Lightning Girl reminded me it can also be hard. Very, very hard.
I love Lucy. When you meet her, she's so sure of herself and her abilities, but as you get to know her, you realize how nuanced things are. She's a great example of how everyone is challenged in some way or another. Lucy's the kind of character I want my daughter to understand, because either she herself, or someone she crosses paths with will be just like her.
RESISTANCE, by Jennifer A. Nielsen, Scholastic Press, Aug. 28, 2018, Hardcover, $17.99 (ages 8 and up)
Chaya Lindner is a teenager living in Nazi-occupied Poland. Simply being Jewish places her in danger of being killed or sent to the camps. After her little sister is taken away, her younger brother disappears, and her parents all but give up hope, Chaya is determined to make a difference. Using forged papers and her fair features, Chaya becomes a courier and travels between the Jewish ghettos of Poland, smuggling food, papers, and even people. Soon Chaya joins a resistance cell that runs raids on the Nazis' supplies. But after a mission goes terribly wrong, Chaya's network shatters. She is alone and unsure of where to go, until Esther, a member of her cell, finds her and delivers a message that chills Chaya to her core, and sends her on a journey toward an even larger uprising in the works — in the Warsaw Ghetto. —Synopsis provided by Scholastic Press
Resistance is historical fiction at its finest. Not only does Jennifer A Nielsen bring events of WWII straight into your home, she also celebrates the resiliency of the human spirit in the worst of circumstances.
When reading Resistance, I actually forgot I was reading middle grade. It felt more young adult to me, but as an adult I was equally caught up in the story. It's OK for younger, more mature readers, but I would definitely choose to read it with my daughter, at least the first time.
Journey of the Pale Bear is based on the real story of a polar bear that lived in the Tower of London. The book follows the bear and Arthur, the bear's young keeper, as they travel from Norway to England.
Journey of the Pale Bear took years longer to write than any other book Susan has written. Life events did slow the process, but Susan also says writing a novel just takes her a long time. "At the beginning of the process, my story is mostly just fog, and the only way to make things clear is to spend time with it—writing, reading, rewriting, thinking."
There was a lot of research involved, too. "I had to find out a lot about polar bears," Susan said. "I had to find out about the menagerie in the Tower of London. I had to find out about life aboard 13th century ships. And just in general, I had to find out how people lived in the 13th century—what they wore, what they ate, what happened when they were sick or injured, what sorts of things surrounded them."
Return to Top
---
AGES 9 AND UP
IN YOUR SHOES, by Donna Gephart, Delacorte Books for Young Readers, Oct. 9, 2018, Hardcover, $16.99 (ages 9-12)
Miles is an anxious boy who loves his family's bowling center even if though he could be killed by a bolt of lightning or a wild animal that escaped from the Philadelphia Zoo on the way there. Amy is the new girl at school who wishes she didn't have to live above her uncle's funeral home and tries to write her way to her own happily-ever-after. Then Miles and Amy meet in the most unexpected way . . . and that's when it all begins. . . . —Synopsis provided by Delactorte Books for Young Readers.
The "shoes" element in In Your Shoes is both physical and metaphorical. While Miles thinks his bowling shoes give him a quirky edge, Amy feels her heel lift brings unwanted attention. It's a shoe hurtling through the air that brings the two together, and as the book progresses, they gain an overall better understanding of life itself by putting themselves in each other's shoes.
Donna Gephart's writing is beautifully smooth and inviting. She captures the essence of tweendom without playing to stereotypes. Donna's characters are likeable — the type of people you'd want your own kids to be friends with.
Return to Top
---
AGES 10 AND UP
WIZARD FOR HIRE, by Obert Skye, Shadow Mountain, March 6, 2018, Hardcover, $17.99 (ages 10-14)
14-year-old Ozzy's scientist parents were abducted from their remote Oregon cabin/home when he was 7. Ozzy witnessed the whole thing. Since then, Ozzy has been on his own. His parents had stockpiled a lot of food in their basement and had taught Ozzy to read. So Ozzy raised himself off the grid. By the time he reaches 14, though, Ozzy realizes he must find out what really happened to his parents. When he comes across a classified ad in the local newspaper that says "Wizard for Hire. Call 555-SPEL," Ozzy knows he's found his answer. Rin dresses like a wizard — sort of (short robe and high-top tennis shoes) — and he does have a strange way of speaking. But he also eats breakfast for every meal and never casts any spells. But Rin believes Ozzy's story and believes in Ozzy. With the help of a robotic-talking raven invented by Ozzy's father, a kind and curious girl at school, Ozzy thinks he might just have a chance at finding his parents.
As with other middle-grade books from Shadow Mountain (think Fablehaven and Mysteries of the Cove), Wizard for Hire is impeccably edited. Obert Skye's writing is immediately accessible. His pacing is strong, allowing the action to ebb and flow at a natural pace and then pick up for a heart-racing climax with some surprising developments.
Wizard for Hire is unlike any book I've read before. Skye carefully skirts around and through magical elements in a way that has you constantly questioning if it magic exists or if things are just happy accidents.
AMAL UNBOUND, by Aisha Saeed, Nancy Paulsen Books, May 8, 2018, Hardcover, $17.99 (ages 10 and up)
Life is quiet and ordinary in Amal's Pakistani village, but she had no complaints, and besides, she's busy pursuing her dream of becoming a teacher one day. Her dreams are temporarily dashed when she must stay home from school to take care of her siblings. Amal is upset, but she doesn't lose hope and finds ways to continue learning. Then the unimaginable happens — after an accidental run-in with the son of her village's corrupt landlord, Amal must work as his family's servant to pay off her own family's debt. Life at the opulent Khan estate is full of heartbreak and struggle for Amal — especially when she inadvertently makes an enemy of a girl named Nabila. Most troubling, though, is Amal's growing awareness of the Khans' nefarious dealings. When it becomes clear just how far they will go to protect their interests, Amal realizes she will have to find a way to work with others if they are ever to exact change in a cruel status quo, and if Amal is ever to achieve her dreams. —Synopsis provided by Nancy Paulsen Books
"I believe all people can connect with many other people across faith, race, and geographic locations," Aisha Saeed told Cracking the Cover. "The world is a beautiful place with people who have many different cultures and faiths but at the end of the day we are all human. Despite all the things that may make us feel we are different from others, there is a core thread of humanity that binds us all together. All of us regardless of where we live have hopes, and fears, and dreams. All of us want a better life for ourselves and our families. I hope when readers have a chance to read Amal Unbound they can see that we have more in common than they had previously thought."
MARIA SIBYLLA MERIAN: ARTIST, SCIENTIST, ADVENTURER, by Sarah B. Pomeroy and Jeyaraney Kathirithamby, Getty Publications and Abrams, Feb. 13, 2018, Hardcover, $21.95 (ages 10 and up)
In 1660, at the age of thirteen, Maria Sibylla Merian (1647-1717) began her study of butterfly metamorphosis—years before any other scientist published an accurate description of the process. Later, Merian and her daughter ventured thousands of miles from their home in the Netherlands to the rainforests of South America seeking new and amazing insects to observe and illustrate. Years after her death, Merian's accurate and beautiful illustrations were used by scientists, including Carl Linnaeus, to classify species, and today her prints and paintings are prized by museums around the world. More than a dozen species of plants and animals are named after Merian. —synopsis provided by Getty Publications
Maria Sibylla Merian: Artist, Scientist, Adventurer is exactly the type of book I would have loved as a 10-year-old, and I love it even more as an adult. It's the sort of thing adults will get for their children but secretly read themselves. Even my daughter, who is only 4, is drawn to the cover, and enjoys flipping through the pages — her favorite page is the Nettle with Red Admiral Butterfly, Ichneumon Wasp, and Chalcid Wasp from the book's epilogue.
Maria Sibylla Merian: Artist, Scientist, Adventurer is a comfortable read, with lots of images and captions to break up the main text. And the main text itself is easily accessible. Sprinkled throughout there are also quotations from Merian's own study book, and sidebars on history, art and science.
Once upon a time, there was a girl named Maud who adored stories. When she was fourteen years old, Maud wrote in her journal, "I love books. I hope when I grow up to be able to have lots of them." Not only did Maud grow up to own lots of books, she wrote twenty-four of them herself as L. M. Montgomery, the world-renowned author of Anne of Green Gables. For many years, not a great deal was known about Maud's personal life. Her childhood was spent with strict, undemonstrative grandparents, and her reflections on writing, her lifelong struggles with anxiety and depression, her "year of mad passion," and her difficult married life remained locked away, buried deep within her unpublished personal journals. —Synopsis provided by Candlewick Press
Most people like to think that Maud had a fairy tale life, but it was far from it. Though I knew Maud's childhood was not easy, I was surprised to learn how unhappy Maud was in her adult life.
House of Dreams is written for older middle-graders/ early young adults, but that doesn't mean Rosenberg shies from hard subjects. I would suggest reading it before or concurrently with your child so as to properly address them together.
House of Dreams is one of the better written biographies I've read for this age group. Rosenberg's writing is smooth, and the book feels at times more like a novel than a biography. The addition of Morstad's charming line illustrations provides some whimsy throughout.
When Louisiana Elefante's granny wakes her up in the middle of the night to tell her that the day of reckoning has arrived and they have to leave home immediately, Louisiana isn't overly worried. After all, Granny has many middle-of-the-night ideas. But this time, things are different. This time, Granny intends for them never to return. Separated from her best friends, Raymie and Beverly, Louisiana struggles to oppose the winds of fate (and Granny) and find a way home. But as Louisiana's life becomes entwined with the lives of the people of a small Georgia town — including a surly motel owner, a walrus-like minister, and a mysterious boy with a crow on his shoulder — she starts to worry that she is destined only for good-byes. (Which could be due to the curse on Louisiana's and Granny's heads. But that is a story for another time.) — Synopsis provided by Candlewick
Louisiana's Way Home is an unexpected read. It's heartbreaking and inspiring at the same time. As an outsider looking in, Louisiana's situation seems unimaginable. But you quickly come to see that she's been prepared for it the whole of her short life.
There's a lot of emotion packed into this fairly short book, and though the length would lead you to believe it's for younger middle-grade, it definitely skews older. There's absolutely nothing objectionable here, but the material and its presentation requires a bit more maturity.
A meningitis outbreak in their underprivileged neighborhood left Sylvia Acevedo's family forever altered. As she struggled in the aftermath of loss, young Sylvia's life transformed when she joined the Brownies. The Girl Scouts taught her how to take control of her world and nourished her love of numbers and science. With new confidence, Sylvia navigated shifting cultural expectations at school and at home, forging her own trail to become one of the first Latinx to graduate with a master's in engineering from Stanford University and going on to become a rocket scientist at NASA's Jet Propulsion Laboratory. —Synopsis provided by Clarion Books
There are so many things to like about Path to the Stars. Sylvia Acevedo's conversational writing makes this autobiography read like a novel. It's quick-paced and fascinating.
Though her Mexican heritage may not be relatable to all readers, her experiences with the Girl Scouts are universal. Readers will also understand how family dynamics shape who we become.
Return to Top