Each year, Cracking the Cover compiles a list of books that make great gifts. The following are young adult books published in and/or reviewed by Jessica in 2018. Synopsis are written by Jessica unless otherwise noted. Scroll down for the complete list or click or tap the following links to directly visit a section. FANTASY / FAIRY TALE • CONTEMPORARY • ADVENTURE • HISTORICAL • NONFICTION
FANTASY/ FAIRY TALE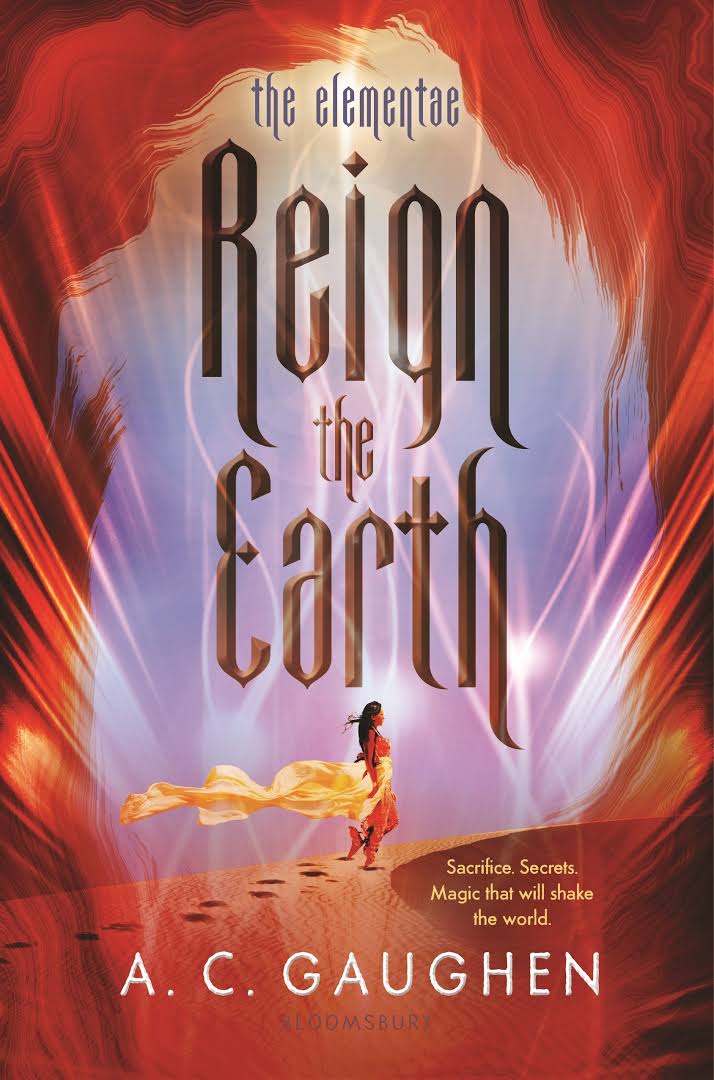 REIGN THE EARTH, by A.C. Gaughen, Bloomsbury USA Childrens, Jan. 30, 2018, Hardcover, $17.99 (young adult — 14 and up)
Shalia is a daughter of the desert. She loves her land and loves her people. She loves them so much, she's willing to give them up for something far greater — peace. Years of war with the neighboring kingdom have left their toll, and it's time for reconciliation. Shalia agrees to marry Calix, king of the Bone Lands, in exchange for harmony. Shalia enters this new land conflicted and carrying her own secrets. There's more to Shalia, it appears, than meets the eye.
Author A.C. Gaughen's world building is beautiful. I felt myself walking through the sand next to Shalia as she made her way toward the Bone Lands and her awe at experiencing her new home for the first time. Shalia is a strong character facing difficult choices. Her world is nuanced and her actions equally so.
THE FORGOTTEN BOOK, by Mechthild Gläser, Feiwel & Friends, Jan. 2, 2018, Hardcover, $17.99 (young adult)
Emma's well on her way to becoming head girl at her prestigious boarding school, good things appear to be on the horizon with her long-time crush, and her plans for a secret society are playing out just as planned. Darcy de Winter could care less about Emma's plans. What Darcy doesn't know, however, is that before he arrived, Emma found a book in the library — a book in which anything written in the book comes true. Emma takes the book on a few practice runs, and it seems harmless enough, but as her wishes become more complicated, so do the consequences. As events unfold, it becomes clear that someone else knows about the book, and they will stop at nothing to get it from her.
If you've read Pride and Prejudice, then you can pretty much figure out The Forgotten Book's version of Darcy. He's cold and aloof, complicated, privileged, and completely devoted to those he cares about. (Maxim de Winter in Rebecca is much the same way.) Emma, on the other hand, comes from more modest beginnings. Emma starts out a little one note — searching for the popularity and acclaim others have. As her character develops, though, you realize she has the strength of a Lizzie Bennet, or perhaps Emma Woodhouse.
Surrounding all this is a Rebecca-esque Gothic feel that adds a delicious weight to the mystery of The Forgotten Book. While Gläser may pay homage to the above-mentioned books, The Forgotten Book does feel very much like it's own work. It's a moody, sometimes dark read that's compelling in its own right.
THE TRAITOR'S GAME, by Jennifer A. Nielsen, Scholastic Press, Feb. 27, 2018, Hardcover, $17.99 (young adult)
Kestra Dallisor has spent three years in exile in the Lava Fields. When her father, the right hand man of Antora's cruel king, Lord Endrick, summons her home, she has no choice. Kestra is being used as a pawn by her father, Lord Endrick, and a band of rebels who want to see Endrick overthrown. The rebels kidnap Kestra as she journeys home, and they give her a choice — help them or she and her servants die. The kidnappers want her to retrieve the only object that can destroy Endrick. Kestra reluctantly agrees, but she works to undermine the kidnappers. But the deeper Kestra becomes involved, the more she learns. And the more she learns throws everything off balance. Kestra is walking a fine line, and death is on either side.
From the moment I picked it up, to the moment I put it down, I became fully engrossed with Jennifer's world. I may have even put on a movie (or two) for my daughter to watch so I could read in peace. (Mother of the year award over here!)
Kestra is a multilayered character that immediately grabs your interest. And Simon, the young rebel who is assigned to watch over her, is equally as intriguing. Both appear to be one thing and evolve into something completely different by the time the book ends.
THE BELLES, by Dhonielle Clayton, Freeform, Feb. 6, 2018, Hardcover, $17.99 (young adult)
Camellia Beauregard is a Belle. In the opulent world of Orleans, Belles are revered, for they control Beauty, and Beauty is a commodity coveted above all else. Once Camellia and her Belle sisters arrive at court, it becomes clear that being the favorite is not everything she always dreamed it would be. Behind the gilded palace walls live dark secrets, and Camellia soon learns that the very essence of her existence is a lie, that her powers are far greater, and could be more dangerous, than she ever imagined. And when the queen asks Camellia to risk her own life and help the ailing princess by using Belle powers in unintended ways, Camellia now faces an impossible decision. —Synopsis provided by Freeform Books.
The world that Dhonielle Clayton has created feels very much as if she zoomed in on the intimate lives of the Capitol residents in Suzanne Collins' The Hunger Games. Now the actual setting is very different, but the extravagant dress, the showmanship and social standing elements were an immediate parallel.
Clayton's characters are strong, smart, devious and dangerous. She does an excellent job setting the scene and pushing readers just to the edge of uncomfortable. I'm excited to see where Clayton takes the rest of The Belles series.
SKY IN THE DEEP, by Adrienne Young, Wednesday Books, April 24, 2018, Hardcover, $17.99 (young adult)
Sky in the Deep is a fantasy novel set in the land of Vikings. At 17, Eelyn is already a seasoned warrior. She was raised to fight alongside her Aska clansmen. They come together on the battlefield against the Riki clan with whom they hold an ancient rivalry. Eelyn is a skilled warrior who never falters, until one day she sees her brother — the one she watched die in battle five years ago — fighting alongside the Riki. Risking her life to discover the truth, Eelyn ends up in the hands of her enemy, forced to live side-by-side with them through the long mountain winter.
Sky in the Deep has a foundation in Norse mythology, which author Adrienne Young researched extensively. From the first paragraph to the last, I was engrossed. Adrienne's world building is amazingly nuanced. I raced with Eelyn to the battlefield, marveled at the yarrow fields with her and pushed myself through the bitter cold by her side.
Reading Sky in the Deep was a completely immersive and unique experience that comes with the first read of a novel that speaks to you. I'm not sure a second reading will live up to it, but I'm sure going to give it a try. Sky in the Deep isn't for everyone. There's a lot of battle a gore, although it's fairly tame compared to other fantasy novels. However, if you enjoy narratives taut with action and a little bit of a love story, Sky in the Deep might be the perfect fit. It was for me. I'm already looking forward to the planned companion novel in the works.
In Dark Breaks the Dawn readers are introduced to Evelayn, princess of Eadrolan, the Light Kingdom. When Evelayn's mother is killed, Evelayn not only inherits her mother's crown, she also inherits the war against King Bain and the Dark Kingdom of Dorjhalon. Evelayn defeats Bain only to be tricked by his son, Lorcan who cuts out Evelayn's conduit stone and forces her into her swan form. That was ten years ago. The hope then had been to create peace, to balance Dark and Light. Trapping Evelayn has had the opposite effect. Without that balance, winter has taken hold and the Draíolon of Éadrolan lose more power every day. Lorcan wants to change that. He wants a truce, but it's one Evelayn can't accept because she can't/won't Bind herself to Lorcan for life. Soon Lorcan and Evelayn have no choice but to work together.
There's more meat the Bright Burns the Night. Here Sara more fully explores her characters and builds upon the nuances she created earlier. The pacing is smooth and tension perfectly wound. I think this is one series I will reread numerous times.
BRIGHTLY BURNING, by Alexa Donne, HMH Books for Young Readers, May 1, 2018, hardcover, $17.99 (young adult)
Stella Ainsley leaves poverty behind when she quits her engineering job aboard the Stalwart to become a governess on a private ship. But no one warned Stella that the ship seems to be haunted, nor that it may be involved in a conspiracy that could topple the entire interstellar fleet. Surrounded by mysteries, Stella finds her equal in the brooding but kind, nineteen-year-old Captain Hugo. When several attempts on his life spark more questions than answers, and the beautiful Bianca Ingram appears at Hugo's request, his unpredictable behavior causes Stella's suspicions to mount. Without knowing who to trust, Stella must decide whether to follow her head or her heart. —synopsis provided by HMH Books for Young Readers
Brightly Burning is Jane Eyre reimagined. Some elements are so similar, you know exactly what's coming next — or at least you think you do. Donne has thrown in enough curveballs to keep things fresh while remaining true to the spirit of the original.
Donne's prose doesn't have the gothic moodiness of Charlotte Bronte, and her dialogue is modernized. Both are in keeping with her reimagining and helps provide a smooth and polished overall feel.
IMPOSTORS, by Scott Westerfeld, Scholastic Press, Sept. 11, 2018, Hardcover, $18.99 (young adult)
Frey and Rafi are inseparable . . . two edges of the same knife. But Frey's very existence is a secret. Frey is Rafi's twin sister—and her body double. Their powerful father has many enemies, and the world has grown dangerous as the old order falls apart. So while Rafi was raised to be the perfect daughter, Frey has been taught to kill. Her only purpose is to protect her sister, to sacrifice herself for Rafi if she must. When her father sends Frey in Rafi's place as collateral in a precarious deal, she becomes the perfect impostor—as poised and charming as her sister. But Col, the son of a rival leader, is getting close enough to spot the killer inside her. As the deal starts to crumble, Frey must decide if she can trust him with the truth . . . and if she can risk becoming her own person. — synopsis provided by Scholastic Press
I read Impostors in one sitting. It's absolutely fascinating and engrossing. I had no idea going into it that it was set in the same world as Scott's Uglies series, and honestly, you don't need to know that to enjoy Impostors (although I really want to read Uglies now). As a newcomer to this world, I found it fresh and compelling.
Frey is a complex and engaging character. I started out disliking Rafi, but as the book progressed, I realized she, too, is much more layered than I initially thought. And while you do want to root for the twins, their father, on the other hand, is reprehensible. Impostors is fast and action-packed. Twists and turns abound, and dramatic tension is laced throughout. It's a great read.
Elizabeth Lavenza hasn't had a proper meal in weeks. Her thin arms are covered with bruises from her "caregiver," and she is on the verge of being thrown into the streets . . . until she is brought to the home of Victor Frankenstein, an unsmiling, solitary boy who has everything — except a friend. Victor is her escape from misery. Elizabeth does everything she can to make herself indispensable — and it works. Soon she and Victor are inseparable. But her new life comes at a price. As the years pass, Elizabeth's survival depends on managing Victor's dangerous temper and entertaining his every whim, no matter how depraved. Behind her blue eyes and sweet smile lies the calculating heart of a girl determined to stay alive no matter the cost . . . as the world she knows is consumed by darkness. —Synopsis provided by Delacorte Press
I'm a fan of Kiersten's Conquerors Saga, which reimagines the story of Vlad the Impaler. With those books in mind, I went into The Dark Descent of Elizabeth Frankenstein expecting a dark and nuanced read. Dark and nuanced was exactly what I got. Elizabeth is a complicated character who has spent her entire life pleasing others to survive. Her past experiences clash with her dreams, and her motivations become muddled. She's quietly fierce and flawed nearly as much as Victor.
The Dark Descent of Elizabeth Frankenstein makes me want to read Mary Shelley's book, and then return to Kiersten's again.
Return to Top
---
CONTEMPORARY
FADE TO US, by Julia Day, Wednesday Books, Feb. 6, 2018, Hardcover, $18.99 (young adult)
Brooke's summer is going to be EPIC― having fun with her friends and a job that lets her buy a car. Then her new stepfather announces his daughter is moving in. Brooke has always longed for a sibling, but she worries, too. Natalie has Asperger's–and Brooke's not sure how to be the big sister that Natalie needs. After Natalie joins a musical theater program, Brooke sacrifices her job to volunteer for the backstage crew. She's mostly there for Natalie, but Brooke soon discovers how much she enjoys being part of the show. Especially sweet is the chance to work closely with charming and fascinating Micah–the production's stage manager. If only he wasn't Natalie's mentor…—Synopsis provided by Wednesday Books
Fade To Us is more than a YA romance. It's more than a book about family. It's about self-discovery and the willingness to think beyond one's self — to see the big picture.
Fade To Us is a fast, engrossing read. I picked it up after slogging through a so-so fantasy, and it was such a breath of fresh air. It feels familiar because so many readers can relate on one level or another.
MORE THAN WE CAN TELL, by Brigid Kemmerer, Bloomsbury USA Childrens, March 6, 2018, Hardcover, $17.99 (young adult)
Rev Fletcher has a loving family, a devoted best friend and a pretty good life. But it hasn't always been that way. Rev still bears the physical scars from his biological father, but he's managed to move past the past emotionally. Or so he thinks. When he receives a letter from his father, the trauma of his childhood comes hurtling back.Emma Blue lives in the world of online gaming. Not only does she like to play, she's also a talented designer — if only her parents knew. Emma wants to show her parents her game, but she has to wait until it's perfect. She has to prove what she's capable of doing. While Emma's working out the kinks, an online troll starts upping his game. At first, Emma just brushes it off. But as his threats escalate, Emma starts to worry about her safety. When Emma and Rev meet in a chance encounter, they're immediately drawn to each other. Though they attend the same school, they've never talked. Now, they can't help but talk. As they share their burdens, their friendship blossoms.
There's more to More Than We Can Tell than meets the eye. Rev isn't just any character. He's Declan's friend Rev from Brigid's earlier novel, Letters to the Lost. This discovery was a little bit of a mind-blowing experience, as it gave new meaning to Rev and Declan's characters in both novels. And now that I've read More Than We Can Tell, I definitely want to reread Letters to the Lost.
Brigid continues her brutally honest streak with More Than We Can Tell, and her book is better for it. Parts of the novel are raw and brutal. Some scenes are haunting. Other scenes, however, are a breath of fresh air. When Emma and Rev come together, they can be their true selves, and that's beautiful.
From Twinkle, with Love stars Twinkle Mehra, an aspiring filmmaker who's more wallflower than starlet. When fellow film geek Sahil Roy suggests they join forces to create a movie for the upcoming Summer Festival, Twinkle can't believe her luck. This is an actual chance to share her voice where people will actually listen, and it's a dream come true. It also doesn't hurt that Neil Roy — Twinkle's longtime crush — is also Sahil's twin brother. This is the perfect opportunity to get to know him better. Things start to get real interesting when a secret admirer starts emailing Twinkle, and she's sure it's Neil. The only problem, Twinkle is starting to fall in love with Sahil. This is a love triangle fit for the big screen, but in real life, it's a lot more complicated.
From Twinkle, with Love is told through letters Twinkle writes to her favorite female filmmakers — sort of like diary entries. It's enough different from When Dimple Met Rishi that it stands on its own. And it holds its own, too. But it does skew a bit younger. Twinkle is younger and her maturity level reflects that. And though she's still living at home, this book feels less about cultural identity and more about overall growth and self-discovery.
LITTLE WHITE LIES, by Jennifer Lynn Barnes, Freeform, Nov. 6, 2018, Hardcover, $17.99 (young adult)
Eighteen-year-old auto mechanic Sawyer Taft did not expect her estranged grandmother to show up at her apartment door and offer her a six-figure contract to participate in debutante season. And she definitely never imagined she would accept. But when she realizes that immersing herself in her grandmother's "society" might mean discovering the answer to the biggest mystery of her life-her father's identity-she signs on the dotted line and braces herself for a year of makeovers, big dresses, bigger egos, and a whole lot of bless your heart. The one thing she doesn't expect to find is friendship, but as she's drawn into a group of debutantes with scandalous, dangerous secrets of their own, Sawyer quickly discovers that her family isn't the only mainstay of high society with skeletons in their closet. There are people in her grandmother's glittering world who are not what they appear, and no one wants Sawyer poking her nose into the past. As she navigates the twisted relationships between her new friends and their powerful parents, Sawyer's search for the truth about her own origins is just the beginning. —Synopsis provided by Freeform
Little White Lies is full of intrigue, and that's not just because of Sawyer's search for her father's identity. Jennifer Lynn Barnes' supporting characters are deceptively simple at first glance. Once you dig a little deeper, however, you discover they are multifaceted. Barnes could have easily played to stereotypes but instead chose a more interesting and more satisfying path.
There are a number of twists in Little White Lies that come as complete surprises. There are a few that I picked up on before the "big reveal," but overall I was swept up in a complex story that the synopsis doesn't do justice. I read Little White Lies in less than a 24-hour period. I was hooked from the beginning and enjoyed it to the end.
Return to Top
---
ADVENTURE
ORPHAN MONSTER SPY, by Matt Killeen, Viking Books for Young Readers, March 20, 2018, Hardcover, $18.99 (young adult)
This YA thriller stars 15-year-old Sarah whose mother is shot at a German checkpoint. After barely escaping herself, Sarah falls in with a spy. And he's got an interesting proposition for Sarah — infiltrate a school for the daughters of top Nazis, posing as one of them. If she can befriend the daughter of a key scientist, they may have a shot at getting their hands on blueprints to a bomb that could destroy the cities of Western Europe. Sarah agrees, thinking the hardest part will be making friends. Little does she know, the school is more like a battleground than not. There's a pecking order at this school and seemingly innocent Sarah is at the bottom. But the girls would be wrong to underestimate Sarah. She knows their weaknesses and is willing to exploit them to reach her ultimate goal — taking down the Nazis.
Orphan Monster Spy reads like a movie. Matt Killeen's cinematic prose immediately draws you in and doesn't let you go.
Orphan Monster Spy is action-packed, some of which is a touch on the violent side. Even so, it's not over-the-top for a YA novel. I wouldn't hand this book to a 12-year-old, but probably would to a 14- or 15-year-old.
At the center of Not If I Save You First are Maddie and Logan. One is the president's son; the other is the daughter of a Secret Service agent. The two are inseparable. But when Maddie's dad is injured saving Logan and the First Lady, everything changes. Suddenly, Maddie is living in a cabin (if you can even call it that) in the middle of the Alaskan wilderness. Maddie and her father are completely off the grid, and no matter how often Maddie writes to Logan, she never hears back. When Logan suddenly shows up on her doorstep six years later, Maddie understandably wants to kill him. Before she can do that, though, an unknown assailant swoops in, knocks Maddie off a cliff and drags Logan off into the wild. Maddie has a choice to make and has to move quickly — turn back and get help or follow. The weather is turning, and Maddie knows Logan isn't prepared for the terrain or animals. Maddie's choice is clear — she's got to save Logan so that she can kill him herself.
This is another one of those novels that took me by surprise. The plot is totally unbelievable, and yet totally believable how Ally Carter writes it. Not if I Save You First is a fast-paced adventure from beginning to end. It opens with a wallop and they just continue throughout. Maddie is a much more interesting character, but Logan grows on you as the story progresses.
Return to Top
---
HISTORICAL
Miss V. Conroy is good at keeping secrets. She likes to sit as quiet as a mouse, neat and discreet. But when her father sends her to Kensington Palace to become the companion to Princess Victoria, Miss V soon finds that she can no longer remain in the shadows. Her father is Sir John Conroy, confidant and financial advisor to Victoria's mother, and he has devised a strict set of rules for the young princess that he calls the Kensington System. It governs Princess Victoria's behavior and keeps her locked away from the world. Sir John says it's for the princess's safety, but Victoria herself is convinced that it's to keep her lonely and unhappy. Torn between loyalty to her father and her growing friendship with the willful and passionate princess, Miss V has a decision to make: continue in silence or speak out. —Synopsis provided by Candlewick
There's so much to like about My Name is Victoria. Worsley immediately immerses readers in Princess Victoria's life and the Kensington System. You're soon swept up in the day-to-day activities of the future queen of England told through the eyes of her fictional companion, Miss V.
And while the book itself is historical fiction, readers can take comfort in the fact that the author is chief curator at Historic Royal Palaces, the charity that looks after the Tower of London, Hampton Court Palace, Kensington Palace and other historic places. If you've ever seen any of Worsley's TV programs, you know how at ease she sounds. My Name is Victoria features that same conversational tone. Initially, the book does seem to skew a little younger, but as Miss V and Victoria age, the book moves squarely into YA.
THE RED RIBBON, by Lucy Adlington, Candlewick, Sept. 11, 2018, Hardcover, $17.99 (young adult)
Three weeks after being detained on her way home from school, fourteen-year-old Ella finds herself in the Upper Tailoring Studio, a sewing workshop inside a Nazi concentration camp. There, two dozen skeletal women toil over stolen sewing machines. They are the seamstresses of Birchwood, stitching couture dresses for a perilous client list: wives of the camp's Nazi overseers and the female SS officers who make prisoners' lives miserable. It is a workshop where stylish designs or careless stitches can mean life or death. And it is where Ella meets Rose. —Synopsis provided by Candlewick
The Upper Tailoring Studio at Auschwitz was a real place where 23 prisoners sewed amazing dresses for the Nazi elite. It was created at the command of Hedwig Hoess, the wife of the concentration camp's feared commander Rudolf. The studio was a haven of sorts for those prisoners, who escaped heavy manual labor and occasionally received extra food in exchange for a job well done.
Ella and Rose are fictional characters, although their stories are not far from the truth. In The Red Ribbon the two find themselves thrust into the impossible position of finding joy while working for those who took everything away. Ella has always dreamed of becoming a fashion designer, and at the studio, her talents are valued. But the suffering that surrounds her mutes her sense of accomplishment.
I read The Red Ribbon in one day. Adlington's writing is smooth and welcoming, which is appreciated with such a difficult setting. Ella and Rose are as familiar as the girls who live next door. Their resilience and friendship are beautiful.
Return to Top
---
NONFICTION
When Sara Saedi was 2 years old, her parents fled Iran. The year was 1982, and Sara's mom brought Sara and her older sister, Samira, to the United States on visitor's visas. Once their visas expired, the Saedi family applied for political asylum. Two years later, there was no progress and no record of their application. What followed was a series of attempts to become American citizens. The whole process would end up taking 18 years before all the Saedis became legal residents. Americanized tells Sara's story, which is fascinating. Stories range from her battle with acne and learning how to tame her unibrow to discovering that her parents secretly divorced to facilitate her mother's green card application. Throughout it all, Sara maintains a sense of humor.
Americanized is a fast and compelling look at the legalization process through a teenager's eyes. It's a timely reminder that children often have no say in the decisions their parents make, but have to pay the consequences for their parent's actions nonetheless.
Return to Top