Are you looking for some books to help your family get more excited about the 50th anniversary of the first lunar landing? Below are some great options for readers of all ages.
*All synopses are italicized and provided by the books' publishers. All reviews are my own.
Does baby have what it takes to become an astronaut? Discover all the incredible ways that prove baby already has what it takes to become an astronaut — from growing healthy teeth to eating from plastic packs to working in small spaces. Includes lots of astronaut facts to help prepare little ones for takeoff.
Bright and engaging illustrations will immediately catch little ones' attention. Each astronaut action is mirrored by a baby one, helping to draw parallels. The Fun Facts at the end will appeal to "older" toddlers and lead to further discussion.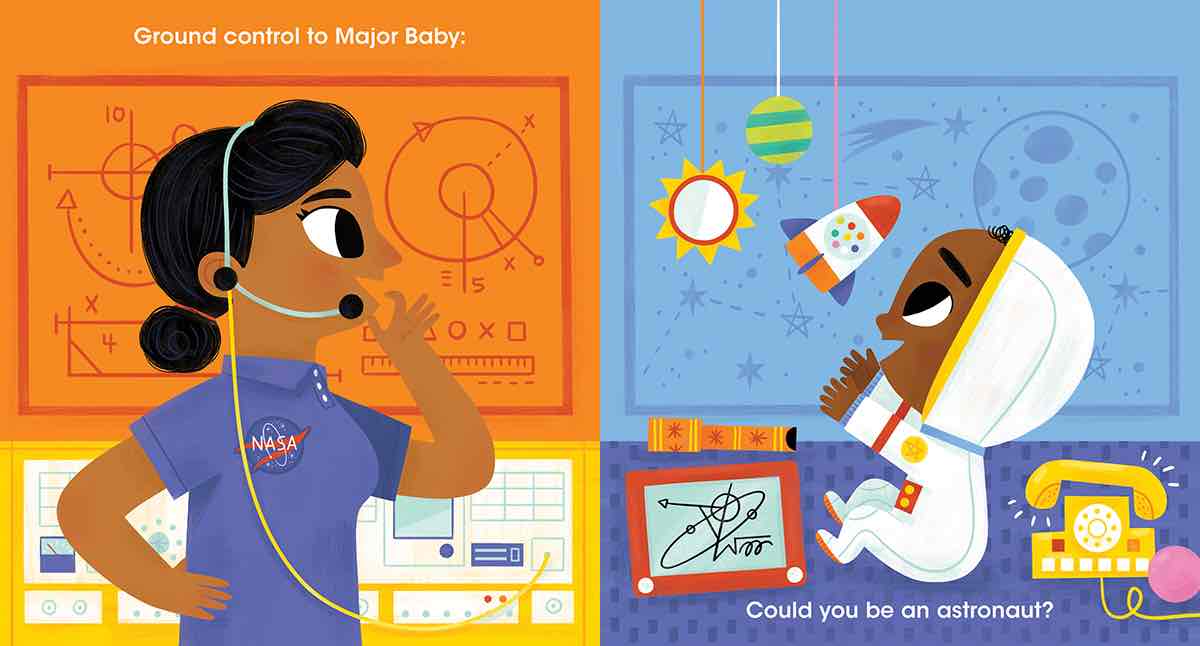 ---
MOON BABIES, by Karen Jameson and Amy Hevron , G.P. Putnam's Sons Books for Young Readers, July 2, 2019, Hadcover, $16.99 (ages 3-5)
Follow the moon babies on their busy day from waking up in their crescent cradles, to breakfast on the Milky Way, to bundling up for moonwalks, to orbiting the earth in a lunar carousel, and more. And at day's end, watch as the babies finish bathtime with stardust powder, snuggle up with nursery rhymes and lullabies, and finally drift off to sleep.
Though not directly linked to astronauts, Moon Babies celebrates all things celestial through sweet illustrations and rhythmic prose.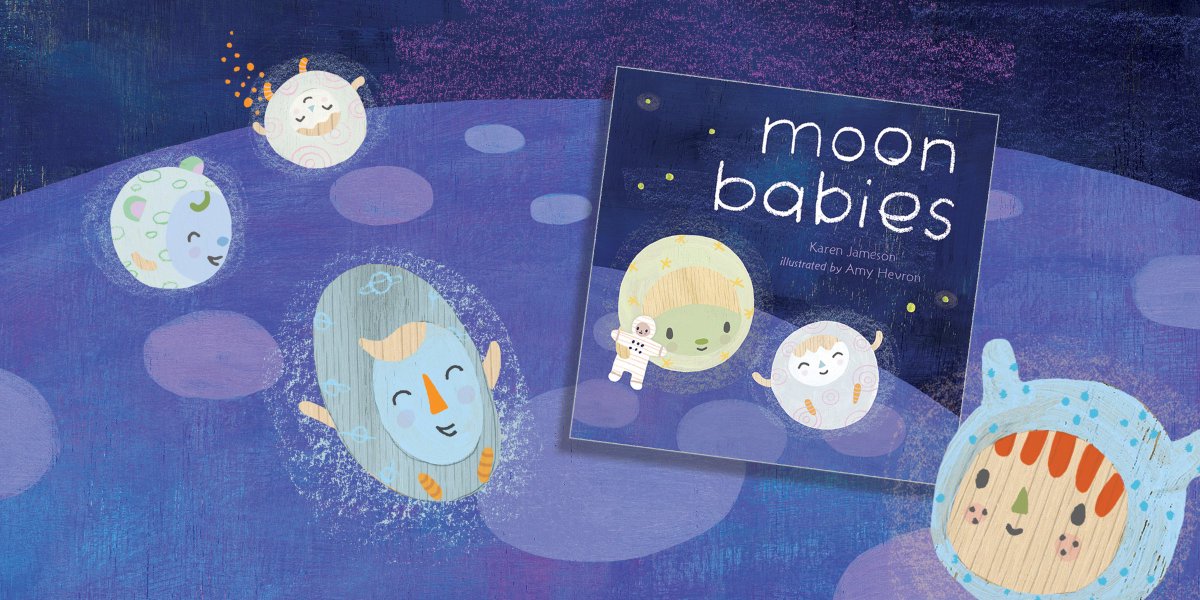 ---
PAPA PUT A MAN ON THE MOON, by Kristy Dempsey and Sarah Green, Dial Books, May 7, 2019, Hardcover, $17.99 (ages 4-8)
Marthanne and her father sit side by side, looking out over their mill village as the moon glows in the sky. Marthanne hopes that one day, man will walk on the moon, and she knows her father is helping America accomplish this mission: The fabric he weaves forms one layer in the astronauts' spacesuits. Papa insists he's only making a living, but Marthanne knows his work is part of history, and she's proud. She tries to be patient, but she can't stop imagining the moon mission: the astronauts tumbling through space, the fabric her papa made traveling all the way up into the sky. When the astronauts blast off and Neil Armstrong finally takes his first steps on the moon, Marthanne watches in wonder. She knows her papa put a man on the moon.
Author Kristy Dempsey's personal connection to this story (author's note at the end of the book) adds depth to an already beautiful story. And while the illustrations here are strong, it's Dempsey's prose that makes Papa Put a Man on the Moon a joy to read out loud.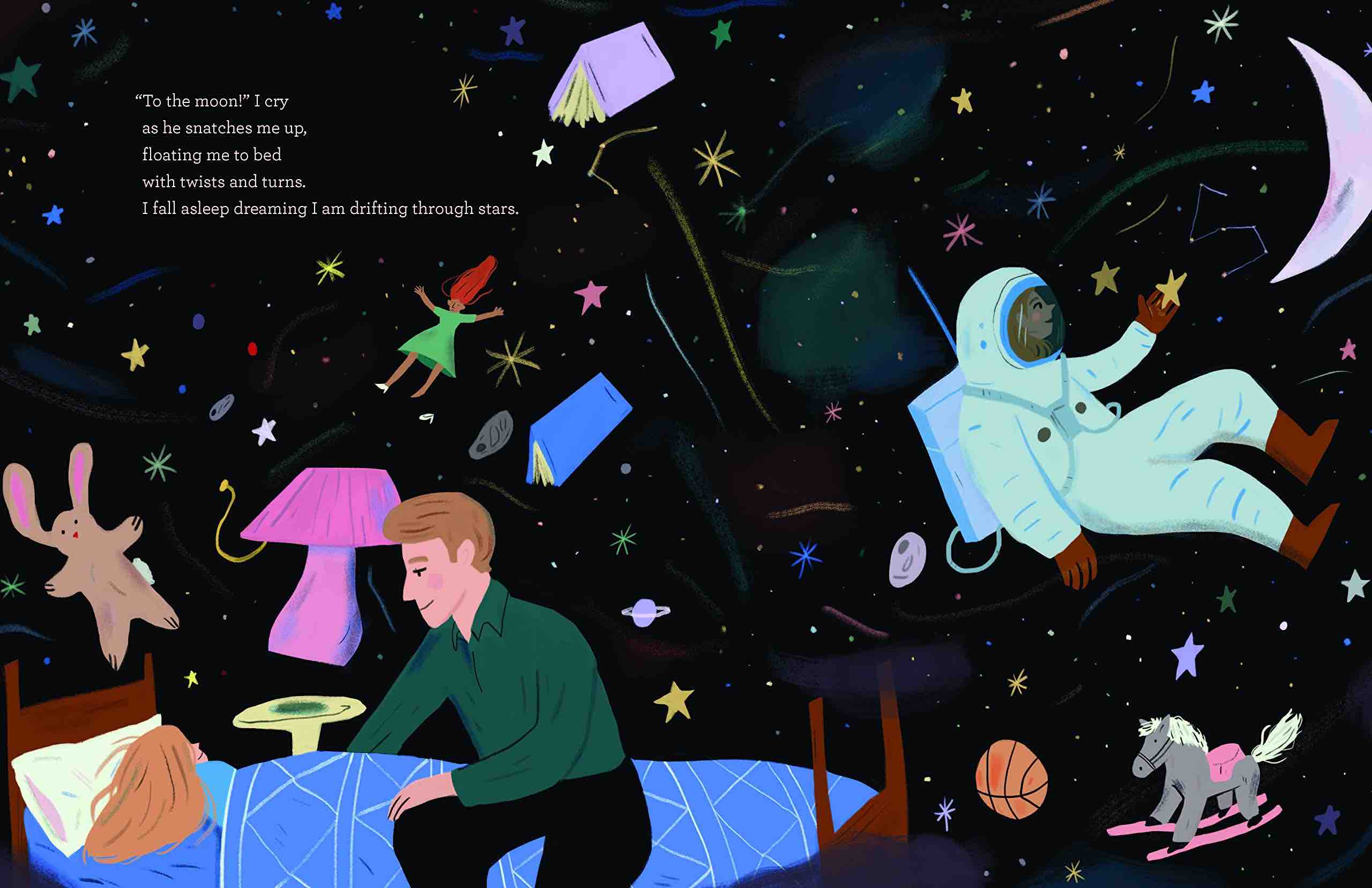 ---
Scholastic's bestselling OLD LADY returns in this spin-off, where the OLD LADY turns into an OLD ASTRONAUT who travels through space, swallowing a moon… along with a star, a planet, a comet, a meteor, a rocket, and a satellite… Two new characters lead the reader through this adventure while exchanging some awesome facts about outer space for a light take on nonfiction.
We're fans of both space and Scholastic's Old Lady series, so this book is a no-brainer for us. But what makes it a home run is the back matter about the solar system and the interactive search-and-find game at the end.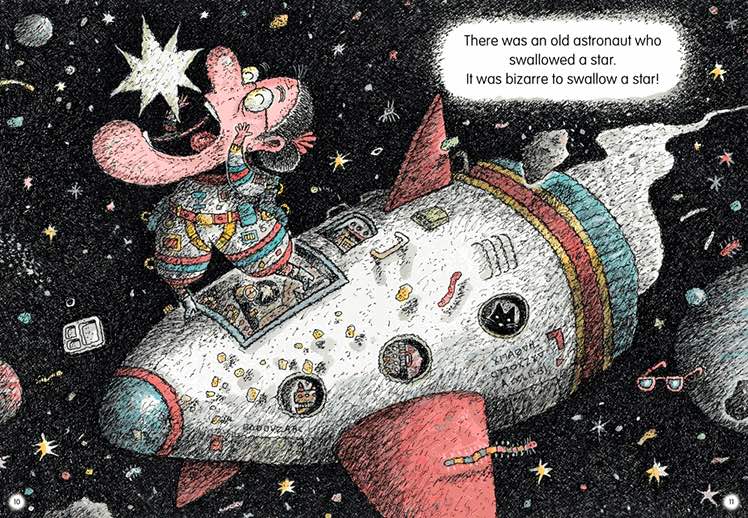 ---
It's 1969 and Marty's family lives on the U.S. island of Guam, where his father manages the NASA tracking station. It's important work and never more so than during the Apollo 11 space mission, where the tracking station relays signals back and forth between the astronauts and Mission Control in Houston, Texas. Along with the rest of the world, Marty listens to every mission update, including the historic landing on the moon and astronaut Neil Armstrong's first steps. But during Apollo 11's return to Earth, something goes wrong. There is a problem with the tracking station's antenna during the final hours of the mission. The problem must be resolved — the antenna is the only way Mission Control can communicate with the astronauts before Apollo 11 splashes down. Marty finds himself playing a key role in helping bring the craft safely back to Earth.
Marty's Mission is a compelling story based on actual events. It's a great opportunity for young readers to see that even though they are children, they can still make a difference.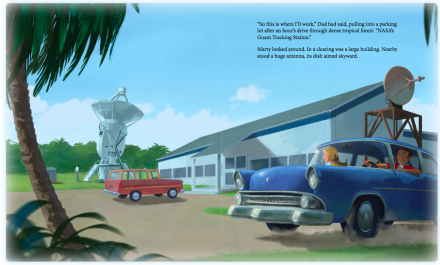 ---
On July 16, 1969, Apollo 11 lifted off from Kennedy Space Center carrying astronauts Neil Armstrong, Michael Collins, and Edwin Aldrin. Apollo 11's prime mission objective: "Perform a manned lunar landing and return." Four days after take-off, the Lunar Module "Eagle," carrying Armstrong and Aldrin, separated from the Command Module "Columbia," and descended to the moon. Armstrong reported back to Houston's Command Center, "The Eagle has landed." America and the world watched in wonder and awe as a new chapter in space exploration opened.
Rhonda Gowler Green's The First Men Who Went to the Moon is an unexpected mix of verse and informational text. It's a mashup that leads to unexpected opportunities. This one is fun to read twice — once just verse and again just informational text. It's a picturesque book that's sure to spark interest.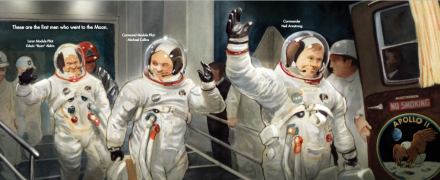 ---
On July 20, 1969, Neil Armstrong took "one small step for man, one giant leap for mankind" when the Apollo 11 landed on the moon. But it wasn't just one man who got us to the moon. Rocket to the Moon! explores the people and technology that made the moon landing possible. Instead of examining one person's life, it focuses on the moon landing itself, showing the events leading up to it and how it changed the world. The book takes readers through the history of rocket building: from ancient Chinese rockets, to "bombs bursting in air" during the War of 1812, to Russia's Sputnik program, to the moon landing.
Rocket to the Moon is an excellent option for those who enjoy graphic novels. Here, the illustrations are supported by text divided into easy-to-consume snippets. A timeline of space travel, a bibliography and an index offer further opportunities for reading.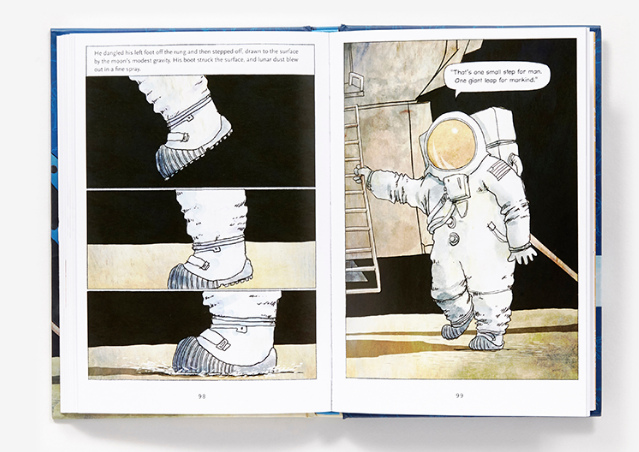 ---
In 1961, President Kennedy issued a challenge: before the end of the decade, the United States would land a person on the moon and return him safely to Earth — a bold proclamation at the time given that only one US astronaut had ever been to space, for just 15 minutes. To answer President
Kennedy's call, NASA embarked on the Apollo missions: a complicated, dangerous, and expensive adventure involving 400,000 people. Before the missions were over, NASA astronauts had made eleven Apollo flights, six of which landed on the moon, and eight astronauts had lost their lives.
The Apollo Missions for Kids tells this story from the perspective of those who lived it — the astronauts and their families, the controllers and engineers, and the technicians and politicians who made the impossible possible.
Chicago Review Press knows how to pull together facts about people, things and events into books kids — and their parents — actually want to read. The Apollo Mission for Kids includes a time line, resources for further study, and places to visit to see Apollo mission artifacts. It also features 21 hands-on activities to better understand the missions and the science behind them. And while this book is geared to middle-graders, it's formatted in such a way that younger readers can enjoy it to. My 5-year-old was immediately drawn to it, and we spent a good 30 minutes flipping through different parts of it together.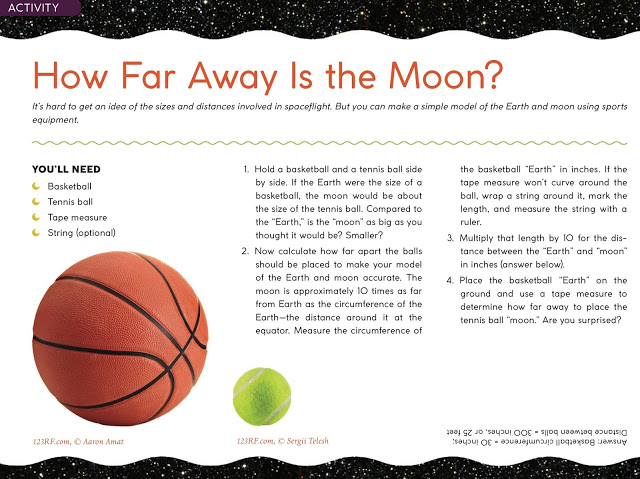 © 2019, Cracking the Cover. All rights reserved.