WEIRD LITTLE ROBOTS, by Carolyn Crimi and Corinna Luyken, Candlewick, Oct. 1, 2019, Hardcover, $16.99 (ages 8-12)
Friendships come about in many ways. In Weird Little Robots, written by Carolyn Crimi and illustrated by Corinna Luyken, friendship is forged through robots, and a little magic.
Penny Rose is the new girl in town. Sometimes it's hard making friends, so the 11-year-old turns to the thing she likes best for companionship. Penny Rose has a knack for building robots. Not just any robots from a kit, either. Penny Rose builds hers from found items. When Penny Rose realizes her neighbor, Lark, also has a knack for "finding" things, she thinks she may have found a kindred spirit.
Together, the new friends create roboTown — a perfect little city for the robots — and something magical happens. The robots come to life.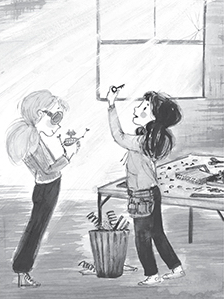 Penny Rose is content with her new life and friends when secret science club and a sour classmate threaten to upend everything.
Weird Little Robots is anything but weird — it's delightful. The fact that the robots come to life makes perfect sense in Penny Rose's world. Why wouldn't they. This magical element helps highlight and balance the real-world problems kids deal with every day.
Carolyn Crimi's prose is crisp and inviting. Believable dialogue helps move the story forward as does the overall paragraph/chapter structure. Corinna Luyeken's sweet illustration have an earnestness to them that adds emotion and light throughout.
The suggested age range is 8-12, but I can see 7-year-olds enjoying Weird Little Ones as a read-aloud.
---
Carolyn Crimi enjoys snacking, pugs, Halloween, and writing, although not necessarily in that order. Over the years she has published 15 funny books for children, including Don't Need Friends, Henry and the Buccaneer Bunnies, Where's My Mummy?, There Might Be Lobsters, and I Am The Boss of This Chair. Weird Little Robots is her first novel.
For more information, and to download a free classroom guide for 
Weird Little Robots
, visit her 
website
.
© 2019, Cracking the Cover. All rights reserved.