GLASS SLIPPERS, EVER AFTER, AND ME, by Julie Wright, Shadow Mountain Publishing, Oct. 21, 2019, Paperback, $15.99 (young adult/ new adult/ adult)
Cinderella must be the most reimagined fairytale in history. Luckily for readers, Julie Wright's Glass Slippers, Ever After, and Me is a fresh take on the classic.
This time around, Cinderella is Charlotte Kingsley, a writer who dreams of getting published, but her dream agent far from loves Charlotte's reimagined fairy tales. When Charlotte gets yet another rejection letter and learns that her Prince Charming best friend, Anders, is engaged, she decides to switch gears. Instead of creating a fantasy world, she writes a book that celebrates women for who they really are.
Charlotte's The Cinderella Fiction practically writes itself, and soon she's got a contract with a publishing house. There's a catch, though. Charlotte must hire a publicity firm and rework her entire public profile. Charlotte reluctantly agrees, spending most of her advance on the changes. At the same time, she learns Anders has called off his engagement, and wants to try a relationship with Charlotte. Maybe fairytales are real after all.
Or are they?
Part of Charlotte's transformation includes carefully crafting her social accounts, and that means excluding Anders. Anders reluctantly goes along with the publicity campaign, and Charlotte's excited about dressing up.
At least she does in theory.
Charlotte soon realizes her message of "being authentic" is completely at odds with her new staged life. She hasn't written anything new in months, and her time with Anders keeps getting cut. Their relationship is falling apart, and soon Anders decides his life would be better caring for his elderly grandfather in Finland. In the end, Charlotte must choose what her happily ever after looks like.
Glass Slippers, Ever After, and Me is Julie Wright's third book in Shadow Mountain's Proper Romance contemporary line. Like its predecessors Glass Slipper, Ever After, and Me is a light, fairly predictable romance that you can easily slip into. It doesn't require a lot of thinking on the readers part — not that that's a bad thing in this case. It's relaxed and fun and quick to read.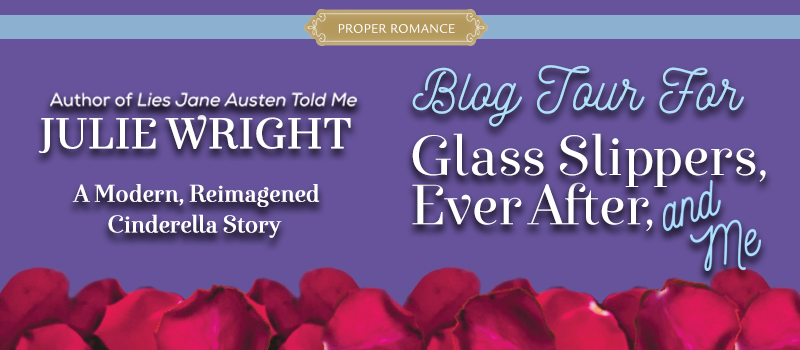 © 2019, Cracking the Cover. All rights reserved.