THE FOUNTAINS OF SILENCE, by Ruta Sepetys, Philomel Books, Oct. 1, 2019, Hardcover, $18.99, (young adult)
Wow.
Just.
Wow.
Ruta Sepetys' The Fountains of Silence sweeps readers into an oft-forgotten time in history.
What most people know of the Spanish dictator Francisco Franco comes from Pablo Picasso's painting Guernica (1937), which depicts the aftermath of the town's bombing. What we fail to remember, is that Franco remained in power after World War II, and ruled Spain with an iron fist until 1975. The Fountains of Silence takes readers into Franco's Spain.
The Fountains of Silence opens in 1957 Madrid. The country has been opened up to tourists and American businessmen. Opulence is the name of the game, but it's really just a game of smoke and mirrors. If you change your lens, a different Spain emerges.
Eighteen-year-old Daniel Matheson wants to be a photojournalist. He's a finalist for prestigious award and is hoping his images will not only win him top honors, but a scholarship to journalism school. The son of a Texas oil tycoon, Daniel has only known a life of privilege, but when he puts his camera to his eye, he sees beyond all that glitters.
When Daniel arrives in Madrid with his parents, his goals are simple — connect with the country of his mother's birth through the lens of his camera.
It's through that lens that he meets Ana, a maid in his hotel who knows just how far Franco's rule reaches. Ana and her family were on the wrong side of the Spanish Civil War and, years later, continue to feel the effects.
As Daniel and Ana grow closer, Daniel's questions about Spain grow larger. Daniel finds himself walking a tightrope that's likely to break at any moment.
While The Fountains of Silence is historical fiction, it is based on truths, and those truths are haunting. Ruta Sepetys has a gift for setting a scene:
 "They stand in line for blood.
"June's early sun blooms across a string of women waiting patiently at el matadero. Fans snap open and flutter, replying to Madrid's warmth and the scent of open flesh wafting from the slaughterhouse"
The author easily transported me to the lobby of Castellana Hilton or in Ana's humble home in Vallecas. I felt the Spanish sun on my face and the darkness of night settle in.
Daniel and Ana are equal players, here. Both strong and likeable. Daniel is an open book. Ana, not so much. It's not the starring players that make the book, though, it's the supporting ones that give it heart — Ana's brother and cousin; a young man who dreams of becoming a bullfighter; a crotchety newspaperman who takes Daniel under his wing; and even a mysterious nun make The Fountains of Silence feel alive.
The Fountains of Silence is one of my favorite YA reads of 2019, and ranks in my Top 10 historical fiction overall. As a bonus, the book includes vintage media interstitials, oral history commentary, photos and more.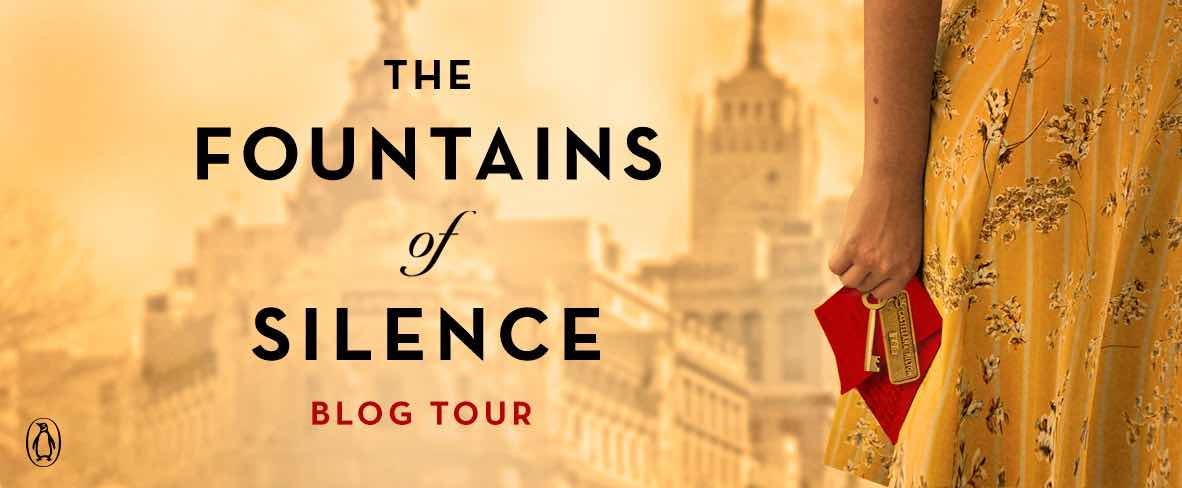 © 2019, Cracking the Cover. All rights reserved. Unless otherwise noted, all books — digital and physical — have been provided for free by publishers in exchange for honest and unbiased reviews. All thoughts and opinions are those of the reviewer.