THE CANDY CANE CAPER, by Josi S. Kilpack, Shadow Mountain, Oct. 1, 2019, Softcover, $15.99 (adult)
In March 2009, Josi S. Kilpack introduced readers to cooking aficionado turned amateur detective Sadie Hoffmiller with Lemon Tart. Since then, she's taken readers on 12 more Cozy Culinary Mystery adventures. The latest of those books is The Candy Cane Caper, a Christmas novel that's out now.
The Candy Cane Caper opens as Sadie is finishing last-minute preparations for the holiday season. Sadie is preparing for a large blended-family gathering.  Even with the festive chaos, Sadie drops everything when word gets out that her friend, Mary, is the victim of a holiday robbery.   

At 94-years-old, and nearly blind, Mary knows this is may be her last Christmas and the last year to enjoy her family heirloom Christmas tree ornaments. She wants just one more holiday to display her ornaments and following Christmas Eve Mass, she'll pass them on to her great-granddaughter, Joy. Though priceless to the family, the collection has been valued at $40,000, and the Christmas tree in the care facility has never looked so good. But before the ornaments can be retrieved by Mary, eleven of the most expensive ornaments are stolen.  —Synopsis provided by Shadow Mountain
The Candy Cane Caper is the first of Josi's Culinary Mystery series I've read, and it's certainly different from her Proper Romance novels. Whereas the Proper Romance books lend themselves to a crossover audience, The Candy Cane Caper feels like it's meant to be read by adults. This, in large part, has to do with Sadie's age — she is a grandmother — and her personal experiences. It's not a book I would have enjoyed in my teens/ younger adult years, but that I enjoyed as a parent.
You can easily walk into The Candy Cane Caper as a first-time culinary mystery reader, although I did get the sense that I would have felt more fulfilled overall if I had read the previous novels first. You sometimes miss out on a "bigger world" when you jump in at a later book. However, Josi's comfortable style and bright protagonist quickly draw you in no matter your level of familiarity.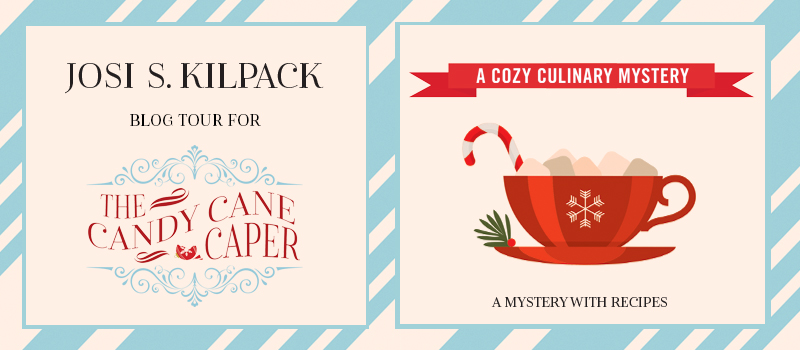 © 2019 – 2020, Cracking the Cover. All rights reserved. Unless otherwise noted, all books — digital and physical — have been provided for free by publishers in exchange for honest and unbiased reviews. All thoughts and opinions are those of the reviewer.